Back to News & Stories
From Wedding Day to Moving Day
Your wedding day may be over, but it's time to plan for another big day – moving day!
---
Many newlyweds will combine living spaces, which can make the logistics of merging two lives seem overwhelming.
So, where do you start?
Penske Truck Rental has assembled some tips for a move that is as harmonious as your nuptials.
Planning Your Move
Take "inventory" – Do a walk-through of your space (or spaces) and decide what will come with you to your new home. Remember, fewer items require a smaller truck and will keep your moving costs down.
Discard or donate – You may have received upgraded or new items as wedding gifts. Give your gently used items a second life by hosting a yard sale or donating them to a local charity or thrift store. If you can part with your wedding décor, consider joining a wedding planning group on social media to sell or swap your items.
Walk down memory lane together – You're a team now! Be mindful of sentimental value and make decisions about items together. Consider if each partner will have a designated space, like a man-cave or she-shed, where they can keep their sentimental items.
Packing for Your Move
Stay organized – Group items by room or item type (i.e., photo frames or wall décor) to stay organized when loading the moving truck and unpacking your new home.
Label boxes – List the contents of each box, so they're easily identifiable on the moving truck. This will make packing and unloading the truck much easier.
Protect your items – Use sturdy boxes and packing bubbles or towels to protect fragile items. Wedding keepsakes, such as the bride's veil and dress, bouquets and groom's boutonniere, as well as any photo albums and wedding invitations, should be packed with care. Penske offers a variety of moving boxes and supplies to make sure you're ready for moving day. If you're still unpacking wedding gifts, keep the items in their original packaging to protect them on the moving truck.
Moving
Pick a truck – When picking a moving truck, a good rule is to plan for 150 cubic feet of space for every fully furnished room. Many couples moving from a small apartment or condo into a larger home will find that a 12- or 16-foot Penske rental truck is more than adequate for their belongings. Penske's Truck Wizard can also provide a customized recommendation for the type of truck you will need.
Pack strategically – Pack the largest items (i.e., bed, couch, dresser) into the truck first to ensure they will fit, then follow with the heaviest boxes on the bottom and lighter boxes on top.
Build a team – A few friends or family members on-hand will give you extra strength and manpower for those heavier items and make packing and unloading your moving truck faster, too.
From your first home, and through all the stages of your life together, Penske Truck Rental will be here to help make it a great moving day. For more tips, check out Penske Truck Rental's moving checklist.
Back to News & Stories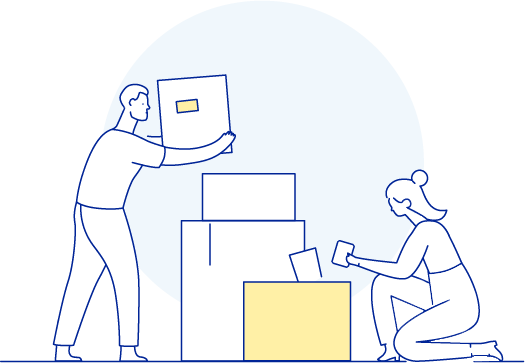 Plan Your Move
You've decided to move. Now what? We have the planning, packing, loading, and driving tips you need to make your move a success.
Explore Now
Related Articles