Back to News & Stories
Penske Rental Truck Provides Dino-Mite Ride for Regina the T-Rex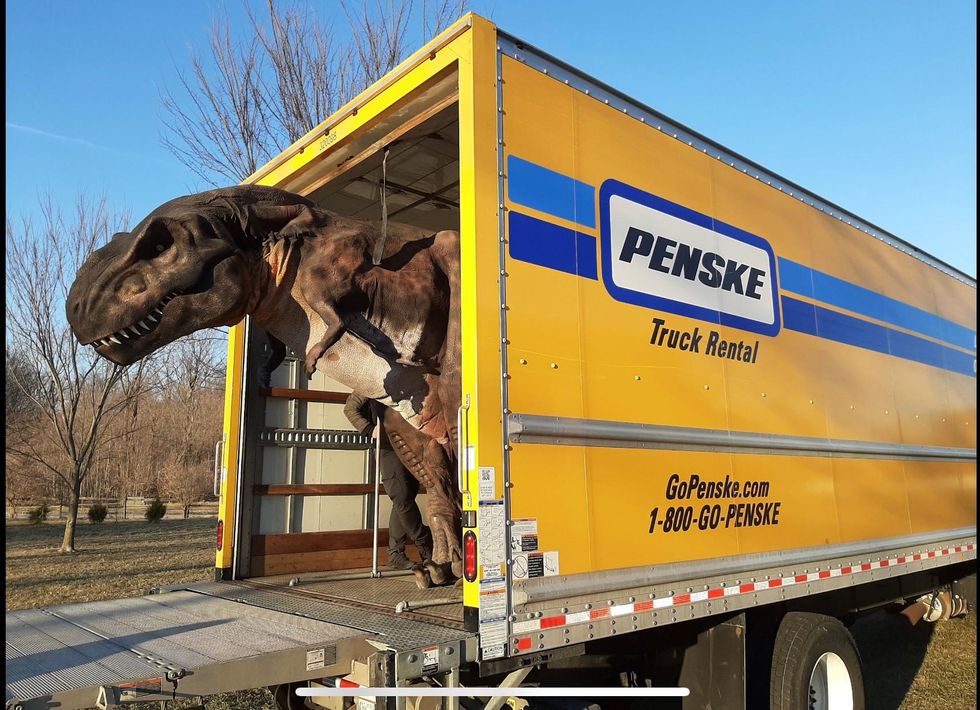 Regina the T-Rex – Reggie to her friends – was recently in need of transportation from her home at the TAG Art Company in Indiana to an event in Dublin, Ohio.
---
At 19 feet long from tip to tail, not many trucks would do for the statuesque T-Rex, so Troy Ganser, director at the TAG Art Company, reached out to Penske's Fort Wayne, Indiana, location for help.
It's not every day that Becky McClain, Branch Rental Manager in Fort Wayne, receives a request to transport a dinosaur, but she was more than happy to assist.
"Usually, we receive requests for household moving, commercial rentals and tractor trailer rentals," McClain said. "This was the first time I've received a request to move a dinosaur."
Based in Fort Wayne, the TAG Art Company is an art, education and entertainment company that recently added five adult dinosaurs and two babies. In addition to Regina, the company has a Triceratops, Stegosaurus, Velociraptor, Carnotaurus, a baby Velociraptor and a baby Pterodactyl.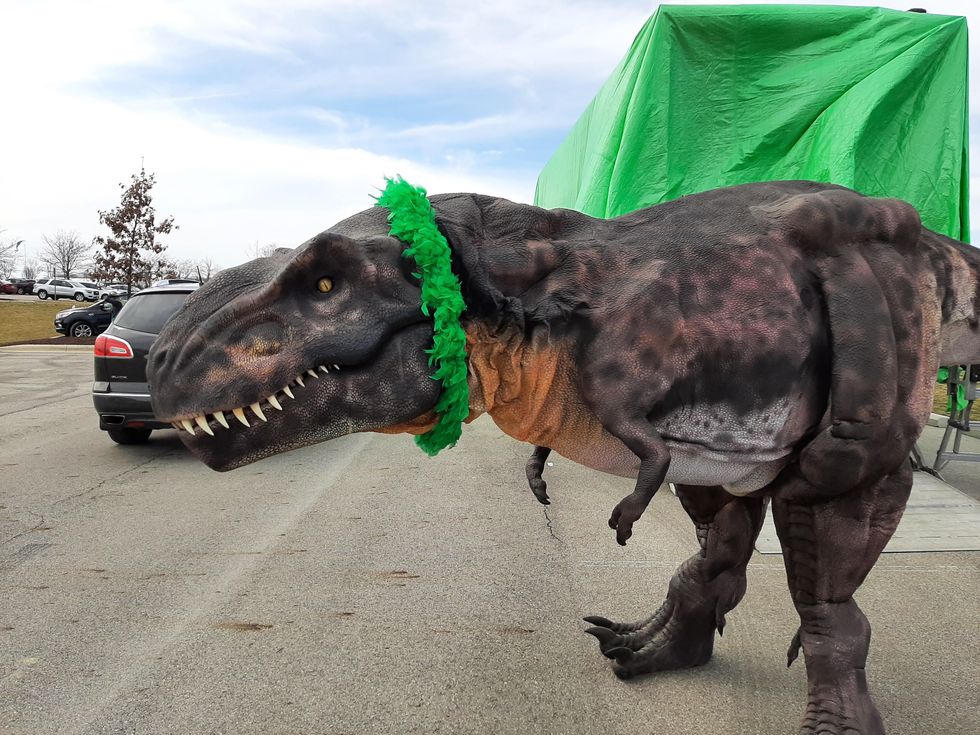 The dinosaurs are giant puppet costumes with an operator inside, except for the Triceratops and Stegosaurus, which have two operators.

"They are fully enclosed and zipped up inside. There are cameras in the nose so the operators can view a screen to see where they are going. There are also mechanical controls inside. The T-Rex can roar, and there are other sound effects, so it comes to life," Ganser said.
McClain was able to secure a 26-foot box truck with a liftgate so Regina and her dinosaur friends could travel in style. "Becky has been fantastic, so kudos to her for her understanding," Ganser said. "I think we've found a kindred spirit with Becky and the local Penske crew."
"Having the liftgate was a great bonus. It made moving the T-Rex in and out of the truck so easy," Ganser said. "It also heightened the theatrics of things."
"It was more than enough room, and we were able to maneuver outside the truck to get the operator in and out for breaks and maintain that sense of mystique," he said. "We have at least four more events so far where we will need that size truck and maybe two to transfer these guys."
For other customers with unique transportation needs, McClain encouraged them to reach out to Penske.
"We are here to provide you with assistance to get you moving and make sure your transportation needs are met," McClain said.
Penske offers a wide variety of rental trucks from large commercial semi-tractors and trailers to small box trucks. Penske encourages retailers and businesses to make reservations by calling its hotline for business rentals, 1-800-PENSKE1.
By Bernie Mixon
Back to News & Stories