Back to News & Stories
Penske Truck Leasing Districts Honored Black History Month with Service and Education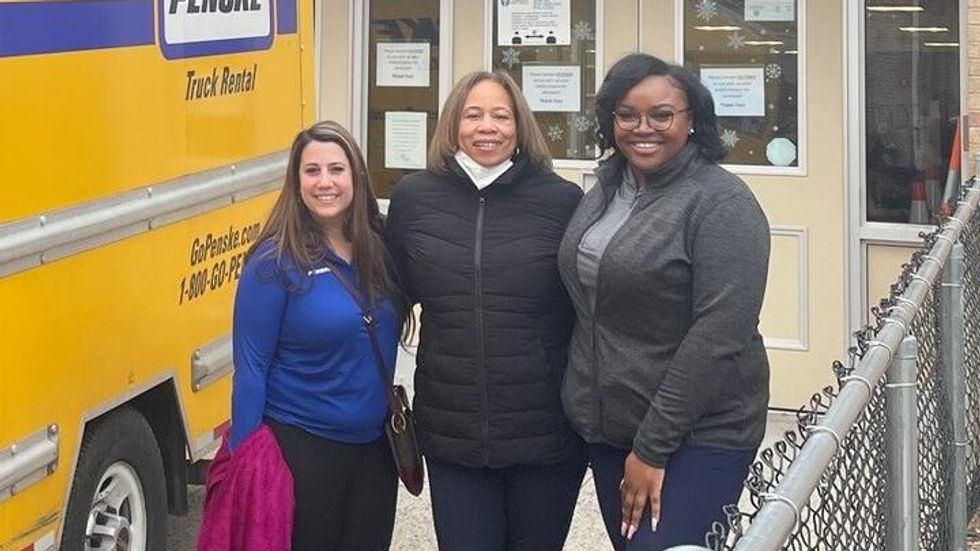 Four Branch Rental Managers at Atlanta West Fulton worked together to educate their team. One of them – Zachary Ivey, Branch Rental Manager of Atlanta West – explains:

---
"In the Atlanta West Fulton district, our main goal for Black History Month is to educate. We have four BRMs here in the district – myself in Atlanta West, Nita Rodney in Downtown Atlanta, Devin Johnson of Atlanta West Fulton and Brandy Harris of Kennesaw – which sets up perfectly for the four weeks in February. Each of us takes the time once a week to inform the members of our district of different people, events, quotes and more that highlight significant moments and achievements throughout history."
He continues, sharing his perspective on the importance of diversity in the workplace and beyond:
"From top to bottom, our district has plenty of diversity with race, ethnicity and gender. Because of this, it allows for a multitude of different opinions, perspectives and backgrounds. We believe this is a key to success because if everyone thinks the same, there is not much room for growth. Attempting to learn and grow more is something we strive to do on an everyday basis throughout the district. We are dedicated to making this month as informative and seamless as possible."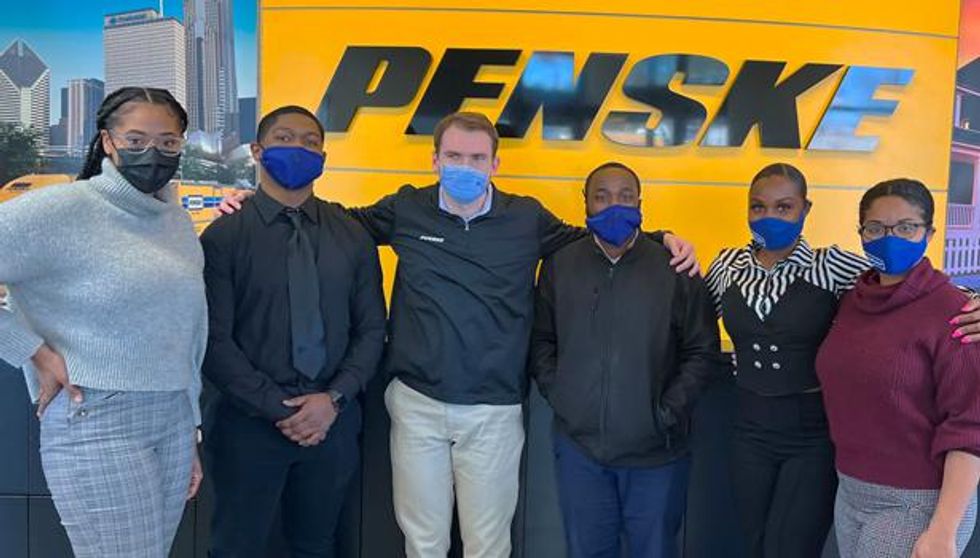 L to R: Nita Rodney, Branch Rental Manager; Zachary Ivey, Branch Rental Manager; Joseph Alexander, District Rental Manager; Devin Johnson, Branch Rental Manager; Laprecious Brock, Assistant District Rental Manager; Brandy Harris, Branch Rental Manager
Associate volunteers from the Cleveland District organized a food drive in honor of Black History Month. The district came together to support Black and African American-owned businesses while collecting canned goods for two pantries across state lines. Cory Childress, Maintenance Coordinator, elaborates:
"We organized a canned goods drive for the Freedom Church Food Pantry located here in Cleveland, OH and the Sister Mary Pascal Gray Food Pantry located in Erie, PA. Each canned good donation grants employees a raffle ticket to our basket raffle. The basket prizes feature products from four local Black or African American owned business. Our goal is to give winners a taste of each business' products and ultimately bring new customers to that business, supporting the communities. We had such good participation in February that we've extended the drive into March. We can't wait to deliver what we've collected."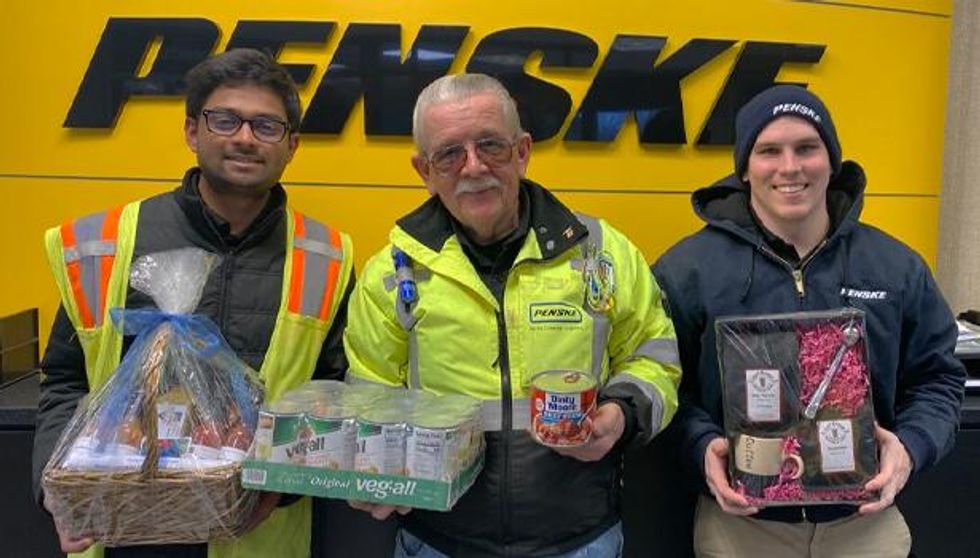 Associates at Penske's Cleveland district pose with their food drive donations and raffle prizes.
Cory continues, sharing how the district also engaged in education and awareness throughout Black History Month:
"Additionally, we worked with Owens Print and Creative Solutions to put together posters that feature groundbreaking quotes from the likes of Rosa Parks, Barack Obama, George Washington Carver and Maya Angelou. Each location received their items to be hung throughout the month of February as we commemorated Black History Month. Furthermore, we highlighted influential Black and African American leaders every Tuesday and Thursday during our shift huddles."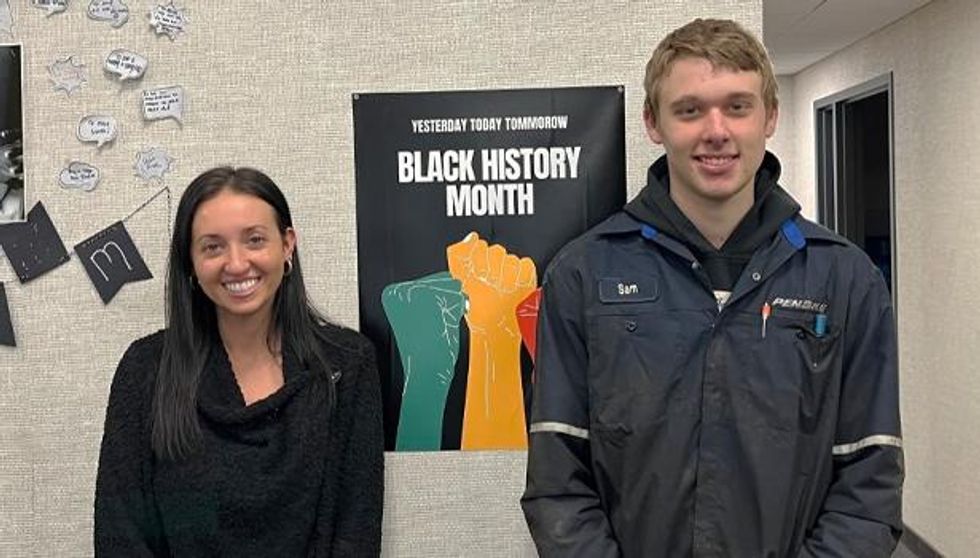 Associates at Penske's Cleveland district hung posters highlighting Black History Month.
The Toronto District held a team lunch in recognition of Black History Month. Branch Rental Manager Eric Boyd says:
"To celebrate Black History Month, we were able to come together as a team and share in some delicious dishes. During the lunch, we spoke about the importance of Black history in general as well as specifically within the transportation industry. Something many of us learned during this lunch was that the APU system that is in so many vehicles today was invented by an African American."
The District Event Council in Miami – led by Dom Scott, Assistant District Rental Manager; Konstantin Kaufmann, Rental Sales Representative; and Ladarius Brown, Management Trainee – organized a fundraiser for South Florida-based organization, Power U Center for Social Change. Associates who donated money to the organization wore jeans to work on Feb. 11, spreading awareness for the organization and Black History Month. The fundraiser was successful, but Dom says that the opportunity to "shine a light on Black History Month" was of paramount importance.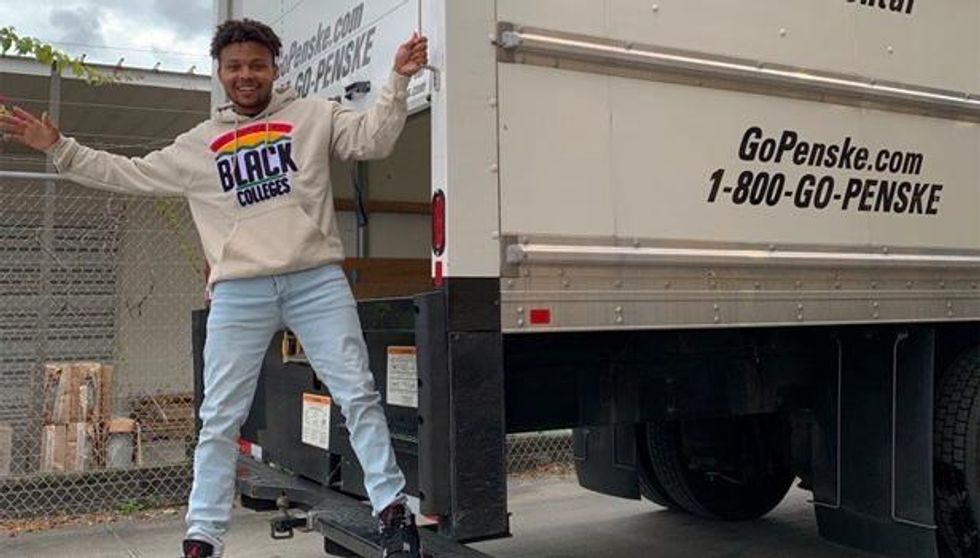 Dom Scott participates in his district's fundraiser for Power U Center for Social Change.
In honor of Black History Month, the North Bergen District collected school supplies for Martin Luther King Jr. Academy in Yonkers, NY for the second year in a row. This year, they collected and delivered school supplies to a reading program comprised of 60 students in grades one through five. Kevin Burns, Branch Manager; Cherise Challenger, Assistant District Rental Manager; and Kelly Cramer, Assistant District Rental Manager; all had a hand in putting the event together. Kelly shares her experience:
"The kids' faces lit up when we gave them their new supplies. Because of COVID, they are unable to use the water fountains, so they'd specifically requested water bottles. They were so happy and excited to receive the bottles, giving us hugs and thanks for something that many of us take for granted. To see them so genuinely grateful almost brought us to tears. I felt honored to be a part of this opportunity to give back; I absolutely love that our district could be a part of such an impactful community experience."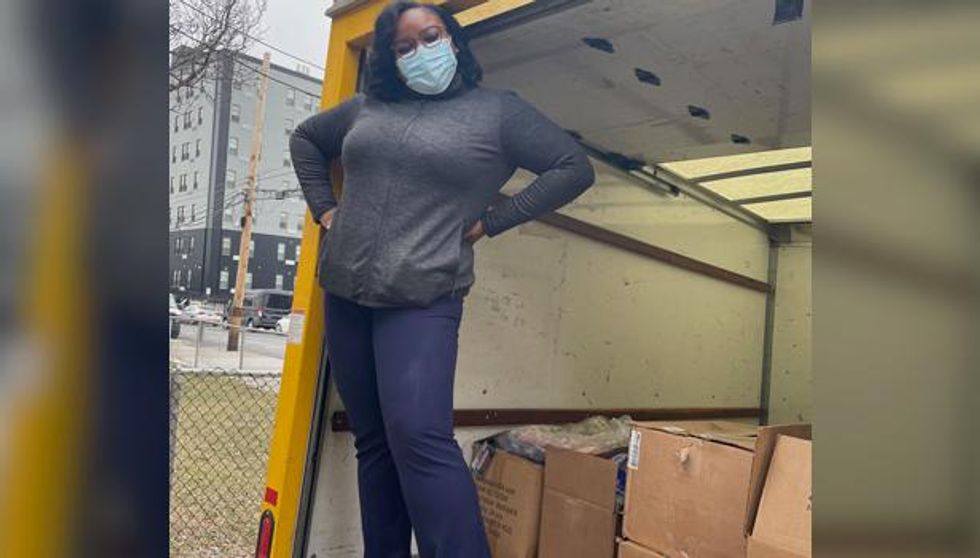 Cherise Challenger delivers school supplies to students at Martin Luther King, Jr. Academy.
The experience was even more impactful for Operations Coordinator, Suzanne Ancrum, because it meant a bittersweet return to her childhood halls. She explains:

"In 2021, a colleague expressed her desire to do something in honor of Black History Month. It was then I suggested we reach out to my former elementary school, the Martin Luther King Jr. Academy in Yonkers, NY. We filled bookbags with school supplies, hand sanitizer and face masks. This year, our District Manager, Daniel Montero, asked me to head up another donation event. When I contacted the principal, she asked us to adopt the 60 students of the higher reading program. She supplied a list of the students' needs, including their most desired books, and Kevin Burns and I divided the list among the district so that each location could participate. The support was fantastic – everyone who was asked to participate did so happily. I could not ask for a better district to be in."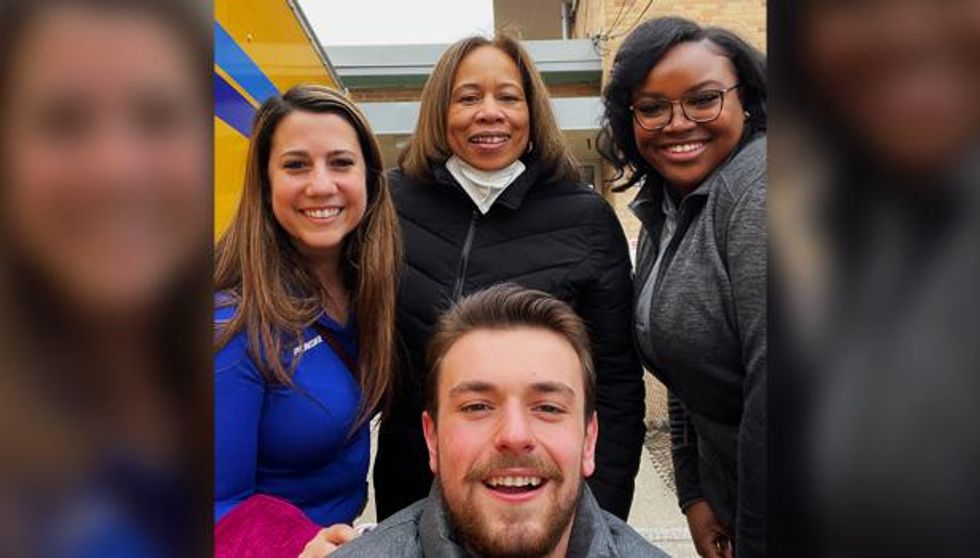 Above, L to R: Kelly Cramer, Suzanne Ancrum, Cherise Challenger; Center: Tyler Visentin
Suzanne continues, reflecting on the donation day:
"In the end, every child received a bookbag filled with notebooks, markers, folders and crayons in addition to a book appropriate for their grade level. It was truly an amazing experience – we received so many hugs from the students and staff and seeing the students' surprised, happy faces meant everything to us. Being back at the school and seeing how much has remained the same was bittersweet for me – it brought up so many great memories I've made there."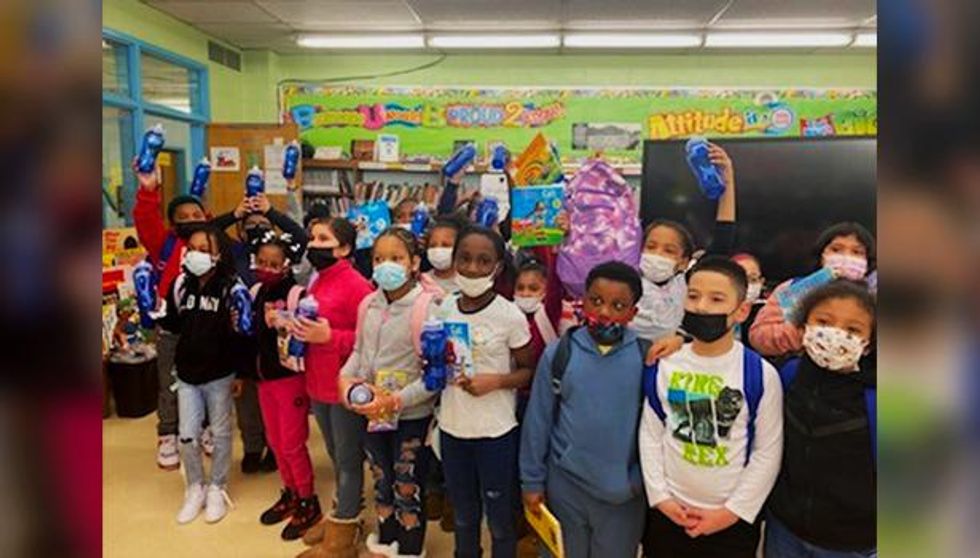 Students at Martin Luther King, Jr. Academy in Yonkers, NY pose after receiving school supplies from Penske Truck Leasing associates.
With Suzanne's passionate leadership and her district's support, North Bergen will be back again next year, delivering more smiles and supplies in honor of Black History Month.

By Sarah Althen
Back to News & Stories