Back to News & Stories
Penske Truck Rental's Annual List of Top Moving Destinations Revealed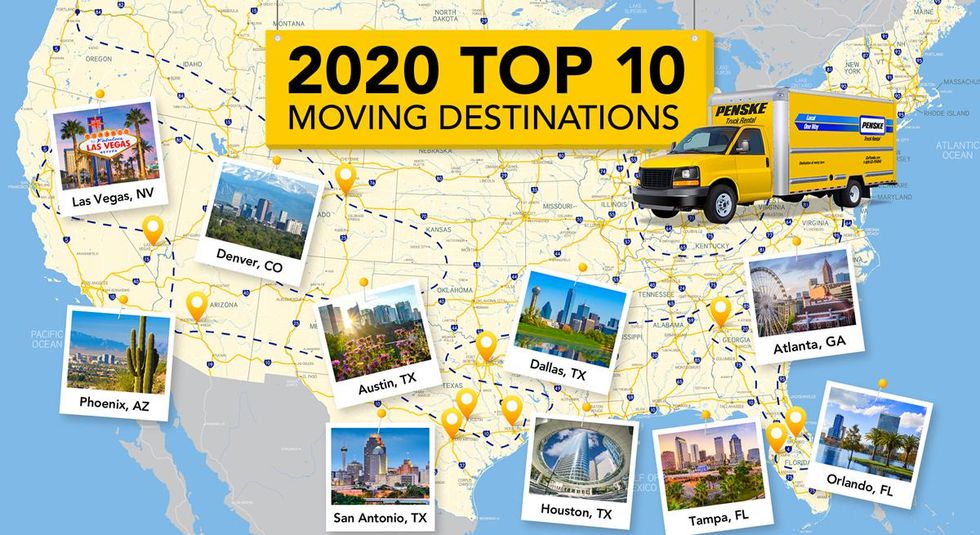 Just in time for May and National Moving Month, Penske Truck Rental announces its latest list of Top Moving Destinations. Now in its eleventh year, the annual listing of U.S. cities seeing the most inbound one-way truck rentals looks different than years past.
---
The COVID-19 pandemic has impacted our lives and changed the way many of us live, work, move, and play. It has prompted remote work, opening the door for people to live farther from their workplace. For some, spending more time at home highlighted a need for a change of scenery. Whatever the reason, people moved around a lot in 2020.
That upheaval is reflected in this year's list of cities seeing an influx of new residents. Las Vegas, a city that did not rank in 2019's top 10, is No. 1 this year. Atlanta, a city that has traditionally ranked No. 1 or No. 2, has moved down to No. 5 on the list. Texas had a strong showing with four cities making the 2020 top 10, as sunbelt cities continue to be a popular destination.
The Top 10 Moving Destinations for 2020:
1.Las Vegas (Did not rank in 2019)
2.Phoenix (1)
3.Denver (4)
4.Austin (10)
5.Atlanta (2)
6.Houston (7)
7.Orlando (5)
8.Dallas (Did not rank in 2019)
9.San Antonio (Did not rank in 2019)
10.Tampa (3)
Penske has also seen an uptick in inbound truck rentals to Western Mountain regions of the country, specifically cities in Idaho and Montana, which supports some of the 2020 market data showing people leaving big cities for rural areas and remote work.
Penske has seen similar trends during the first quarter of 2021 and has made several significant fleet upgrades and increased its overall fleet levels to meet the market demand. Lean more here.
Penske compiles the list annually using analysis of one-way consumer truck rental reservations and inquiries made via the company's website, calls to its 1-800-GO-PENSKE call center and through one-way reservations made at Penske's over 2,500 truck rental locations.
Simplify your move and stay connected to use with our new app, which is designed to streamline the truck rental and moving process. With just a click or two, you can view and edit your reservation, add your driver's license, find loading guides and how-to videos, access our 24/7 roadside service team and more.
Back to News & Stories