Back to News & Stories
Penske Truck Rental's Top 10 Moving Destinations for 2021 Revealed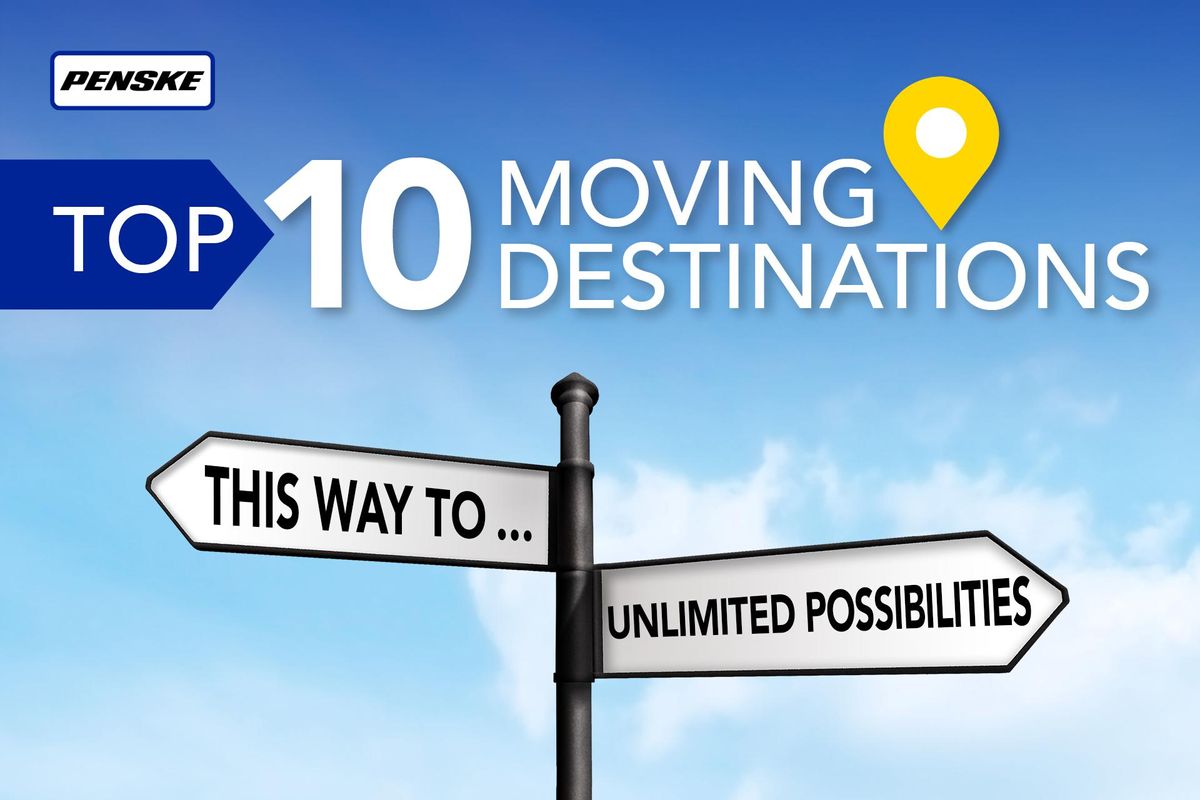 It's May, it's #NationalMovingMonth and Penske Truck Rental's Top 10 Moving Destinations list is back! Reminiscing over the past year, 2021 couldn't have been a busier year for people on the move. Rental truck demand was incredibly robust, a trend that continues in 2022 as we enter yet another busy moving season ahead.
---
Compared to 2020, over 20% more Americans moved in 2021, and the new remote work opportunities enabled an estimated 14-23 million Americans to relocate, according to the U.S. Census Bureau. So, where were Penske Truck Rental's customers moving this past year? Let's dive into the 2021 list.
Known for its mild winters and contributions to space exploration, Houston, Texas topped Penske Truck Rental's 2021 Top 10 Moving Destinations list.
Most of the moves in 2021 were into the Sun Belt region, including four major metro areas of Texas: Austin, Dallas, San Antonio and, as previously mentioned, Houston. After a five-year hiatus, Chicago checked back in to fill the No. 10 spot, and Charlotte reemerged in the No. 4 spot after a break since 2018.
Penske Truck Rental Top 10 Moving Destinations for 2021 (previous year ranking):
1.Houston, TX (6)
2.Las Vegas, NV (1)
3.Phoenix, AZ (2)
4.Charlotte, NC (Has not ranked since the 2018 list.)
5.Denver, CO (3)
6.San Antonio, TX (9)
7.Dallas, TX (8)
8.Orlando, FL (7)
9.Austin, TX (4)
10.Chicago, IL (Has not ranked since the 2015 list.)
Trending throughout the years together have been Phoenix, Houston and Orlando - all consistently remaining in the top ten since the list's inaugural year. Whereas, you might be asking yourself, "Where's Atlanta?" Movers are giving Atlanta a little breathing room for the first time since the lists inception - Atlanta didn't rank high enough to make the list.
For the past 12 years, Penske Truck Rental has been compiling this list using analysis of one-way consumer truck rental reservations made via the company's website, calls to its 1-800-GO-PENSKE call center and through one-way reservations made at Penske's over 2,500 truck rental locations.
Simplify your move and stay connected to us with the Penske Truck Rental app, designed to streamline the truck rental and moving process. With just a click or two, you can view and edit your reservation, add your driver's license, find loading guides and how-to videos, access our 24/7 roadside service team and more.

Back to News & Stories