Penske Supports Active and Veteran Military Personnel
We thank all military personnel for their service. To help make your move easier, Penske offers a military discount off truck rentals at more than 2,500 convenient locations.
Military Discount
Use code: MILITARY* to receive a 15% discount off your truck rental.
Dedicated Call Center for U.S. Military Moves
We have introduced a specialized call center to assist active and veteran members of the U.S. military and their families with do-it-yourself moves. Each Penske call center associate has a military connection: as a veteran or with a family member who is active duty, reservist or a veteran. Please call this toll-free number;
1-844-4TROOPS (1-844-487-6677).
Certified Public Scale Locator
A military do-it-yourself move (aka a DITY move) requires that you weigh your vehicle before you load it and after. To make finding a scale easier, use our Certified Public Scale Locator.
*A Military ID or proof of Veteran status is required at pickup to receive discount.
Learn how we're working with customers to help veterans.

Military Friendly
Penske Recognized as 2023
Military-Friendly Employer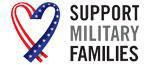 Support Military Families
Penske supports military families