Need a Truck?
Rent an Electric High-Roof Cargo Van
Recommended for Up to 1 Room
When you're looking for a greener way to travel, you can count on Penske. With our electric high-roof cargo vans, you'll get a hardworking yet quiet and efficient vehicle that can handle your rental needs and reduce your environmental impact as you travel.
Practical and versatile, our electric high-roof cargo vans are the right size for moving large appliances and furniture, or a studio apartment, with an estimated range of 100+ miles per charge. Built to maximize space and with connectivity on the go, our electric van offers you an enhanced driving experience while also maximizing environmental benefits. Travel with peace of mind thanks to Penske's responsive 24/7 roadside assistance.
Capabilities and Dimensions
These capacities, dimensions and mileage are approximations and may vary by manufacturer. Range can vary based on load, terrain and driving factors.
11 ft. 11 in. extended-length vans
Up to 9,500 lb. GVW
Up to 450 cu. ft. of loading space
Up to 3,300 lb. load capacity
Features
Power steering and anti-lock brakes
Rear and side cargo doors
Two-person bucket seating
Blind-spot assist and backup camera
Battery and Charging
Range: 108 miles (estimated)
Useable Battery: 67 kWh
400V lithium-ion battery
Connection port: CCS1 and J1772
Peak AC charge rate: 11.3 kW
Peak charge rate DCFC: 115 kW
Level 2 charger supplied 2.0 kW and 7.6 kW
Get to Know Your EV
Before you start your trip, discover the many features and comforts that your electric high-roof cargo van offers. Visit our
resource center
. It's filled with short, helpful how-to videos that show you the van's unique features—such as how to charge the van at home or at charging station—to ensure your rental goes smoothly.
Requirements
Must be 18 years of age or older with a valid driver's license and two valid forms of ID.
Personal Discounts
Discounts are available for AAA members, military personnel and college students. Certain restrictions may apply.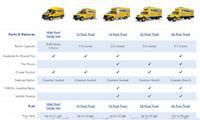 Truck Comparison Chart
View the side-by-side chart