Rent a 12 Foot High-Roof Cargo Van
Recommended for Up to 1 Room
Penske's high-roof cargo van moves large bulk items to one room — the right size for moving large appliances and furniture, or a studio apartment. With some of the newest vehicles in the industry, Penske trucks receive regularly scheduled preventive maintenance and are cleaned and inspected thoroughly prior to pickup. Travel with peace of mind with Penske's responsive 24/7 Roadside Assistance.
Capabilities and Dimensions
These capacities, dimensions and mileage are approximations and may vary by manufacturer. MPG can vary based on load, terrain and driving factors.
Interior dimensions of up to 11 ft. 11 in. long x up to 4 ft. 6 in. wide x up to 6 ft. 9 in. high
Up to 53 sq. ft. of floor space
Up to 404 cu. ft. of loading space
Up to 3,500 lb. load capacity
Up to 25-gallon gasoline fuel tank (up to 12 mpg)
Features
Power steering and anti-lock brakes
Cargo partition with access door and tie rails
Rear and side cargo doors
Two-person bucket seating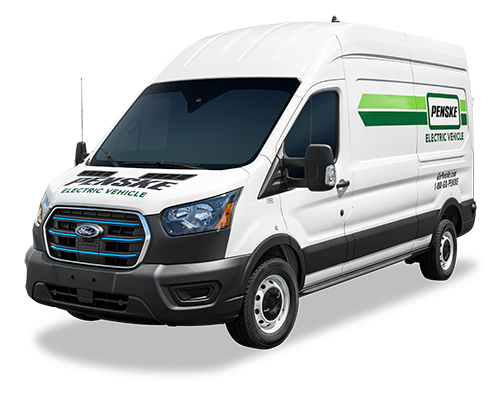 Looking to Rent an Electric Vehicle?
Try our electric high-roof cargo van. Now available in select markets.
Learn More
Requirements
Must be 18 years of age or older with a valid driver's license and two valid forms of ID.
Personal Discounts
Discounts are available for AAA members, military personnel and college students. Certain restrictions may apply.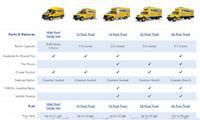 Truck Comparison Chart
View the side-by-side chart