Exclusive Savings from Rocket Mortgage®
Rocket Mortgage has big savings to offer you as a customer of Penske Truck Rental, including:
Credit that you can use to buy down your interest rate or put toward closing costs, along with other incentives.1
Competitive home purchase and refinance rates that help you achieve your homeownership goals.
A personalized and seamless mortgage process that gives you 24/7 visibility into your loan.
Discover more exclusive products from Rocket Mortgage, whether you're a first-time home buyer or you're refinancing your current loan.
Visit VIP.RocketMortgage.com/PenskeMoving or call 888-566-0965 to get started.
1 See VIP.RocketMortgage.com/PenskeMoving for terms and conditions.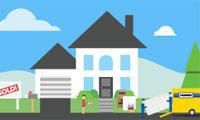 Take a trip through our network of moving supplies and services.