Back to News & Stories
A Lasting Body of Work: Penske Body Shop Supervisor Celebrates 50th Anniversary
A fascination with cars and trucks claimed Wayne Hoyer early in life, yet he always had an affinity for the damaged ones, opting to see promise where others saw problems.
---
So, it was only fitting that in 1969, a young Hoyer would channel his passion into a body shop technician role with the former M.M. Waterbor in Reading, Pennsylvania, the precursor to Penske Truck Leasing.
Now, five decades later, Hoyer and the company where he has spent his career will both celebrate milestone anniversaries. For Hoyer, it will be bittersweet as he prepares to say goodbye to his fellow associates for the last time tomorrow to begin his retirement.
"It seems like I just started here, and it's 50 years later," said Hoyer, with a chuckle.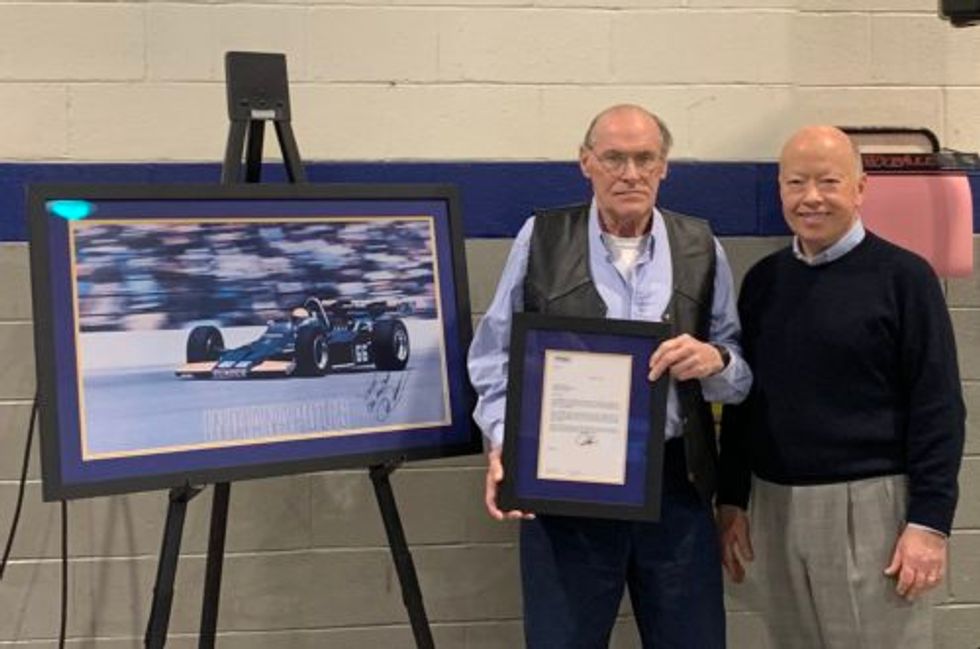 Wayne Hoyer with Brian Hard, president and CEO of Penske Truck Leasing
This week many of his fellow associates, including co-workers who retired before him, came together to pay tribute to Hoyer, who has served as a mentor to hundreds of body shop technicians.
Chief among his celebrants was Roger Penske, Chairman of Penske Corporation, who sent a congratulatory letter addressed to Hoyer, personally thanking him for his service to the company.
"The year 1969 was an important one in our history. It marked the beginning of Penske Truck Leasing, and I am proud to know you have been a part of the team from the beginning," Mr. Penske wrote. "Over the years, your commitment and hard work helped build our organization into a leader in the transportation industry."
Yet, who could predict those first heady years would lead to Hoyer playing a role, not only in the history of Penske Truck Leasing but also in that of Team Penske?
Crafting A Legacy
Long before he became a supervisor in Penske's Reading body shop, Hoyer began his career as a technician. He would move on to eventually write estimates for damaged trucks that made their way to the body shop.
Changing times came for the body shop and for Hoyer. When Hoyer started his career with the company, Penske had one body shop, and now there are 26 across the country.
"The facility changed quite a bit from when I started working to now," Hoyer said. "We didn't have computers at the time. I had a paper on my desk with all of the unit numbers written down."
There was only one shift of associates at the body shop to accommodate the workload.
"It's definitely more people now," Hoyer said. "We started out with five, and now we have 35 running on three shifts."
Among Hoyer's most cherished possessions is a print of Mark Donohue, who in 1972 won the first Indianapolis 500 for Team Penske. While Team Penske celebrated its 17th Indy win in 2018, for Hoyer the first win will always be special.
In the years before Team Penske relocated to North Carolina, the Reading body shop would often perform work on the racecars, as well as the transporters, in between normal body shop business.
One such request was to paint Donohue's Sunoco blue car, which was no easy feat Hoyer said, since back in those days, the body shop was not equipped with a spray booth.
Today Donohue's car and the transporter used to drive it are on display. The car is at the Indianapolis Motor Speedway Museum, while the transporter - also known as the "Blue Hilton" - is on display at Team Penske headquarters in Mooresville, North Carolina.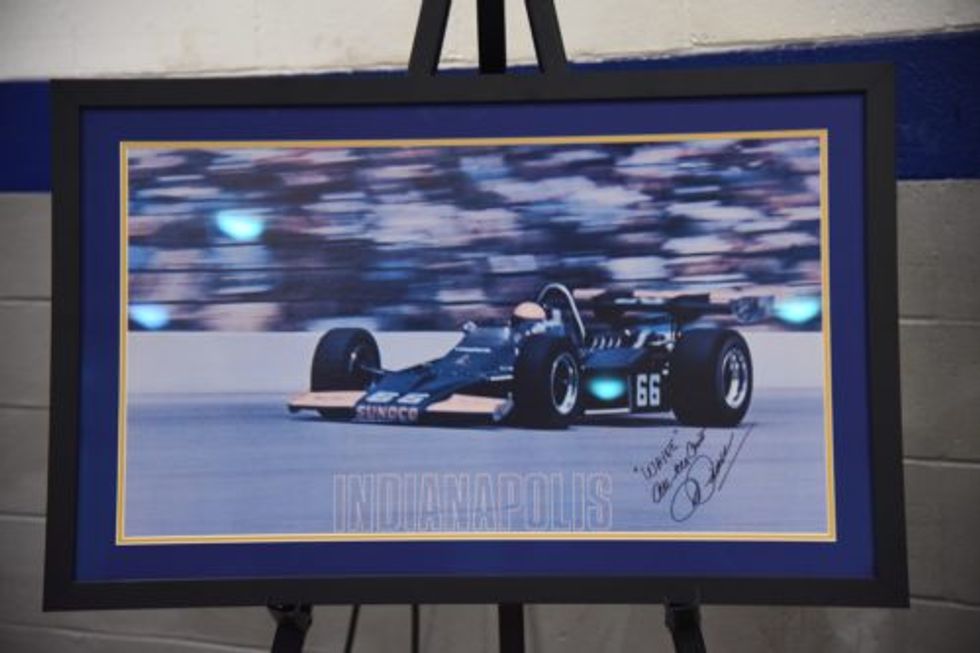 In his letter to Hoyer, Mr. Penske called the 1972 Indianapolis 500 win "a proud moment in Team Penske history."
The Donohue print was sent to Mr. Penske, who signed it wishing Hoyer all the best.
"With 2019 marking not only your 50th anniversary but also your retirement, I want to personally thank you for your service and wish you many years of happiness as you enter the next chapter of your life," Mr. Penske wrote in his letter to Hoyer.
Turning A Page
As the countdown to Hoyer's retirement measures now in hours instead of days, those who know him best are slowly coming to terms with life without Hoyer in the shop.
"He is pretty much the grand old mayor of the body shop," said Jason Watts, Reading Body Shop manager. "He is a wealth of knowledge. There isn't much that he doesn't know about the body shop or how anything works as far as body work goes."
Watts credited Hoyer with serving as his mentor during much of Watts' decade in the body shop.
James Svaasand, vice president of Collision Center Development and Operations, said he has known Hoyer for years and has come to know Hoyer as a consummate professional respected throughout the Penske organization.
"Wayne is well-respected by technicians and management, not only in Reading but throughout our collision network," Svaasand said. "In his role, he has been a stabilizing force whenever a manager change arose. Over the years he has unselfishly offered his advice and experience to new managers in their role."
Hoyer left a lasting impression on those outside the company.
"His vast knowledge and experience are widely recognized by our customers and the insurance appraisers," Svaasand said. "He has the ability to explain complex repair procedures in terms that are easily understandable to our customers and insurance carriers."
After spending decades waking at the same time, packing a lunch and spending nearly every workday at his post – no matter the weather – retirement will take some getting used to at first.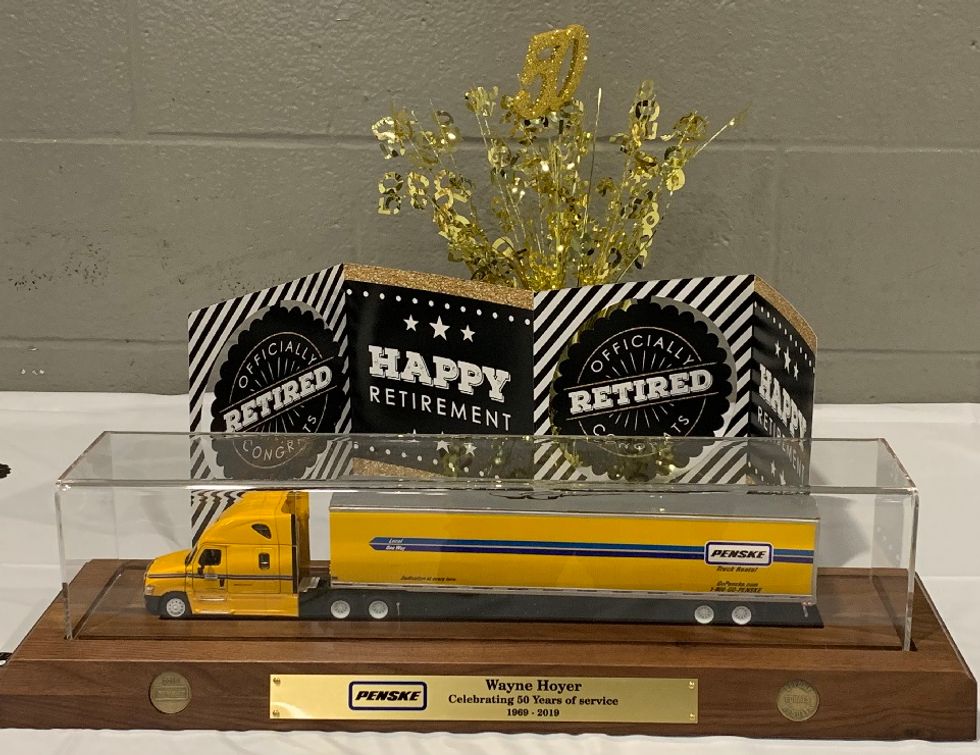 When asked what his first Monday morning after retirement will be like, Hoyer said it will probably feel like a Saturday, but he intends to stay busy.
Hoyer has a list of projects that he has been meaning to get to and never had the time. For the first time in a long time, Hoyer said he'd be able to complete them.
"Well, I have some cars that I want to work on. I have one in particular that I need to get running because I haven't had it running for more than 20 years," he said.
"It is a 1956 Ford Thunderbird. I have a lot of work to do on it. I have been collecting parts for it because I want to rebuild the front-end suspension, the exhaust, brakes, and all that stuff. That will keep me busy for a while," Hoyer said.
And that's not all.
"Then I have a one-horse sleigh that I have been working on for how many years. I have to work on that and so many other things," he said.
Penske Truck Leasing and Penske Logistics offer a range of career opportunities including truck fleet maintenance technicians, truck drivers, fleet maintenance supervisors, operations management roles, logistics, and supply chain operations roles and many others. Visit gopenske.com/careers for more information on career opportunities.
By Bernie Mixon
Back to News & Stories