Back to News & Stories
After the Storm: Recovery and Renewal in Spartanburg, South Carolina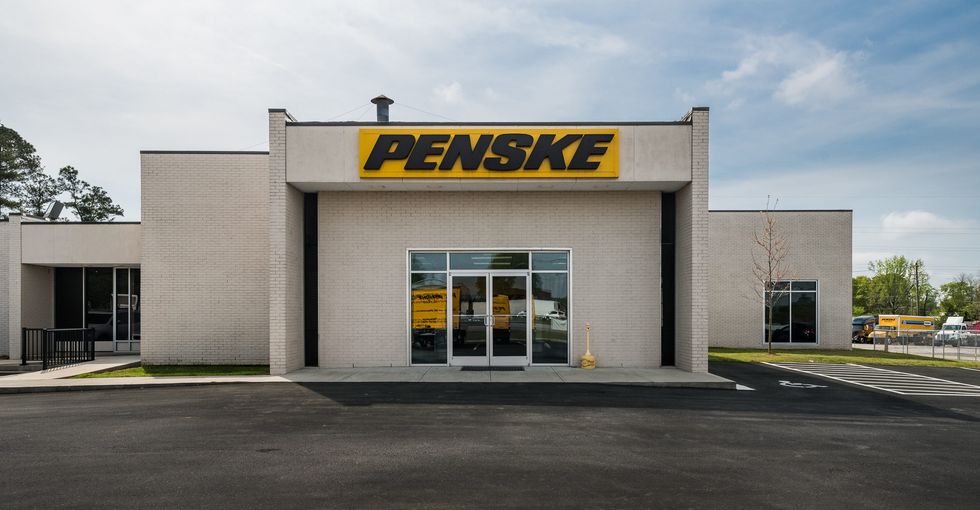 As Mikel Daugherty sat in front of a computer in his office in Penske's Spartanburg, South Carolina, location, a familiar tone from his smartphone caught his attention: A storm was on the way.
---
"I could see the wind blowing the trees really hard. All of a sudden, the building started shaking," said Daugherty, branch service manager.
Seconds later, the fury of a category F-2 tornado burst into the Penske facility, causing severe damage. Outside, trees snapped like twigs, and commercial trucks were tossed like toys. Yet remarkably, no lives were lost.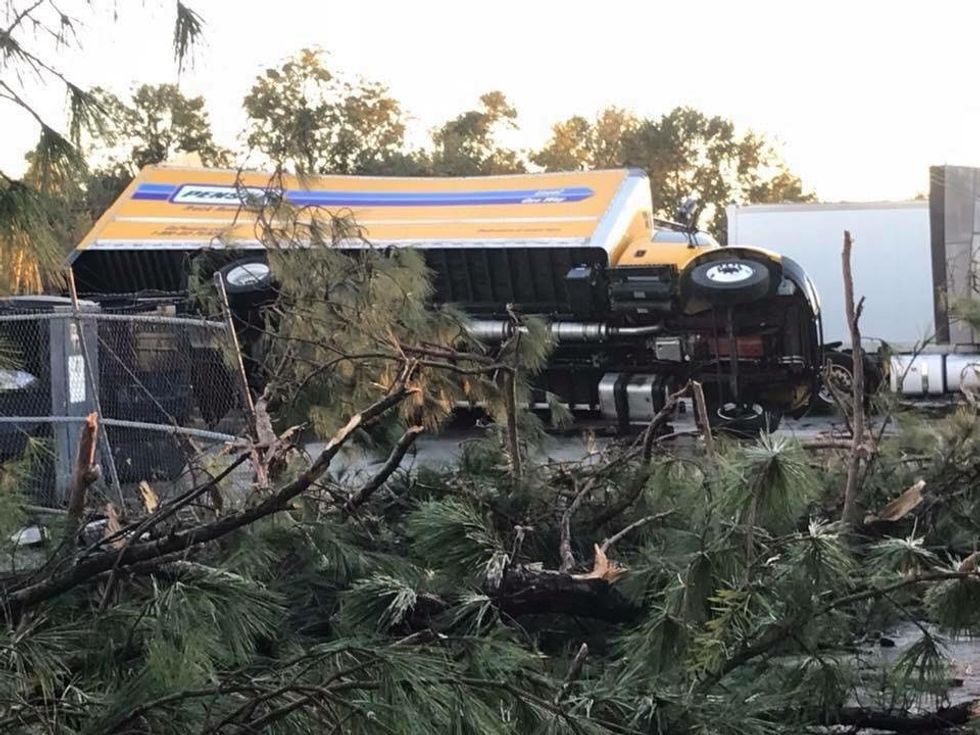 Now, some 20 months after the tornado struck, associates and customers gathered for a grand reopening of the newly transformed facility to celebrate its recovery and renewal.
"It was really spectacular to see everyone pull together as a family," said Dave Reifsnyder, district manager. "That's what Penske is all about, pulling together as a family and knowing how important the associates are to the organization and the organization is to the associates."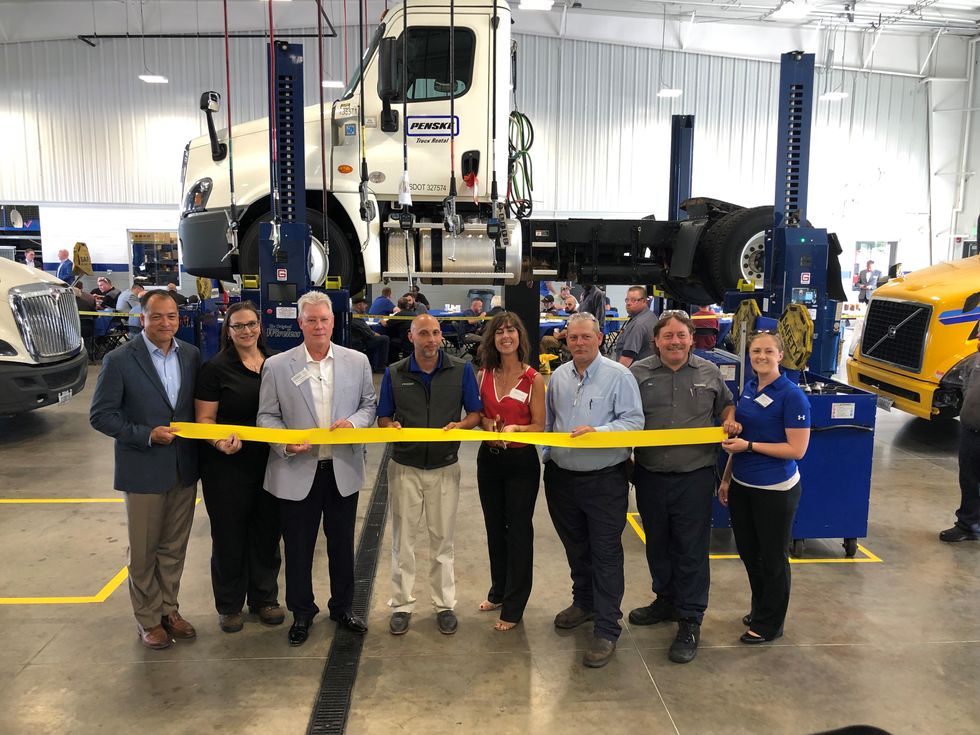 An Ordinary Monday
As Mondays go, the day the tornado struck - Oct. 23, 2017 - began like any other day. The Spartanburg location, tucked off I-85 Business, was teeming with customers for the facility's rental and maintenance operations.
Daugherty had just returned from a customer appreciation cookout in nearby Greer, South Carolina. Brandi Nixon, service administrator, was busy working through paperwork when she happened to look up.
"Just beyond the wash bays, I could see the tops of the pine trees, and they were swaying. Violent is not a term that would even compare to what they were doing. They were bending almost in half," Nixon said.
They both decided to make sure everything was okay.
"He came around his desk and I came around mine. I was going to follow him out the door, and about the time he put his hand on the door handle, the whole building started to shake," Nixon said.
The pair crouched down.
"At that point, Mikel was trying to hold the door closed. I could not get back to my desk. And thankfully, I didn't because the tool cabinet behind my desk fell over right where I was sitting," Nixon said.
The sound from the tornado was unlike anything Nixon had experienced before.
"It was loud. People say you hear a freight train. I did not hear a freight train. It was a complete assault on the senses, honestly. It was absolutely terrifying," she said.
The violent storm lasted just about 15 to 20 seconds but left a clear path of devastation in its wake. "I had to climb over debris to get to where I could stand up," Nixon said.
When she could rise to her feet, her first thought was about Daughtery.
"When it started, I looked and saw Mikel was holding the door closed, and then during the storm, everything was just happening," Nixon said. "The next time I looked up Mikel was gone."
Where is Mikel?
As the storm burst through the building, Daugherty's instinct was to try with all his might to hold that door closed.
"I saw a wall of white wind come through that bay door. When that happened, the service door broke the hinges and snatched me and the door out into the shop," Daugherty said. "We went probably about 15 feet or so. We had a steel table sitting there in the shop, and when I hit the table, I let go of the door."
The door that Daugherty grasped onto so tightly was then lifted into the air by the strong wind.
"At that time, I didn't know where it went. I just know it left me. I grabbed both hands on the table, and my first instinct was to try and get under the table," he said.
But, he wasn't strong enough against the force of the wind and water all around him. Then, a 16-foot truck that had flipped onto its side slid into the building, blocking the wind just enough so Daugherty could get to the ground.
"I began crawling over the debris that was already there and got into the key room. I just lay down and put my hand over my head, and I felt stuff falling all over me," he said. "Then, it just stopped, and I could hear Brandi hollering for me because she thought I was gone."
Once they reunited, their first thought was to locate the others. Soon, they determined everyone was accounted for, and the injuries were minor. "Everyone had scrapes, cuts, and bruises, but no one was seriously injured," Nixon said.
Furniture pads doubled as makeshift blankets for the associates who were drenched from the storm's downpours. "We were all soaking wet. The amount of rain that was dumped was amazing," she said.
Just as quickly as it darkened, the sky cleared and the sun appeared. "It was just as in the movies," Nixon said. "It was clear blue skies afterward."
Assessing the Damage
William Rose, district service manager, was at the Greer location wrapping up the customer appreciation event when Daugherty called to tell him about the tornado. Rose immediately went to Spartanburg.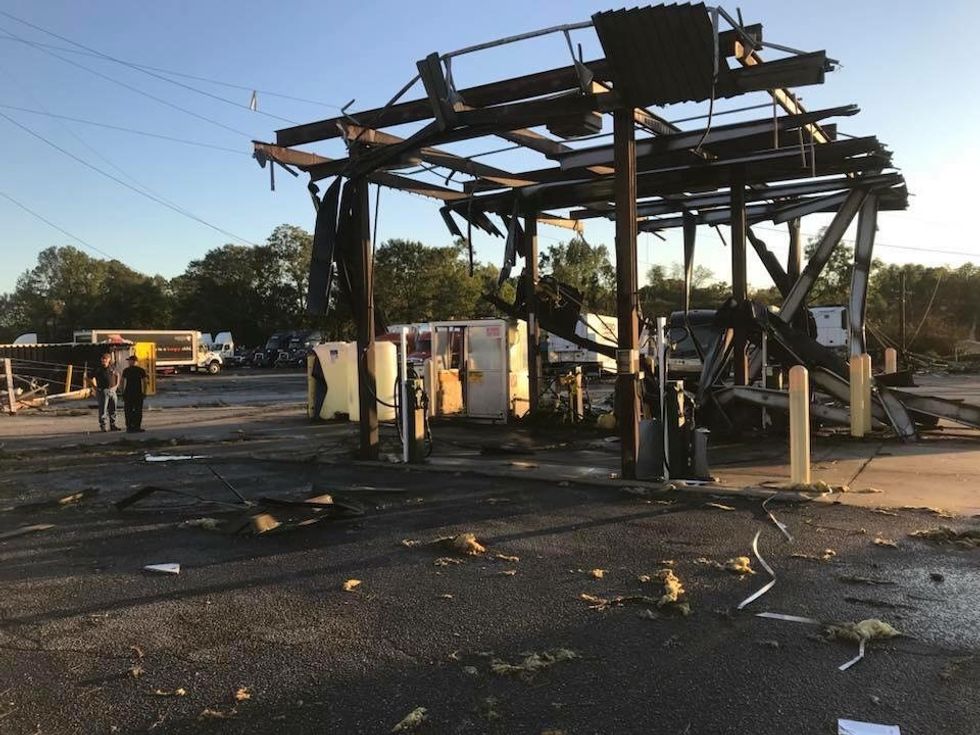 "We worked to determine what was salvageable in the facility, staging good tools outside and collecting associates' personal belongings and personal tools. We started the cleanup. I can't remember how many miles I walked that day, but it was a long day," Rose said.
An important first step was to contact customers to let them know the facility was closed and to direct them to other locations
Matthew Rummage, facility project manager, was on site the next morning to assess the damage. What he found was breathtaking. The section of the building where the rental department operated sustained damage to the doors, windows, and roof.
The maintenance section took the full brunt of the storm. One end of the building was destroyed, and the rest had structural damage throughout. The building was eventually condemned by Spartanburg.
In the overnight hours following the tornado, crews were at the facility righting trucks and trailers that were tossed over during the storm. Additional crews were called to the scene the next morning to clean up debris and help to make the structure safe, Rummage said.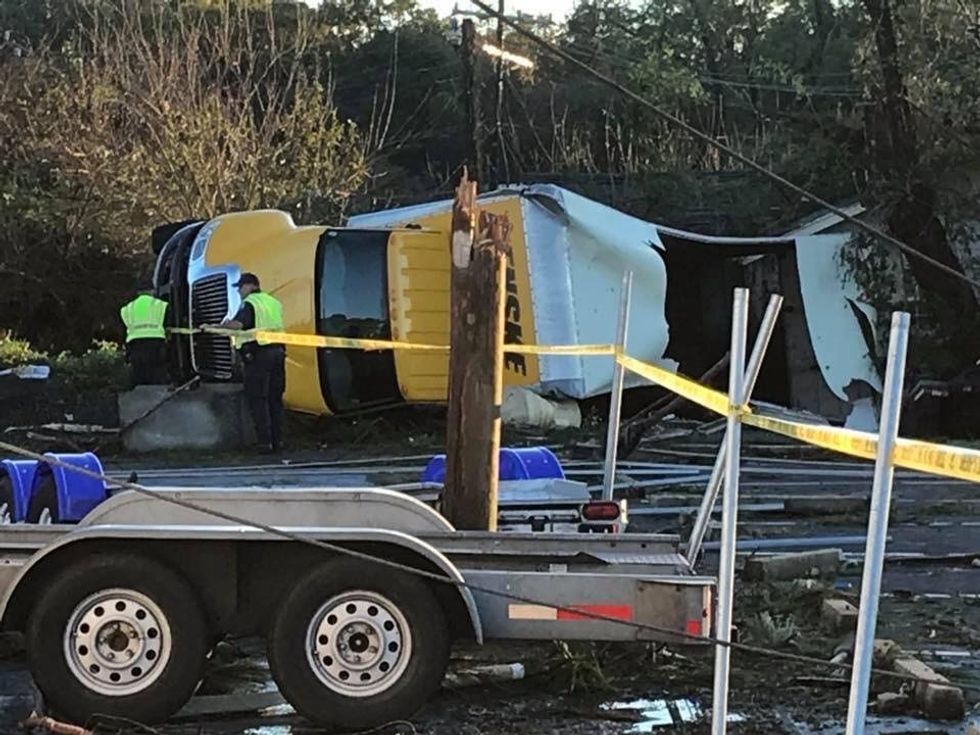 Mark Eichkorn, facility vice president, had planned to be in Charlotte, North Carolina, on the day after the tornado hit.
Once he learned about the tornado, Eichkorn traveled to Spartanburg instead, along with Andrew Cullen, senior vice president, fuels and facility services and Karen L Shchuka, vice president of real estate, to assess the damage to the facility and determine next steps.
It was clear maintenance operations would need a new site. "We knew it was going to be out of commission, and we had customers to take care of," Eichkorn said.
After visits to a few properties, a temporary site was discovered a few miles from the original Spartanburg location. Just two days after the tornado struck, associates had a new physical location, and two weeks later, maintenance operations were up and running.
Yet, the decision was made early on to rebuild Spartanburg.
A State-of-the-Art Operation
Long before the tornado struck, plans had been in the works for some time to make improvements to the Spartanburg facility. The tornado's damage paved the way for a much-improved facility for associates and customers.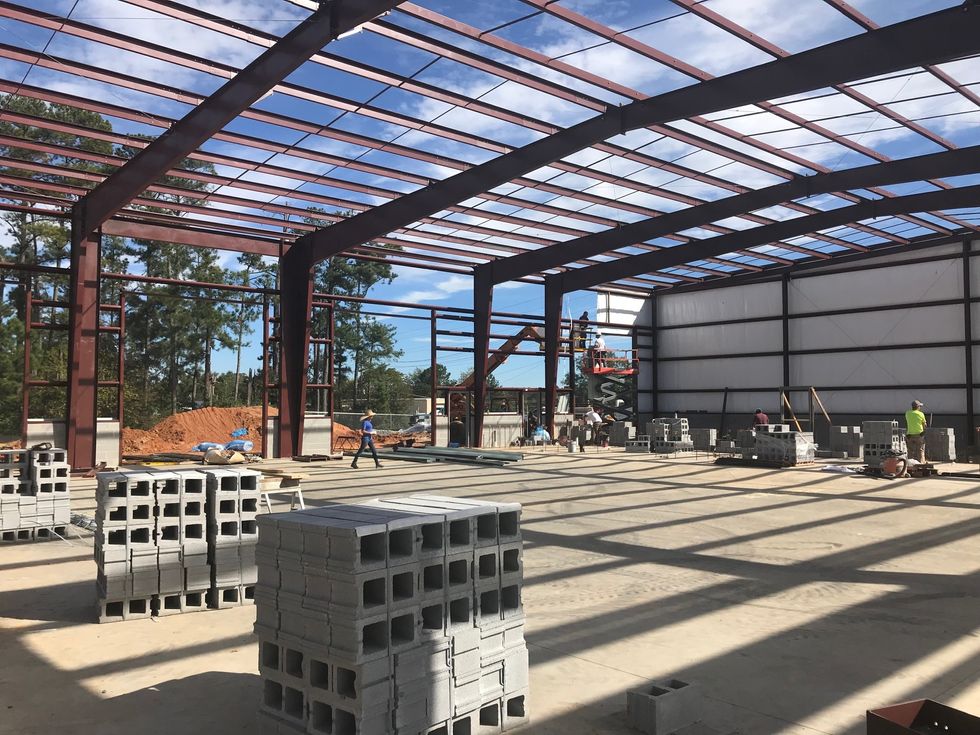 "The tornado allowed us to start new. We reconfigured the shop, positioning it at a different location," Reifsnyder said. "Now it has a three-bay drive-thru and includes an automated wash bay and tire carousel. It is a state-of-the-art operation now."
The fuel island – which had been destroyed - was rebuilt and now stands in a new location on the property. "It is a state-of-the-art fuel island with DEF pumps. It will have unleaded fuel now," Reifsnyder said.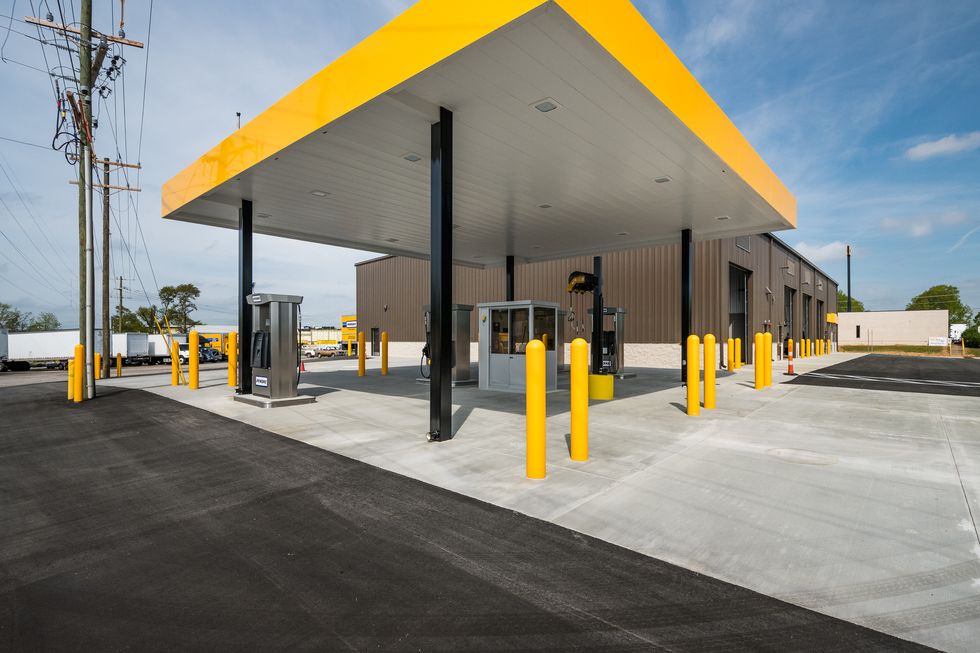 Spartanburg's footprint also changed.
Before the tornado, "we had two buildings – a front administration and rental area with a good 50-yard walk between buildings to the shop," he said. "Now, since we've repositioned the shop, we've connected everything under all one roof."
The new configuration allows for a more spacious workspace.
"Before, you might be able to get two tractors in, but you couldn't get two straight trucks in. Now we can work on two straight trucks in one bay," Reifsnyder said. "We could put three tractors back to back in a bay, so it adds some flexibility in terms of work space."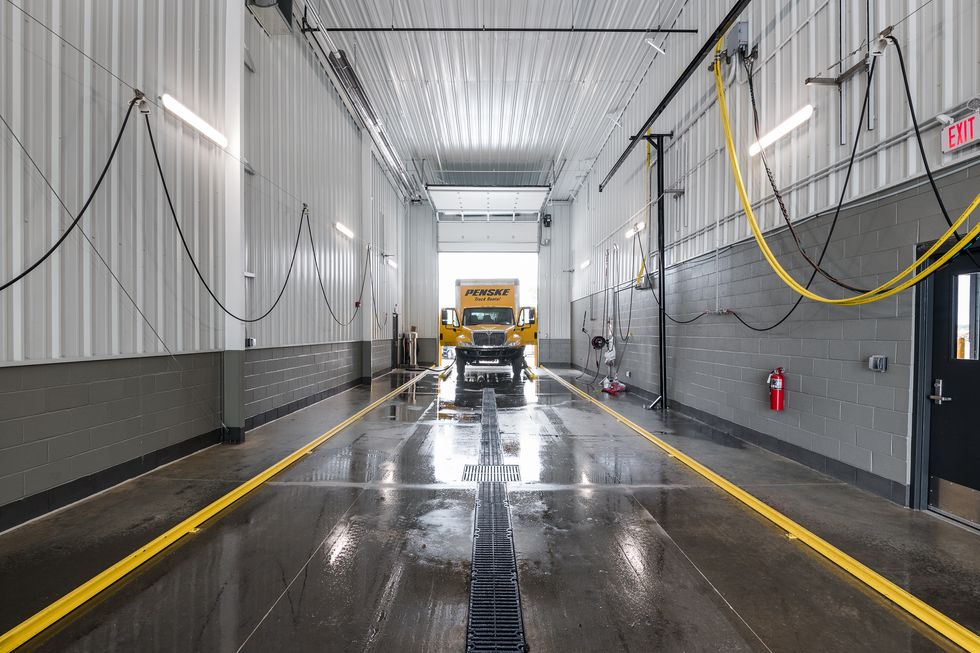 The building also includes a large conference room, space for training, a breakroom for technicians and a space for drivers, which didn't exist prior to the renovation.
"It is a brand new facility. The associates are absolutely loving it and our customers, we believe, will absolutely love it," Reifsnyder said.
Recovery and Renewal
For all the tornado managed to strip away all those months ago, it left a strong bond among associates in its place.
"I think all of this made this team really connected. No matter what happens in their career, they will be connected to Spartanburg location and the guys that were here during it," Daugherty said.
Nixon agreed.
"There is something to be said about death-defying experiences bringing you closer together," she said. "We have always been a close-knit group. Now, it is more so. We are better and closer."
Equally important was the outpouring of concern from Penske leadership in the minutes after the storm hit. Many reached out to each associate to make sure their needs were addressed, Daugherty said.
"There are people who go through their whole career and never get to see their company act in such a dramatic situation like a tornado, and they never get to know the definition of the company they work for," Daughterty said. "This storm, the response, the new building, defines Penske."
By Bernie Mixon
Back to News & Stories