Back to News & Stories
Associate Recalls Service in Navy Ceremonial Guard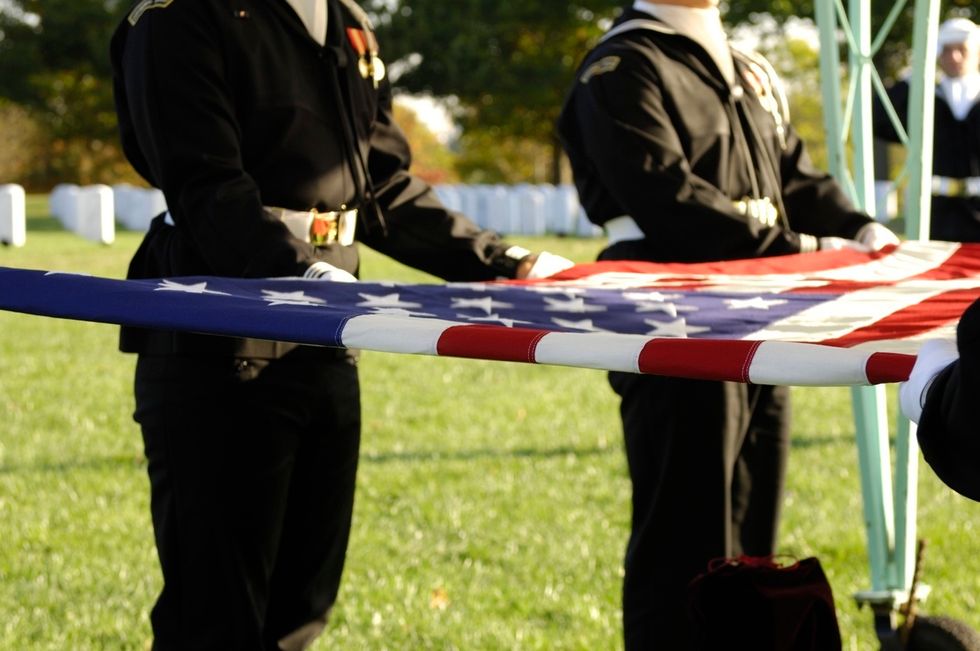 With the sound of gunfire still echoing from the 21-gun salute, Michael Phillips, a member of the Navy Ceremonial Guard, stood at attention, saluting a fallen Navy hero as taps began to play.
---
It's a somber scene would play out more than 1,500 times for Phillips, a member of the ceremonial guard's firing party, serving in funerals for Navy personnel and veterans at Arlington National Cemetery.
"I had a duty to these veterans and to their families to ensure when we lay them to rest, it was done properly, and it was done right," said Phillips, a technician at Penske's Longview, Texas location. "My driving force was that these fellow brothers and sisters were taken care of."
The city of Washington, D.C., was far removed from Phillips's hometown of Longview, Texas. He was there for just a month and a half before the Sept. 11, 2001, terrorist attacks occurred.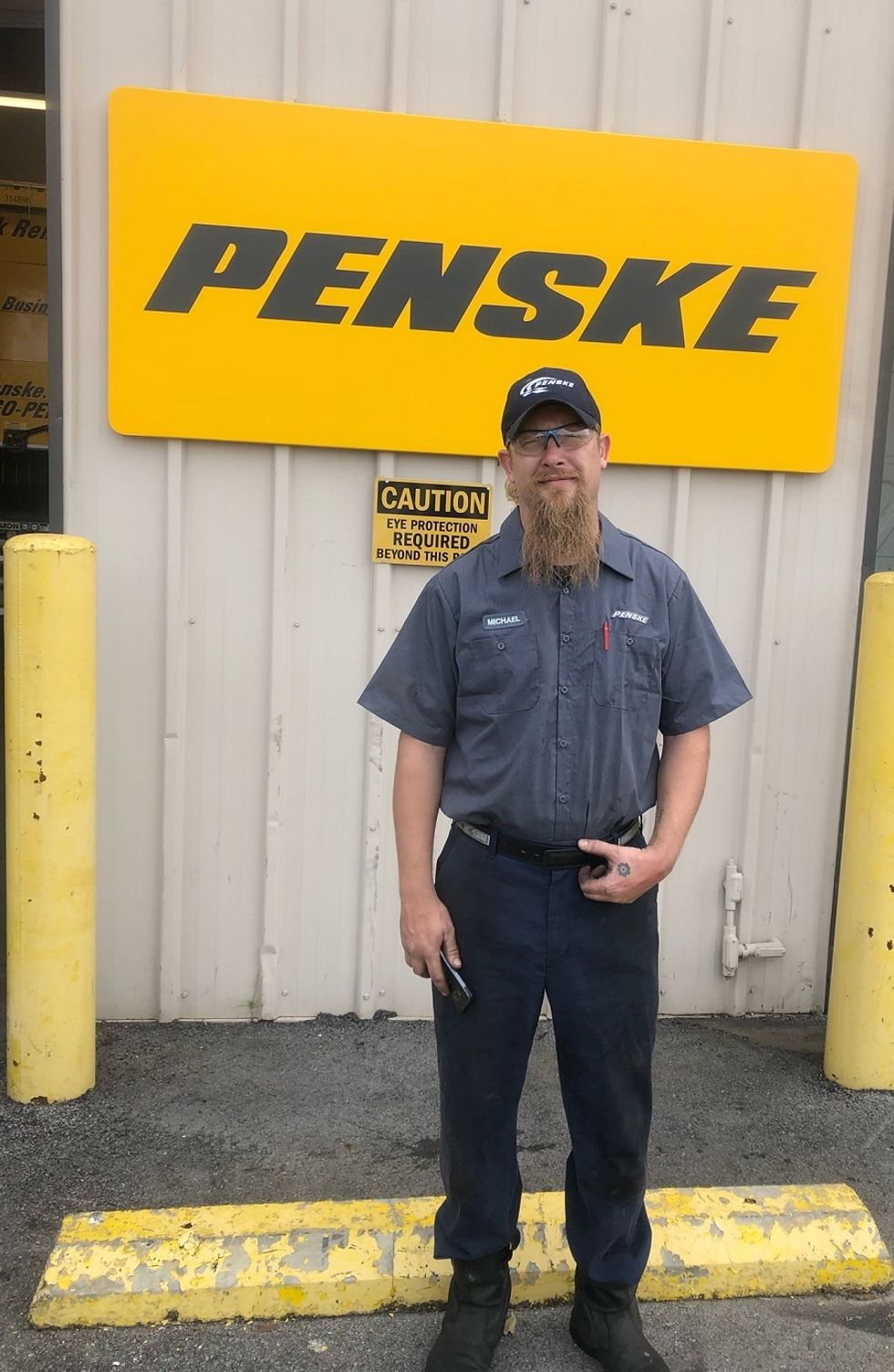 As Penske pauses this week to thank U.S. veterans for their service and sacrifice, our associates are sharing recollections of their military service and what it means to be a veteran.

In his Father's Footsteps
Like most teens, Phillips was unsure about what his future held after graduating high school, but he knew he wanted to leave east Texas.
Just about every male in his family served in the military, including his grandfather and uncles.
Phillips's father served in the Navy as a machinist's mate, working on submarines, and later as an engineman. Ultimately, Phillips decided to follow his father's example and join the Navy.
Before Phillips enlisted in 2001, "there wasn't a big call for military members," Phillips said. "Any kid would realize this would be great. I would have my college paid for and then I can continue my life and not have to worry about anything."
After he arrived at boot camp, Phillips was selected to become a member of the ceremonial guard.
Legacy of Service
Dating back to 1931, the U.S. Navy Ceremonial Guard has served as the official ceremonial unit of the Navy.
The ceremonial guard's primary mission is to represent the service in presidential, Joint Armed Forces, Navy and public ceremonies in the capital. The guard participates in presidential inaugurations and arrival ceremonies for foreign officials.
The ceremonial guard also serves as funeral escort and conducts all services for Navy personnel buried in Arlington National Cemetery.
For his new role, Phillips took part in a series of training experiences, not unlike boot camp. "We had uniform inspections. We would eat together. My whole division would eat, sleep and do everything together. So, it was like going through another 13 weeks of boot camp."
A second training was held to instruct members of the ceremonial guard on how to perform their assigned jobs. In addition to being part of the firing team, Phillips was also part of the group assigned to the White House and Pentagon.
"Right in the middle of my training, 9/11 happened," Phillips said. "I was working in Arlington National Cemetery every day."
Phillips also participated in funerals at Quantico National Cemetery in Triangle, Virginia.
During his time in the ceremonial guard, Phillips served in the White House, participating in ceremonies for dignitaries and flag ceremonies. One year, Phillips was invited to a Christmas event there.
After his two-year term in the ceremonial guard ended, Phillips became an engineman, where he maintained diesel engines, hydraulic systems and auxiliary equipment on the ship.
His first ship assignment was on the USS Austin (LPD-4), which was the oldest amphibious transport dock ship at the time. "My job was to take care of all of the auxiliary equipment, like the air compressors, water pumps and diesel generators," Phillips said.
Returning to Civilian Life
After a decade in the Navy, Phillips decided to leave in order to move to Minnesota and attend college, where he studied medium- and heavy-duty truck technology. He was also working full-time in a truck shop.
After a job transfer took him back to Texas, Phillips decided to search online for new opportunities when he came across a technician opening with Penske.
"I knew Penske had longevity. I knew they had a very large fleet of trucks," he said. "I knew Penske was a great company to work for."
Phillips credited his time in the Navy with putting him on the path leading to a new career as a technician with Penske.
"I joined the Navy to become an engineman," Phillips said. "Not only did I get college training, the Navy also taught me how to work on diesel engines. That's what the Navy has done for me."
Penske is committed to hiring veterans and has been named 2020 Military-Friendly Employers by VIQTORY, the publisher of G.I. Jobs and Military Spouses magazines.
In addition, Penske partners and supports military-friendly organizations, including The Paralyzed Veterans of America's Mission: ABLE campaign, Support Military Spouses, World T.E.A.M. Sports and Toys for Tots.
Penske Truck Leasing and Penske Logistics offer a range of career opportunities, including truck fleet maintenance technicians, truck drivers, fleet maintenance supervisors, operations management roles, logistics and supply chain operations roles and many others.
Visit www.GoPenske.com/careers/veterans for more information on career opportunities.
By Bernie Mixon
Back to News & Stories