Back to News & Stories
Friendship Drives Associate's Campaign for Organ Donor Awareness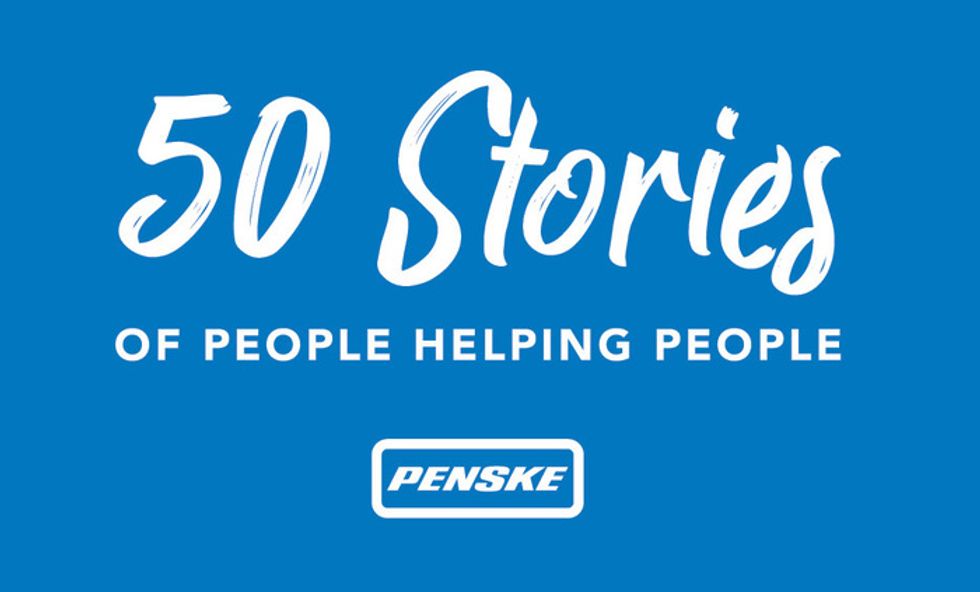 Editor's note: This story is part of our "50 Stories of People Helping People" series. As we celebrate Penske's 50th anniversary in 2019, we are spotlighting associates every Friday who are making a difference in their communities.
---
In quiet moments, Andy Mills can still hear John Maicher's voice as the teen with the bubbly personality spoke passionately about his love of hockey. The pair, who met in high school, bonded over a love of sports, setting the stage for a friendship which lasted nearly 20 years.
Beyond the ever-present smile and positive outlook, Maicher experienced serious health challenges throughout his life due to a medical condition that would ultimately require multiple organ transplants. Yet, Maicher faced each new obstacle with grace and dignity.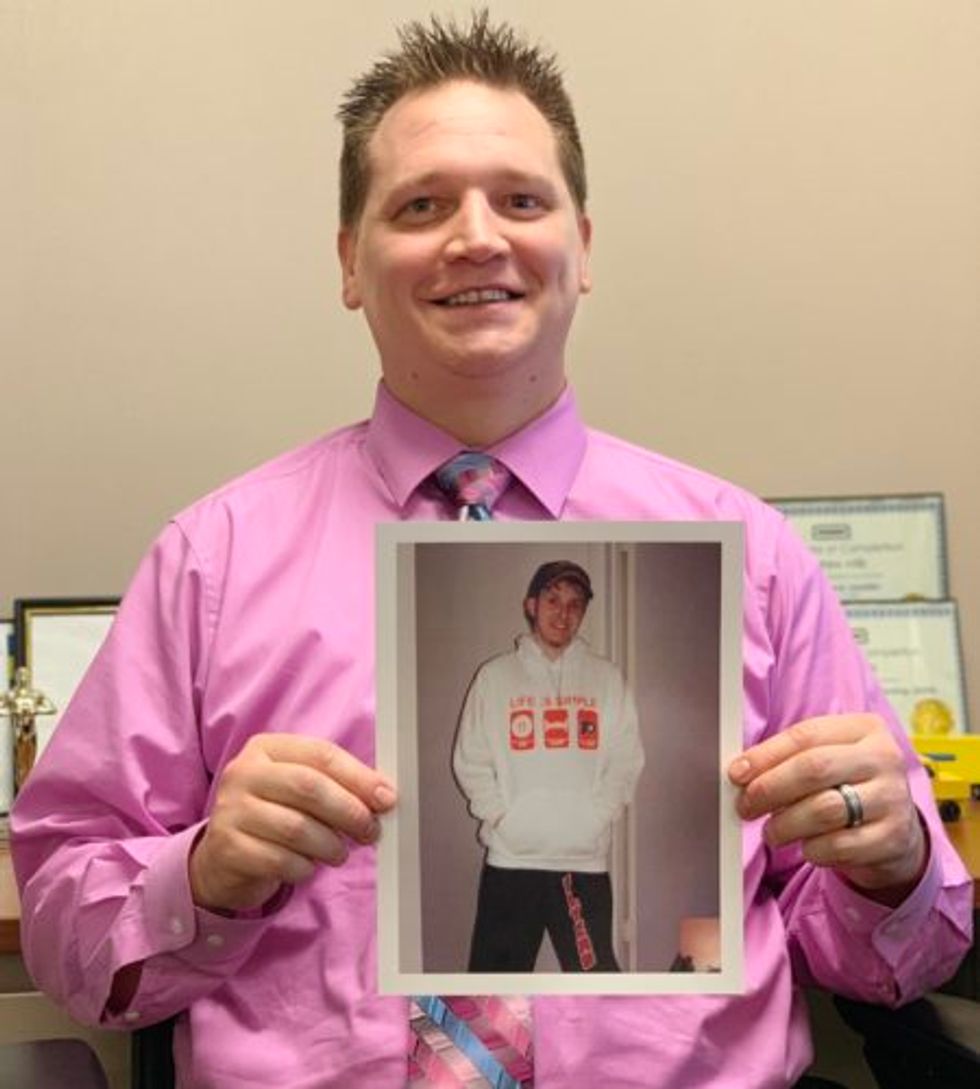 Mills holds a picture of Maicher.
"He was a bundle of inspiration," said Mills, now an accountant in the Maintenance department at Penske Truck Leasing in Reading, Pennsylvania. Maicher's courageous fight inspired Mills to embrace organ donation awareness as a way to honor his friend's memory. Thursday, Feb. 14, is National Donor Day.
Sadly, sports took center stage again last summer for Mills, this time to honor Maicher, who passed away from medical complications. At Maicher's funeral, mourners were encouraged to wear their favorite sports jerseys. As Mills looked out at the crowd, he knew, somewhere, Maicher was smiling.
"When I gave that eulogy at his funeral, I spoke about how I don't have to look up to see him because I see him in everybody in the crowd," Mills said. "I see a little bit of him everywhere."
The Band Member and the Baller
Mills and Maicher met in the ninth grade at Daniel Boone High School in Birdsboro, Pennsylvania.
"He was a band member, and I was a jock," Mills said. "We were in some classes together. Along with my friends from the basketball team, we took him on as a little brother. We kind of protected him."
Maicher was born with a medical condition called Gastroschisis, a birth defect of the abdominal wall, which causes the baby's intestines to locate outside of the abdomen. Maicher was in the hospital for the first nine months of his life.
"He had to have a lot of physical therapy when he came home," said Sandy Maicher, of her only child. "That took about a year, and from there, he was just like any other kid. He was having a good time. He has played baseball. He was a great student."
When he was in high school, Maicher developed problems with his liver. He received a transplant in 2006 at a Delaware hospital and was in a coma for four months.
"Even though Johnny was unconscious, his friends would come down to talk to him. Even though he would just lay there, he was their support," said Mrs. Maicher. "And then, of course, when Johnny was awake, they would have a lot of fun playing games."
In 2011, when he was in college, Maicher found out he would need a multi-visceral transplant: stomach, liver, pancreas and small bowel. He was placed on a multi-organ transplant waiting list, where he remained for six years.
After receiving the transplant in May, Maicher suffered an infection, and he passed away in August four days before his 34th birthday.
One comfort to Mrs. Maicher was her son's circle of friends and the big part they played in his life.
"Johnny cherished his moments with his friends. No matter how he was feeling or what was going on in his life. When they called, he was there, and he never let anyone know what he was feeling," Mrs. Maicher said.
Mrs. Maicher witnessed the special bond between her son and Mills for herself during her son's hospital stay following his first liver transplant.
"This one day Andy was visiting, and they had to change Johnny's dressing. Andy held Johnny's hand. He didn't care what he saw or what was going on. It was all about John. It took me back because I never expected that kind of friendship from anybody," Mrs. Maicher said.
"A lot of people would have run when something happens that they don't think they can handle and Andy didn't. He held his hand. He rubbed his head. And that was when I realized just how true his friends were for him," she said.
Helping Hand
Maicher's friends wanted to do more to help, so Mills and a few others organized a series of fundraisers to help defray medical expenses and donate to charities that promoted organ donation awareness.
"We tried crowdfunding accounts. We did car washes. We did anything we could think of," Mills said.
In addition, they sold blue bracelets with the word "Imagine" embossed on them. Mills has one that he never takes off.
"We went with "imagine" because imagine if one person donated an organ, it could save someone else," he said. "This bracelet is his whole life. Through everything, he was a fighter. He was never moody, never upset, never down, never depressed."
Mrs. Maicher said she and her husband would never let their son quit.
"We would always try to find the positive and not the negative. Every picture that I have of John from the time that he was a baby to the time that he passed away he was smiling – always," said Mrs. Maicher.
Even though his friend is now gone, Mills said there are plans for future fundraisers, including a 5K run in the spring and a golf outing, as well as the funding of the John Maicher Memorial Scholarship Fund at Daniel Boone High School.
In addition to the fundraising, organ donation awareness is a big part of keeping Maicher's memory alive.
"There are so many people who need multiple types of organs, and you could change one life just by saying yes to organ donation," Mills said.
By Bernie Mixon
Back to News & Stories