Back to News & Stories
#OneWay4PVA Campaign Celebrates 10th Anniversary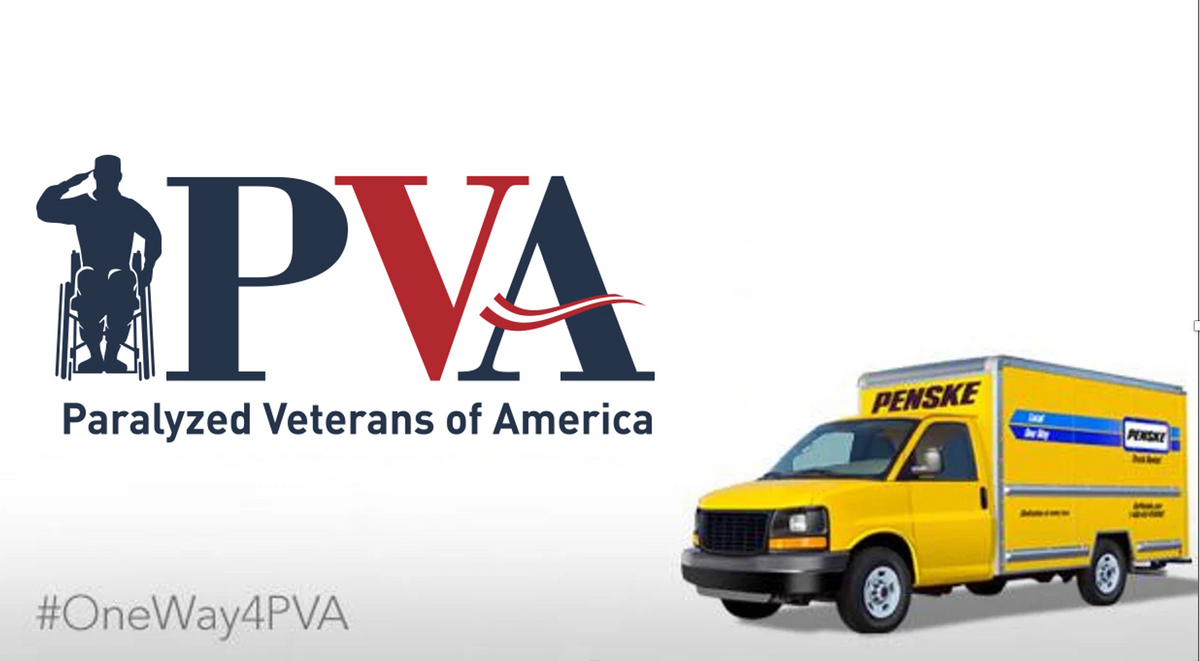 For more than 75 years, Paralyzed Veterans of America (PVA) has been dedicated to helping veterans who incurred a spinal cord injury or disease, like ALS or MS, receive the benefits they deserve.
Penske Truck Rental, a staunch supporter of veterans, joined with PVA 10 years ago to create the #OneWay4PVA campaign, which encourages one-way rental customers to donate $1 to their rental to benefit PVA.
---
"Penske is proud to support Paralyzed Veterans of America and the veterans they serve," said Art Vallely, President of Penske Truck Leasing. "We're grateful to our truck rental customers and associates who have supported the #OneWay4PVA program for the past 10 years."
The Penske partnership is an important part of PVA's mission.
"I consider the Penske partnership to be part of the lifeblood of PVA," said Carl Blake, Chief Executive Officer of PVA. "You give us the ability to execute our programs – everything from providing benefits to supporting research to find a cure for spinal cord disease. The breadth of the programs we execute are all a part of what you make possible with your partnership."
On a Mission
PVA began in the 1940s as a non-profit organization formed by a group of injured World War II veterans who returned to communities that were inaccessible and ill-prepared to meet their needs.
The organization would become the only congressionally chartered veterans service organization dedicated to the benefit and representation of veterans with spinal cord injury or disease.
Through the organization's Research and Education Foundations, PVA invests in research to find cures or develop treatments for paralysis and diseases targeting the spinal cord, such as ALS (amyotrophic lateral sclerosis, also known as Lou Gehrig's disease) and multiple sclerosis, as well as TBI (traumatic brain injury).
The organization advocates for quality health care and veterans benefits through the Department of Veterans Affairs as well as working to make the country more accessible for all veterans.
PVA's Architecture Department provides assistance to help the country achieve Americans with Disability Act (ADA) standards of compliance by helping to make sure facilities, companies and parks are accessible not just for wheelchair users but anybody suffering from any type of debilitating injury or disease.
PVA provides the services at no charge to veterans and their families, thanks in part to donations from generous Americans and the dedicated support of Penske Truck Rental.
A Moving Partnership
Penske's Central Reservations associates are on the front lines of the #OneWay4PVA campaign, encouraging one-way rental customers to consider adding a $1 donation to their reservation.
For some who have active-duty or military veterans in their families, their work on behalf of PVA takes on special meaning.
Over the years, PVA leadership has visited with associates at Penske's corporate headquarters in Reading, Pennsylvania, and felt the connection.
"I had the chance to come up to Reading last summer to recognize associates who supported the campaign. The way they told our story was amazing. What it tells me is they have adopted PVA, our mission and an understanding of what we do as a part of their own," Blake said.
"It can't be overstated how valuable they are in terms of people who connect with people on a daily basis who may not know anything about the organization," he said.
Penske's impact goes far beyond the #OneWay4PVA campaign.
"It's not just about the money that we receive. I have a great appreciation for what the entire Penske Corporation has done for the PVA. It makes me proud to think that someone like Roger Penske has made the mission of PVA part of the mission of the Penske Corporation," Blake said.
In 2016, Mr. Penske, Chairman of Penske Corporation, was presented with a Humanitarian Award at the annual Paralyzed Veterans Mission: ABLE Awards for his outstanding contribution to support disabled veterans.
In addition to the fundraising campaign, Penske supports the PVA Veterans Career Program, the annual PVA Gala (including hosting the 2022 Gala in Indianapolis), the National Veterans Wheelchair Games, and Paralyzed Veterans Racing through additional sponsorships and in-kind truck rentals.
By Bernie Mixon
Back to News & Stories