Back to News & Stories
Penske Associate Efforts Help Kids and Families at Ronald McDonald Houses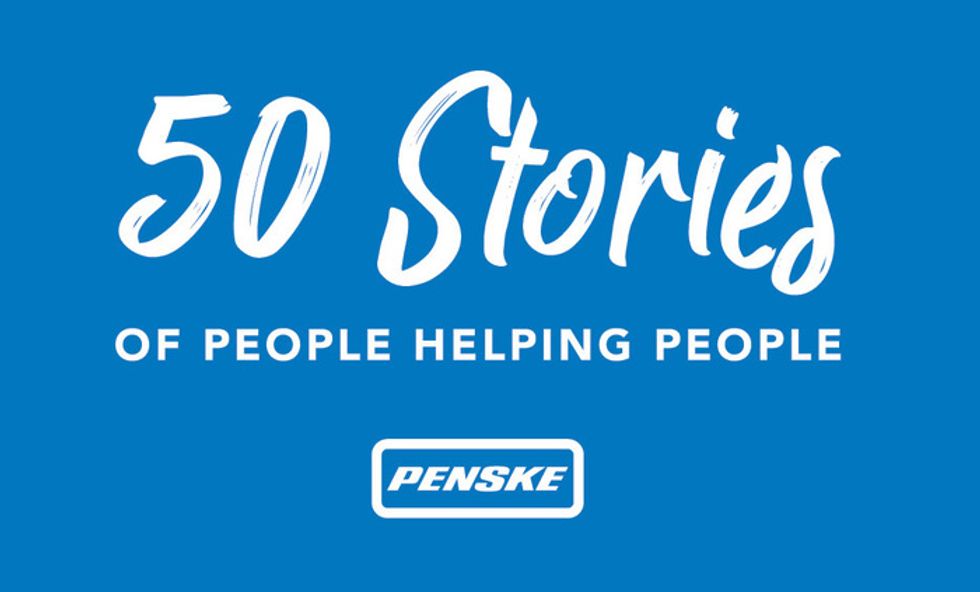 Editor's note: This story is part of our "50 Stories of People Helping People" series. As we celebrate Penske's 50th anniversary in 2019, we are spotlighting associates every Friday who are making a difference in their communities.
---
As Penske associates, volunteering is in our DNA.
Throughout this series, we've seen associates assist groups and organizations that are very close to their hearts. This week, we spotlight people from two areas of the country who are supporting their local Ronald McDonald Houses (RMH) in different ways.
According to their website, the RMH provides private bedrooms and home-cooked meals for families at little to no cost as their hospitalized children receive medical treatment at nearby hospitals. Their mission allows a family to focus on their child's health, rather than have to worry about where they'll get their next meal and where they can stay.
Knowing this, many Penske associates have volunteered their time to help the organization any way they can, from fundraising efforts to serving meals. Below are examples of two districts' recent involvement with the RMH.
Louisville District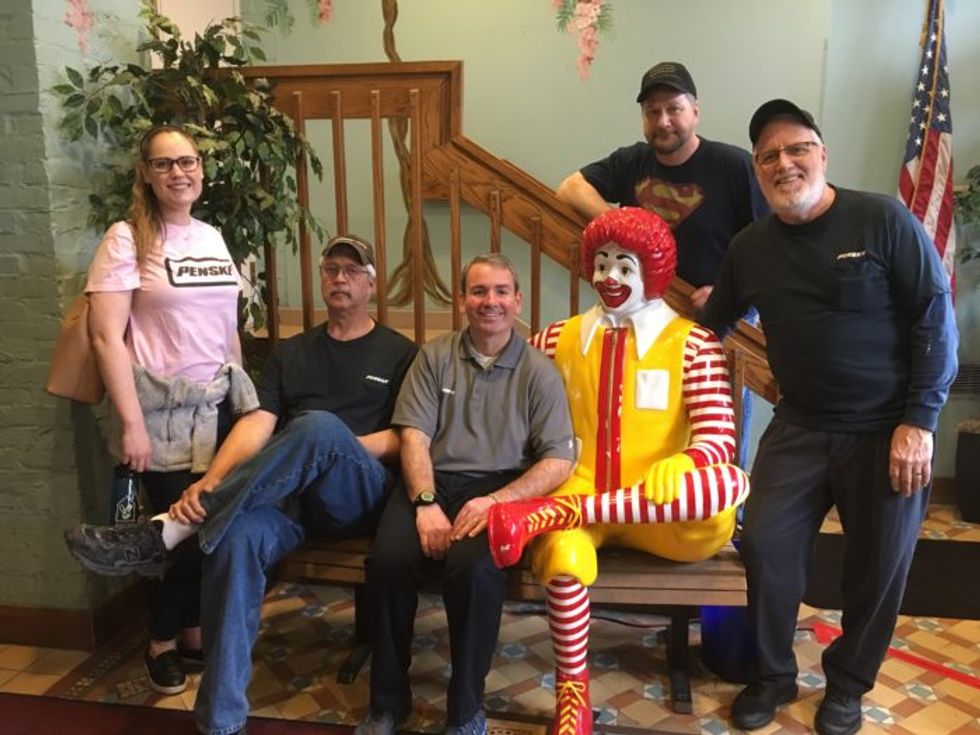 Pictured from left to right are Penske associates Ashton Jacobs, Bryce Brimmer, Matt O'Connor, Matt Schank and Clayton Dick.
Last fall, several associates in the Louisville, Kentucky, district showed a desire to give back to their communities. Knowing the large interest, they had formed a committee to organize volunteer opportunities for all associates in the area.
"As we started brainstorming charities we could help, the Ronald McDonald House was one that definitely stood out," said Matt O'Connor, a lease sales representative at Penske's Louisville location.
"It worked out well for us because there are houses in Evansville, Indiana; Louisville; and Lexington, Kentucky; so associates across the district could volunteer at one that was nearby to where they worked," he said.
O'Connor says that the committee started to gauge interest by placing sign-up sheets at each Penske location and making announcements at every team meeting. And their hard work publicizing the events paid off.
"We received a ton of interest from people," he said. "What's been great is we've been getting volunteers who work across all the departments: service, rental, administration and sales."
With each visit lasting a few hours, the RMH has embraced the Penske team's willingness to help. Up to this point, associates have landscaped, served meals, baked desserts, cleaned and even unloaded 100 mattresses and box springs into bedrooms.
"Knowing what the RMH does for all of these families is unbelievable," said O'Connor. "We are so happy to help and look forward to volunteering wherever we're needed for a long time."
The committee has been scheduling opportunities at the RMH every month and are gearing up for their June and July visits.
Green Bay District
Earlier this year, representatives from each branch in the Green Bay, Wisconsin, district formed a community service council to promote more engagement activities for Penske associates across the northern part of the Badger State.
"Originally, there was one district that all of the Wisconsin locations were a part of – Milwaukee," said Jason Litwaitis, the Green Bay district manager. "When we broke into two, and Green Bay became its own district, there was a feeling among the branches that we thought this was a great opportunity to become closer and more involved in our local areas."
One organization that garnered a lot of interest in assisting was the Ronald McDonald House in Marshfield – located between Eau Claire, the furthest west location, and Green Bay, the furthest east.
Ashley Olson, a branch operations coordinator in Eau Claire, had the idea to place a container at each location to collect soda – or pop – can tabs. The RMH has an aluminum recycling program that serves as an interactive way for people donate to the facility. People can save either the tab or the entire can, and donate the cash value to the RMH.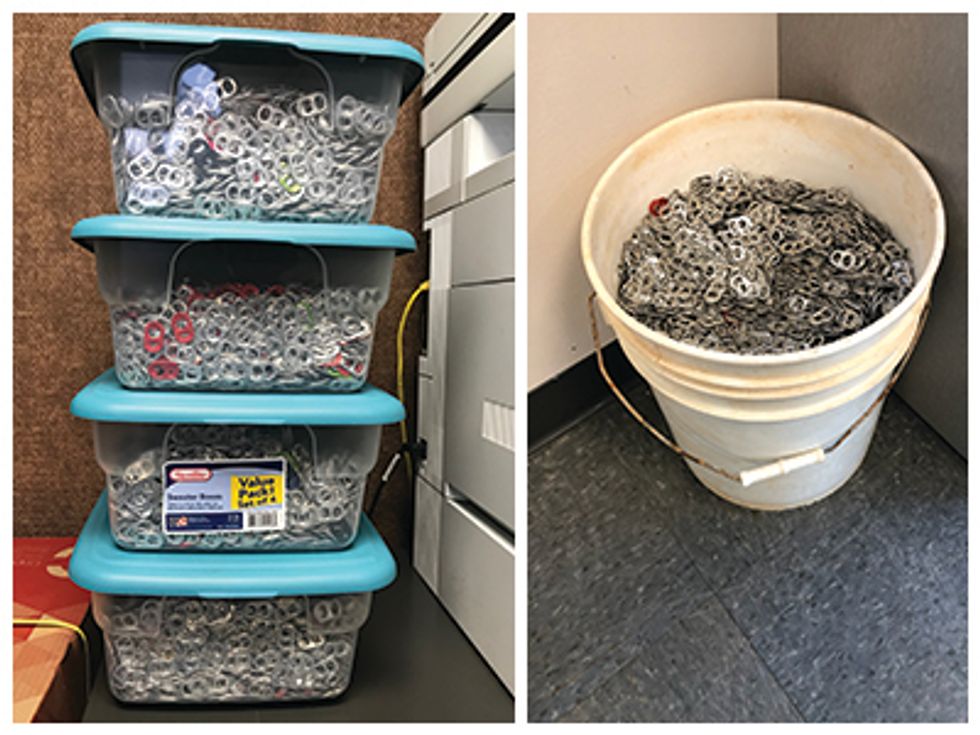 Wisconsin associates estimate that the total collection weighs 30 pounds.
"This was a simple and fun way for people to participate for a good cause," said Litwaitis.
Litwaitis's district hit the ground the running with collecting soda can tabs. And over the course of a month, associates across northern Wisconsin had saved four 12-quart tubs of tabs (pictured right).
"We estimate that the total collection weighed around 30 pounds," he said. "We even had one associate who donated a five-gallon tub's worth of tabs on his own that he had been collecting over the years."
In a hand-written letter from the Ronald McDonald House of Marshfield, the staff thanked the Penske team for the donation, saying:
Thank you so much for your donation of pop tabs. All of your efforts and delivery of the tabs is truly appreciated. Your support enables us to provide a home-away-from-home for so many families.
By Chris Abruzzo
Back to News & Stories