Back to News & Stories
Penske Associates Drive Pennsylvania Habitat Renovation Project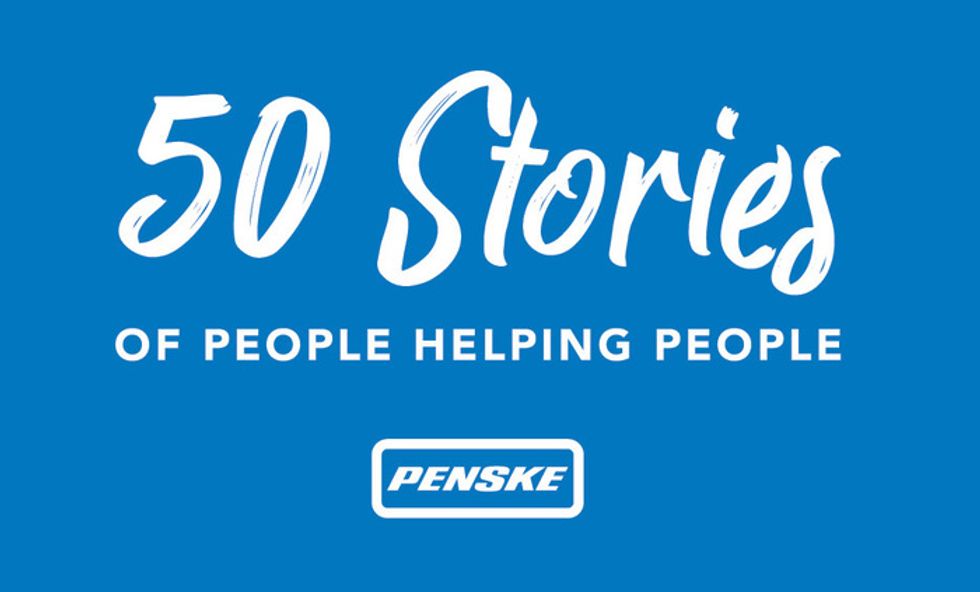 Editor's note: This story is part of our "50 Stories of People Helping People" series. As we celebrate Penske's 50th anniversary in 2019, we are spotlighting associates every Friday who are making a difference in their communities.
---
Piles of plaster, wood and metal – the remnants of demolition – greeted a group of Penske Remarking associates on the first day of a home revitalization project sponsored by Habitat for Humanity of Berks County in Reading, Pennsylvania.
Now, some 18 months later, as the associates walked through the completed home, newly renovated with its hardwood floors and freshly painted walls, they could not help but feel a sense of pride.
The associates returned to the home on a crisp, sun-washed morning earlier this month for a dedication ceremony to witness how their hard work not only helped rebuild a neighborhood but also built a sense of community among the associates.
"It was pretty neat to see that just with a great attitude and volunteers you can make a difference in the community," said Bob Glenn, director of the Remarketing department.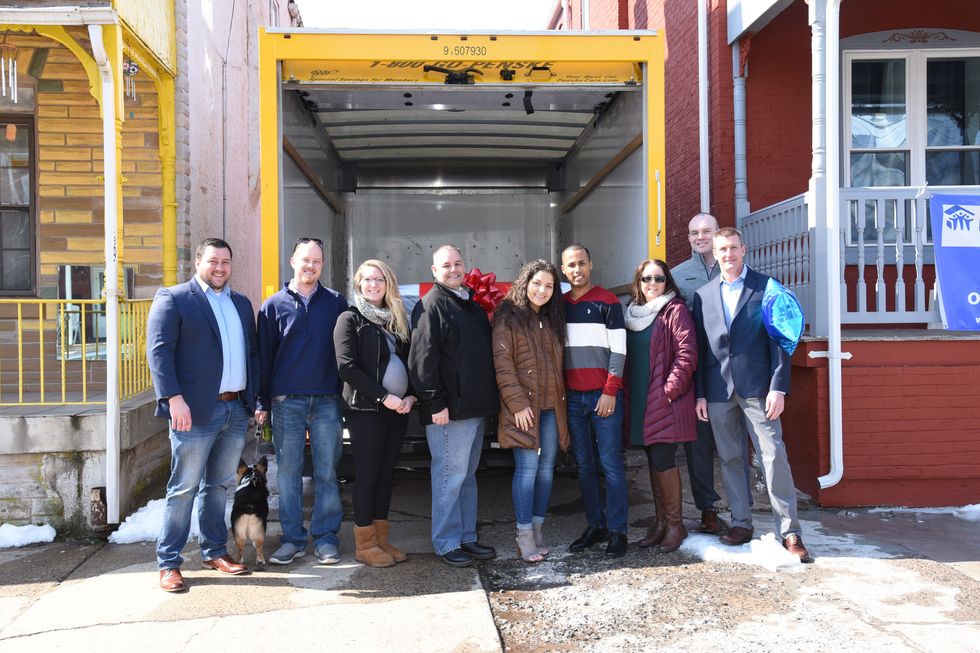 In all, about 35 associates donated time on Saturday mornings over the past 18 months to bring the once-abandoned home back to life. Beyond donating sweat equity, the Remarketing department presented the new homeowner with some housewarming gifts, including a new mattress set and a gift card.
The partnership was the first for Penske, with corporate offices in suburban Reading, and Habitat, a non-profit and a United Way of Berks County agency partner – and, the first where a local business assumed the role of title sponsor.
A Place to Call Their Own
Habitat for Humanity of Berks County formed in 1988 to address the need for affordable housing by serving as a conduit for neighborhood revitalization and providing opportunities for homeownership for area families.
The non-profit's philosophy is to provide a helping hand to home ownership. Families vying for a Habitat home must perform 300 hours of "sweat equity" as part of the qualification requirements to be able to purchase a Habitat home.
"It comes down to stability. It is a place to call their own," said Penny Hummel, director of family services for Habitat for Humanity of Berks County. "We also find, in general, children of homeowners are more likely to go to college. And, the homeowners themselves feel more financially secure."
Habitat officials say the work of volunteers, like the Remarketing associates, is essential to making the work they do a success.
"The Penske volunteers were out there from demolition to painting. All of that is so important. We can't start building until someone starts tearing things down," Hummel said. "Painting is that finishing touch that makes the house look good. The house wouldn't look as great as it does without Penske associates."
Driving Community Service
Both Glenn and Justin Sobotka, lead vehicle sales representative, worked on Habitat projects in the past and could recall the satisfaction they both felt working on a Habitat project and wanted to share that feeling with others on the team.
So, Sobotka brought the idea back to Glenn and Penske leadership to serve as a community service and team building experience.
"I wanted to do something that would bring our department together and give back to our community at the same time," Sobotka said. "It was a great experience seeing the house go from the shape it was in at the start of the process to the end product."
For Matthew Itell, who participated in demolition as well as interior and exterior projects, the fact that the project was supported by Penske was even more meaningful.
"I think it is wonderful to be part of a company like Penske that is willing to give back through projects such as this," said Itell, manager of the Remarketing Call Center. "I think that the company's efforts to help out the community are very inspiring to me, and I think the volunteer opportunities are an awesome experience for members of this organization."
The project took on special meaning for Miguel Rodriguez, who grew up a short distance from the revitalized home.
"I had pleasant experiences. I had family members who lived right around the corner. I was always in that area between my house and their house and so forth. It was fun," said Rodriguez, post sales support specialist. "After each project, I went down to my old street and looked to see what changed."
For Dawn Stern, the project provided an opportunity for her to bond with her fellow associates
"It has become a great experience for our associates to have an active, fun, team building experience," said Stern, vehicle sales coordinator. "It made me appreciate what I have even more. I believe we should all have an attitude of gratitude, as we all have much to be thankful for."
By Bernie Mixon
Back to News & Stories