Back to News & Stories
Penske Associates Host Dress Drive to Celebrate Mothers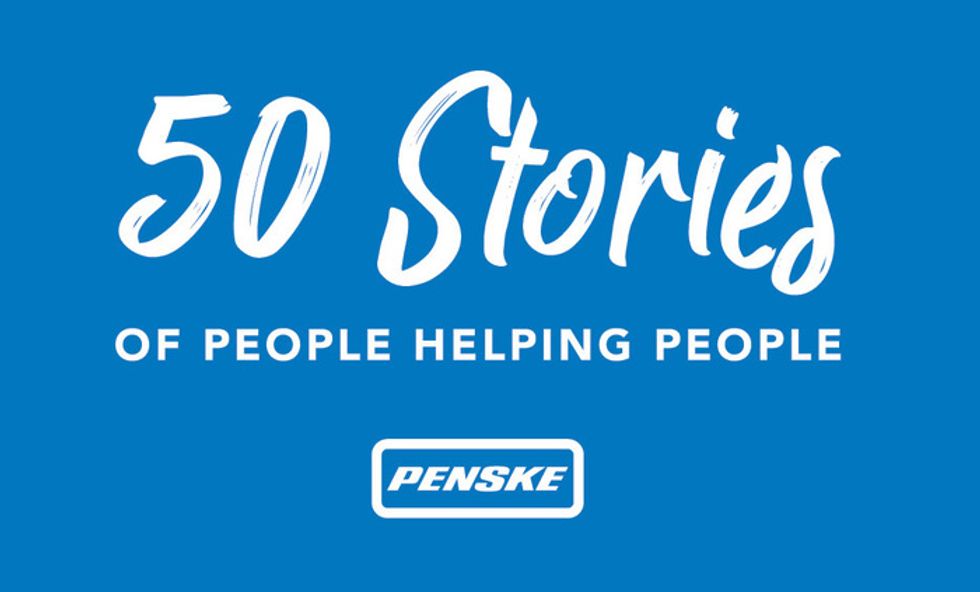 Editor's note: This story is part of our "50 Stories of People Helping People" series. As we celebrate Penske's 50th anniversary in 2019, we are spotlighting associates every Friday who are making a difference in their communities.
---
A new dress has the power to not only reshape a woman's silhouette but can alter the fabric of how she views herself, enhancing her confidence and sense of empowerment.
Yet, for mothers with limited means who often put the needs of their children before their own, the opportunity to wear a new garment and share in that feeling can prove to be elusive.
Penske associates across Illinois, Minnesota and Wisconsin have teamed up with the Daisie Foundation to help provide new dresses for women in Chicago and Milwaukee as part of the foundation's Mother's Day makeovers initiative.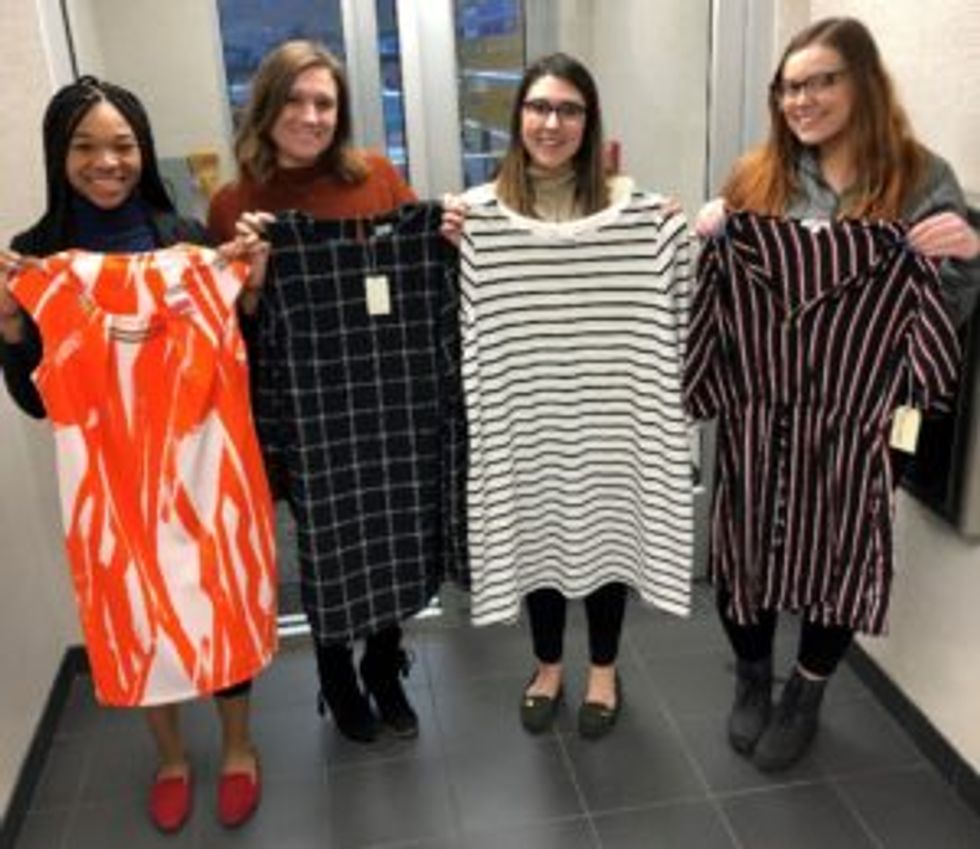 Penske associates (pictured left to right) Angelica Hampton, Morgan Vogt, Colleen Walters and Chanley Keathley holding new dresses for the Daisie Foundation's Mother's Day makeovers.
"When you wear something beautiful, you feel beautiful," said Angelica Hampton, a consumer development manager and lead chairperson for Midway Cares, a community outreach organization made up of Penske's Chicago Midway associates. "Being able to put on a new dress is the beginning of taking a step toward success."
Midway Cares is one of five associate-led community councils collecting new dresses for the Daisie Foundation initiative. The others are in Green Bay, Milwaukee, Minneapolis and North Chicago.
In May, the foundation will provide makeovers for about 500 women in Chicago and Milwaukee thanks to the generosity of people like Penske's associates.
Helping Women and Children Blossom
For nearly three years, the Daisie Foundation, a Chicago-based non-profit, has made serving the needs of underserved communities its focus.
"We are very fortunate to empower and impact at-risk children and underserved communities. Our two pillars are specific – women and children," said Julie Hightower, president of the foundation's executive board.
Each December, the foundation hosts a holiday outreach at a Chicago school providing students with holiday gifts and winter accessories, as well as providing a holiday luncheon for faculty and staff.
"We surprise the entire school with a holiday celebration. We bring in Santa, and we literally have thousands of gifts we distribute and give to the children," Hightower said. "We also surprise the teachers and the principals as well with amazing gifts, and it is absolutely incredible."
Penske has participated in the holiday event since 2017, offering the use of a Penske rental truck to help transport the gifts, while associates have assisted with wrapping.
"The Penske team has grown each year, and it is absolutely phenomenal," Hightower said.
Each year the organization hosts a Mother's Day makeover event providing single mothers, cancer survivors as well as military spouses and veterans with the opportunity to receive transformational makeovers.
The day of beauty includes full makeup, a new dress, accessories and the chance to participate in a photo shoot, which also provides the women with professional headshots.
This is where the new dress donations take center stage.
"It is extremely important that these are brand new dresses and not used. These moms are used to getting hand-me-downs or dresses that have been worn, so we want them to experience a day of transformation," Hightower said. "We want them to feel amazing, fabulous and celebrated on Mother's Day."
Midway Cares
When Penske's Hampton and other members of Midway Cares first heard about the Mother's Day makeovers earlier this year, they knew they had to become a part of it.
Midway Cares formed last fall to provide associates in Penske's Chicago Midway district with volunteer opportunities in their local communities.
The core mission of the council is to be an advocate for positive change in the community by empowering and supporting associates to make a difference through attitude and volunteerism.
"We created this with Penske's mantra of having a will-do attitude in mind. We wanted to make sure that the same attitude not only was applied throughout the Penske brand but throughout our communities as well," Hampton said.
In addition to assisting with the Daisie holiday celebration, the council participated in Penske Pink Out, a day set aside by associates across the company to highlight breast cancer awareness, as well as a local 5K event to bring awareness to Epilepsy.
Midway Cares began to rally support for the Mother's Day makeovers in January asking women – and men – throughout the district to commit to donating a new dress.
"We wanted to give back, whether through manpower or being able to provide something more tangible," Hampton said. "We found an opportunity to not only give our time but something that could also change the next person's life."
Colleen Walters, an assistant rental manager in Penske's Romeoville, Illinois, branch, said she was inspired to join with the dress donation drive because it gave her an opportunity to empower other women. She is planning to donate a casual dress that can be adapted for work or leisure.
"The dress will help them feel empowered and beautiful after receiving it as well as cared for on a different level," Walters said.
Chanley Keathley has one hope for the woman who chooses her garment.
"I hope that the dress will make her feel appreciated, to know someone out there cares for her and recognizes that she is working hard," said Keathley, a management trainee at the Chicago Midway branch. "They should continue to push hard, no matter what they may face. People are rooting for them."
It is this kind of support that Hightower said will make a difference in the lives of the makeover recipients.
"We have been able to partner with some amazing companies like Penske that truly have a heart for social responsibility and that truly have a community giveback spirit, and that's what helps us have an amazing event," Hightower said.
By Bernie Mixon
Back to News & Stories