Back to News & Stories
Penske Suits Up for the Big Game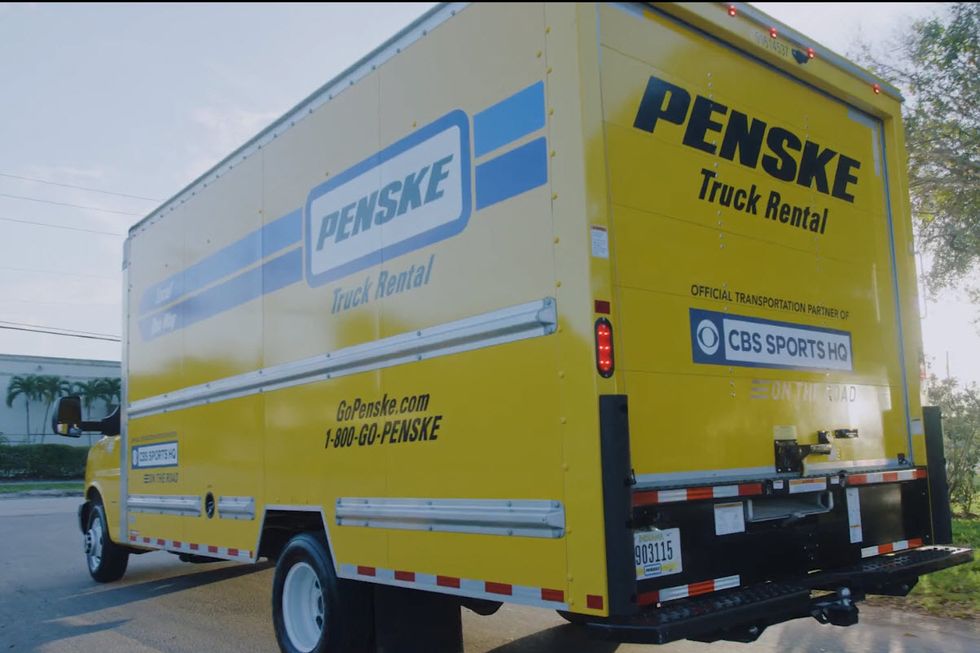 With just days until the big game in Miami, Florida, football fans are huddling up to score the perfect combination of food and beverages for their tailgates and watch parties.
---
Yet, long before the San Francisco 49ers and Kansas City Chiefs take the first snap, Penske was running plays of its own to meet increased demand on the supply chain and for rental trucks in Miami.
"You have the two football teams that prepare, strategize and put together a game plan to come out successful for themselves, and we have to do the same thing," said Zac Bugay, manager of national rental accounts for Penske Truck Rental.
When the 49ers take on the Chiefs Sunday, Feb. 2, at Hard Rock Stadium, the winner will take home the Vince Lombardi Trophy and bragging rights as the best team in the National Football League.
Penske, the Official Transportation Partner of CBS Sports HQ on the Road, is sponsoring live coverage from Radio Row all week in Miami, including morning-hour blocks each day and game previews.
Organizers expect about 100,000 out-of-town visitors to come to Miami for big game festivities, generating $500 million for the local economy, according to the South Florida Business Journal.
Perhaps the big game's greatest impact will be felt in local economies across the country.
With 194 million adults expecting to make plans for the big game, viewers are expected to spend $17.2 billion on food and beverages, merchandise and party supplies, according to the National Retail Federation.
Suiting Up For the Big Game
Stepping up to take the snap are third-party logistics providers like Penske Logistics, which prepares throughout the year for surge events like the big game.
"Events like the big game are one of the primary reasons companies look to third-party logistics companies for support because they are looking for access to resources which will allow their supply chain to flex up and then back down with demand," said Shaun Hodges, vice president of sales for Penske Logistics.
Communication with the customer is a key component to successfully preparing for the demand of signature events like the big game.
"As Penske Transportation Solutions, we have access to the largest fleet of vehicles in the U.S., a driver base of more than 5,000 and 30 million square feet of warehouse space to support surges like this and similar events," Hodges said.
When it comes to the big game, consumables are scoring with consumers.
"Food and beverage is our fastest growing industry sector. We have great experience working with food manufacturers, distributors and retailers to insure sure their goods flow through various components of the supply chain ultimately resulting in the availability in the store or at the event to meet consumer demand," Hodges said.
On the ground in Miami, refrigerated vehicles will be vital to storing fresh products and other items that will be needed for replenishment. Having units on hand to meet that demand will be key, Hodges said.
Boots on the Ground
Caitey Spellman, district manager in Miami, said the excitement for the game has been matched only by the demand for rental trucks, especially refrigerated units and trucks with lift gates.
"The demand is so high that the region has brought trucks in from Jacksonville, Tampa, pretty much anywhere we have additional trucks," Spellman said. "They have been kindly shuttling them into Miami, so we don't skip a beat in making sure that we have trucks to offer to our customers."
Those businesses run the gamut of services from food preparation to furniture rentals. The demand for those industries has been so intense that some companies have had to bring in employees from other cities to operate the rental trucks as they perform their duties.
Spellman applauded both the rental and maintenance departments with helping as many customers as possible.
"We are offering a lot of real possibilities to a company who in the 11th hour is still trying to find some equipment," Spellman said. "The rental department is doing a really nice job of keeping a master list of who needs what and the minute something comes back we are calling the customer."
Once returned, the maintenance department makes sure the unit is cleaned, serviced and fueled, so that it is ready to go for the next customer.
"We can't lose the quality and the values that we have in customer service due to this high turnover of rentals," Spellman said. "We want to make sure the reputation of high-quality trucks and high-quality service does not get lost in all of the excitement."
Penske offers a wide variety of rental trucks from large commercial semi-tractors and trailers to small box trucks. We encourages retailers and businesses to make reservations by calling our hotline for business rentals, 1-800-PENSKE1.
By Bernie Mixon
Back to News & Stories