Back to News & Stories
Second Generation Technician Credits Mother with Influencing Career Choice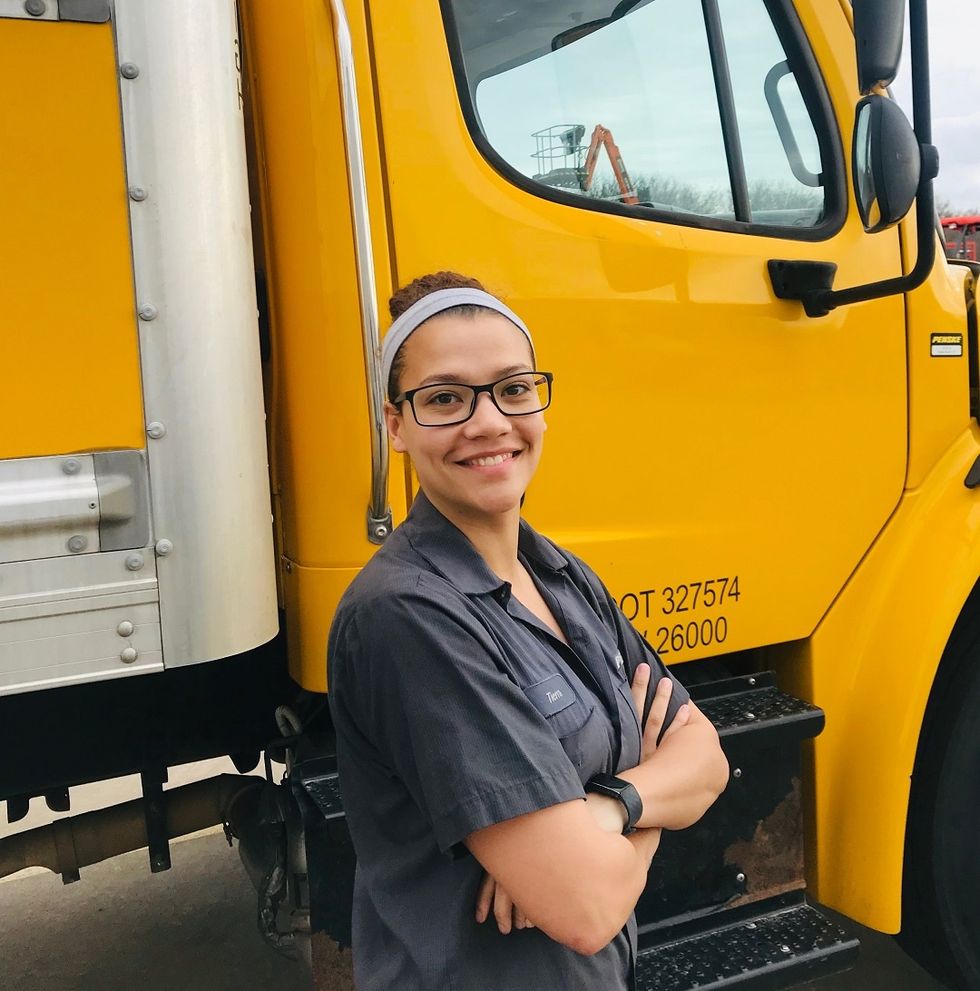 Editor's Note: In recognition of Women's History Month, the "Move Ahead" blog will feature profiles of Penske associates who help to move our company and the trucking industry forward.
Like most young children, Tierra Snell was fascinated by the large, imposing emergency vehicles parked in firehouses. Yet unlike most, she was able to see them up close and personal.
---
Snell's mother was a technician, who was often called to diagnose and repair the trucks, and Snell and her siblings would go along with their mother. Those trips made quite an impression on Snell.
For the past four years, Snell has charted her own path as a technician, while continuing her family legacy of diesel technicians.
"At first, my mother's past occupations in the diesel and auto fields were inspiring, as they led me to realize how amazing, strong and dedicated my mother was to her self-growth and perseverance of character," Snell said.
"Somewhere down the line, my respect for my mother intensified, and when it came time to decide on a career path for myself, I figured that if she enjoyed the auto and diesel occupation, it might be something I would enjoy as well," she said.
Path to Becoming a Technician
Even before deciding to become a technician, Snell longed to find a career that would help her to embrace her love of learning new things while allowing her to provide outstanding customer service.
"I am not the type of person who enjoys sitting down and staring at a computer for a good chunk of the day. I enjoy being active, solving problems and learning new things," Snell said.
She found what she was looking for and more as a technician.
"Working as a technician provides me with all of the above and allows me to push myself and become stronger mentally and physically while also keeping me active on a daily basis," Snell said.
In order to prepare, Snell enrolled at Universal Technical Institute. About five months before graduating, Snell was hired by Penske as a customer service representative, and she quickly moved into a technician role.
"My initial thought for attending the trade school was that I could work in the field for a few years until I decided what I really wanted to do in life," Snell said. "However, I enjoyed the experience and quickly set my eyes on making this as a career."
New Day New Experience
One of the best parts of Snell's role as a technician is the variety.
"My duties differ daily at Penske. I could change an oil pan gasket or replace brakes. Maybe I'll diagnose a check engine light, figure out why a truck isn't starting, or go on a few road calls," she said.
While completing the work on time is her first priority, Snell said she is not afraid to ask for help when she runs into an issue.
"If I get stuck and need to ask questions, I go straight to a supervisor or another technician and ask whatever I need to ask in order to get the job done efficiently and promptly," she said.
Although the technician role has long been thought of as a man's job, more women like Snell are entering the field. Sometimes she is greeted by a look of surprise from customers and others, but she takes it in stride.
"Typically, I just get stared at by drivers entering the shop to write up issues on their truck or while I am walking the yard to find the truck or trailer that I may be working on that day," she said.
For young women thinking about becoming a technician, Snell has some advice.
"Be helpful to the other technicians because there will be many times when you will need help from them," she said. "Take pride in your work ethic. You'll gain respect over time."
Interested in a career with Penske? Visit gopenske.com for employment opportunities. The company offers competitive wages and a wide range of benefits. Penske is an Equal Opportunity Employer.
By Bernie Mixon
Back to News & Stories