Back to News & Stories
Striving to Meet Your Needs During COVID-19
In light of recent events regarding coronavirus (COVID-19), we wanted to take a moment to share what we are doing to protect you during your next visit to a Penske facility. Our number one priority is the health and safety of our associates, customers and communities.
---
We have always taken great pride in the safety and cleanliness of our facilities and vehicles. Today, this is more important than ever. Like every company, Penske has been closely monitoring developments related to COVID-19, including updates from the Centers for Disease Control (CDC), World Health Organization, public officials and other leading health experts. In addition to our normal sanitation processes, we are limiting the need for customers to enter our facilities and following social distancing recommendations during interactions. These new procedures are designed to keep you and our associates safe.
VEHICLE RENTALS
When You Make a Rental Reservation
Please be prepared to provide the date and time that you will pick up your truck, so we are ready for your arrival. Also, please have your driver's license and credit card information (if needed) available. This will speed up the rental process when you pick up your truck. If you do not have your driver's license information at the time of reservation, we will request it at a later date. We are currently not accepting cash payments.
Vehicle pick-up and drop-off locations are subject to change due to potential closures. If you have questions about your commercial rental reservation, please call us at 1-800-PENSKE-1. For your consumer rental reservation, please call 1-844-847-9577.
When You Arrive for Your Rental
Your truck will be sanitized and ready for you. At our busy locations, we are limiting the number of customers inside the rental office and may have you check in at the door. You will be asked to place two forms of ID and a payment method (if needed) on the counter to match your information to your reservation. After providing these documents, you will be directed to your vehicle.
When You Return Your Rental Vehicle
Please park your vehicle in a designated return area. During normal office hours, you will be instructed to leave the keys in the vehicle. If we are closed, please place the keys to the vehicle in a lockbox.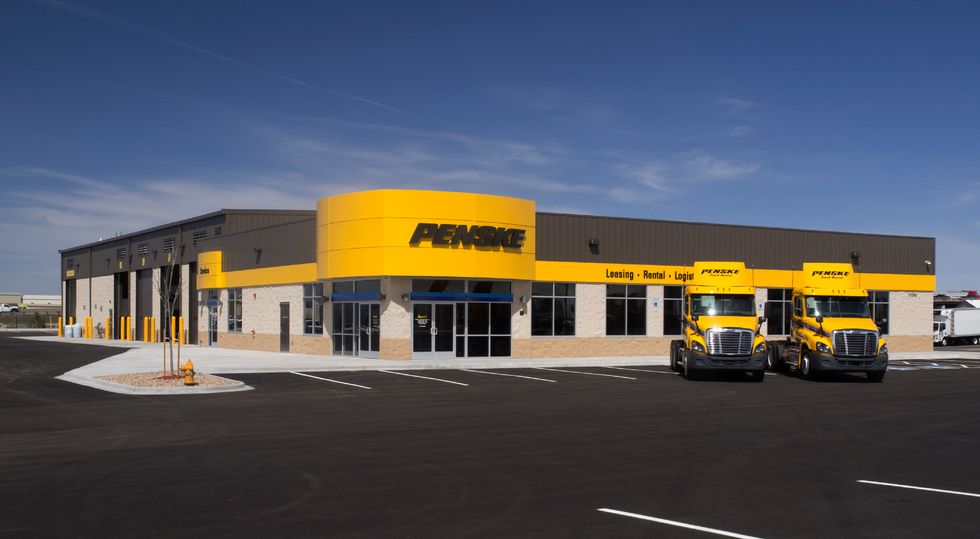 MAINTENANCE, FUELING & ROADSIDE ASSISTANCE
When You Schedule Maintenance
Schedule work in advance using our current technology tools, such as Fleet Insight or your own DVIR process (if integrated with Penske), our PM Scheduling Team, or simply call ahead to schedule the drop off. Unscheduled drive-up repairs are available only at certain locations. Please call ahead to your Penske location to confirm we are still performing this service prior to arriving for a drive-up repair.
When You Arrive For Service
You will be directed to a designated parking area for units to be serviced. A Penske associate will greet you, or signage at our maintenance department entrance will provide a number to call for assistance. If you arrive after our facility has closed for the day, park in the designated area, secure your vehicle and then place the keys in our drop box.
When Maintenance is Complete
A Penske associate will direct you to your vehicle. Your vehicle will have been sanitized and the paperwork/keys will be on the seat.
Please know that we have enhanced the techniques used to clean our vehicles after service. Our associates are paying special attention to wiping down interior touchpoints, such as steering wheels, door handles, shift knobs and other hard surfaces.
When You Call Roadside Assistance
Our technicians will practice social distancing. For example, our technicians will communicate with the driver from the passenger side of the vehicle. Please remain inside your vehicle during repair. If it is necessary for our technician to enter the vehicle, he or she will clean all touchpoints as a preventative measure.
When Fueling Your Vehicle
Please remain inside your vehicle during fueling. Please note that we can no longer accept trash from drivers.
We recognize that these are unsettling times, which require that we all work together to keep our transportation systems moving. We want you to know that the safety and well-being of you and our associates are our top priority.
We look forward to serving you.
To keep you informed on Penske's continued response to the coronavirus (COVID-19), we created a dedicated customer webpage. We will update the site regularly as our procedures evolve with the changing landscape.
Back to News & Stories