Back to News & Stories
When Techs Rock, America Rolls
For over 50 years, Penske's maintenance technicians have powered our industry-leading fleets. At Penske, we're proud to provide career development opportunities that keep our techs on the cutting edge of the technology and trends shaping transportation. We're simply committed to growing and training the best talent on the planet.
---
"I'm blown away by the training that Penske offers," said Raychel Burley, a tech II in South Dallas, Texas. "In my first month, I was sent to two training classes. My supervisor asked me, 'What classes would you like to attend?' I said, 'Put me in anything and everything I need to succeed.'"
Internal training at Penske includes leadership and customer service training as well as certification and compliance with government, industry and Penske standards. Plans are designed as progressive training by job title and include various Penske custom and original equipment manufacturer (OEM) online and instructor-led training courses. These are among the most popular with Penske techs.
"My first week, I was paired up with a couple of different technicians to go with them and learn as much as I could," said Alexandria Schwartz, now a maintenance supervisor at the South Dallas location. "It was a wonderful starting position. I received OEM training, learned from technicians and training videos and more. There was so much available."
For Cory Norman, a tech I based in Carrollton, Texas, Penske's training program is perfectly suited to any technician looking to advance within the company – while learning as much as they possibly can about the job. This includes our Pit Stop training, which is geared toward entry-level technicians and focuses on bumper-to-bumper critical skills. Developed anddelivered by Penske trainers, these experiences include self-paced online training courses, instructor-led classes and active coaching by the local team. The goal? To improve a technician's "time to proficiency" on jobs important to their role with time set aside for skill mastery on the job.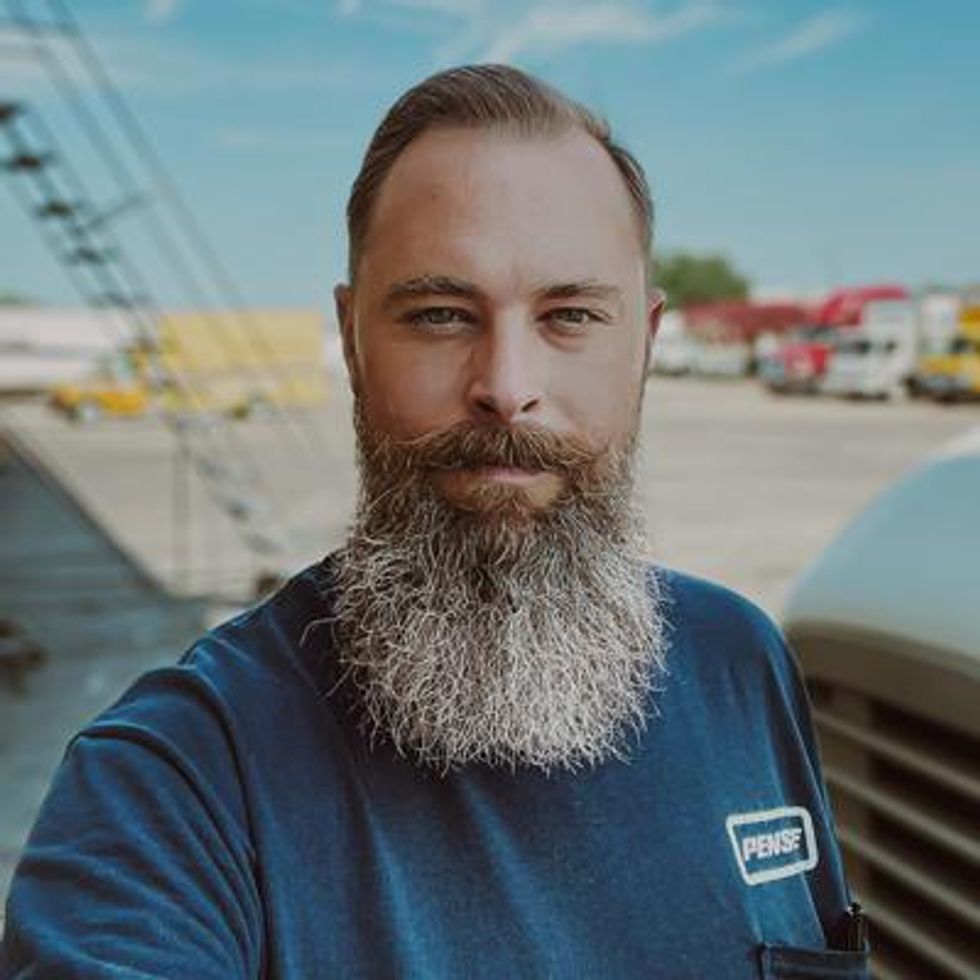 Cory Norman, tech I based in Carrollton, Texas
"Technically, you could come in as a CSR [customer service representative], but Penske will teach you to be a tech III," said Norman. "They'll send you to class and teach you everything from the OEM. They keep us as far up-to-date as they can here. That's one of the best parts about moving up and around within Penske."
Penske's specialized training tracks are also second to none. Our Technician Certification Program is an intensive, one-to-two-year program that provides our technicians with the tools to keep pace with the ever-changing technology of the transportation business. It's accredited by the Automotive Training Managers Council (ATMC) and was the first in the industry to earn accreditation from the National Institute of Automotive Service Excellence (ASE). Certified technicians will be recognized in the industry for completing the training program.
"This program is perfect for an entry-level technician who has drive and ambition, and wants to move up in a company like ours," said Ernie Luzania, director of technical training at Penske. "It's a combination of classroom instructor-led courses and self-paced training that benefits a really good associate who wants to be a truck technician."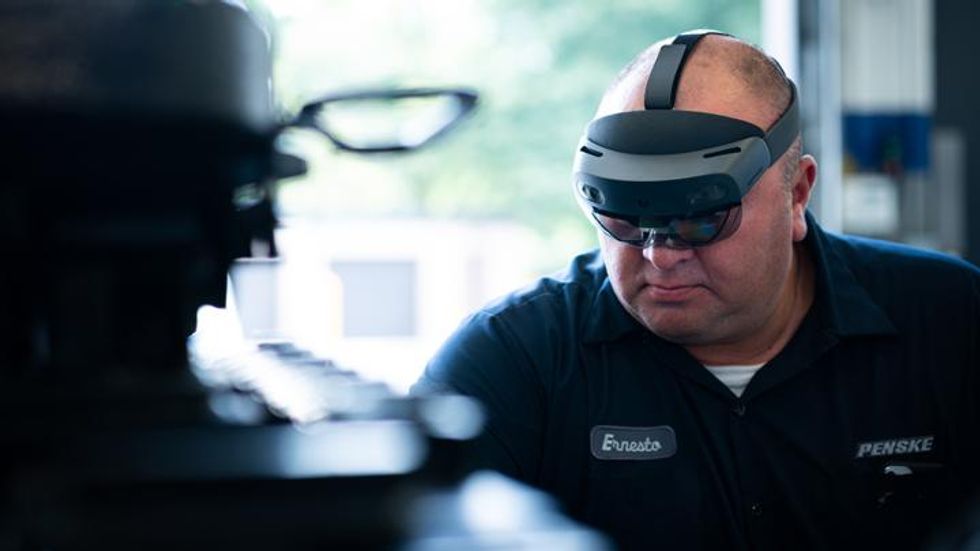 Trainer Ernie Luzania using the HoloLens2 device
Penske is known for its innovation and early adoption of technology. Our training program follows suit. PenskeXR training uses mixed reality to deliver an interactive, virtual experience to technicians. By connecting with a Penske trainer through a HoloLens device, technicians learn skills through an instructor-led augmented reality session.
"There's very high saturation with PenskeXR training, and the idea of traveling is a non-issue. The technician shows up to work where he or she normally would and gets right after it," said Luzania. "Then, when they turn off the feed after the training, they can go employ those techniques right in their home location where there's a high level of comfort and when the information is as fresh as possible."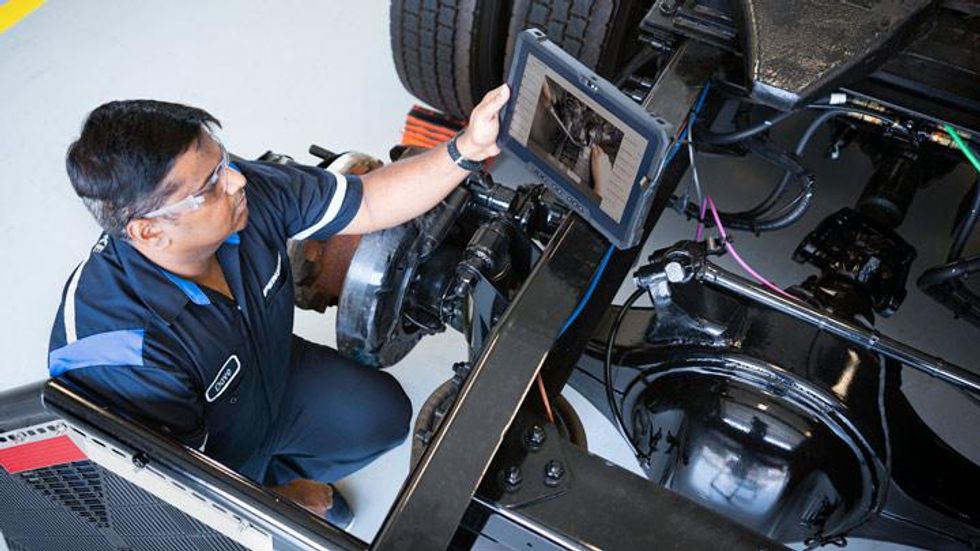 Penske technician viewing the HoloLens2 feed
In addition to its career programs, Penske's team of 37 trainers – each of whom happen to be a former Penske technician – offers over 2,000 classes annually, as well as access to hundreds of online technical training courses.
"It's not like there's a lot of people just watching, and that's what I like about it," said Lakota Schied, a tech III in Kansas City, Missouri. "With e-learning, when you start with Penske, you get a whole week where you have slotted time to learn. It's primarily beginning tech III training – learning the preventative maintenance process, and what to look and check for."
The skills you develop alongside the best in the business at Penske will set you up for success both today and tomorrow in one of the most dynamic industries around.
Penske is always looking for talented individuals to join our team. View our current list of job openings here.
Penske Truck Leasingis a proud supporter of the TechForce Foundation, an organization with a mission to raise awareness with school-age students about career opportunities as professional technicians.
By "Move Ahead" Staff
Back to News & Stories