Welcome to Your New Home in Texas
Austin is the capital of Texas and located in the heart of the state. It's the eleventh most populous city in the United States, one of the fastest growing communities in the country and currently has a population nearing 1 million people. Austin has a thriving job market that's steadily booming with a growing tech industry. With companies like Google, Tesla, Dell, IBM, Meta, Apple and more moving in, the city is now referred to as Silicon Hills and is home to more than 6,500 startups and established companies. Other major employment sectors include health care, education, entertainment, business and government.
Austin is car-centric and has average rush hour traffic. It also has decent infrastructure for cyclists, including numerous bike paths and an affordable bike-sharing program, making the city easily bikeable. The Capital Metro offers public transportation via bus and light rail, most helpful when commuting to or from the downtown area. Benefits of moving to Austin include a great food scene, live music, endless sunshine, family friendly neighborhoods, a thriving tech market and year-round outdoor recreation. So, if you're looking for beautiful weather, a booming job market and one-of-a-kind culture, Austin is the place for you.
We Can Help You Get Settled in Austin
Moving can be a daunting task, even if it's just around the corner. We're here to help. Penske has many convenient truck rental locations in metropolitan Austin. To get you started, the Penske Metropolitan Austin Team offers these simple moving and driving tips for the do-it-yourself mover:
Tips for Moving to Austin
Choose a 12 foot or 16 foot truck for a move to a dorm room or efficiency apartment.
Arrive and unload in the evening, when traffic is lighter and the temperature is cooler.
Pack and carry essential items including drinks, snacks, and a cell phone, in case of unexpected delays.
Tips for Driving in Austin
Navigate carefully – many Austin street names change unexpectedly.
Watch for low-hanging branches on Austin's many tree-lined streets, as they can damage your Penske truck.
Allow extra time to find parking downtown.
10 Things to Know When You Move to Austin
Did you know that Janis Joplin got her start in Austin at Threadgill's – a gas station and restaurant where bands played for rounds of beer? Or that Austin's unofficial slogan to "Keep Austin Weird" originated in 2000 when a librarian used the phrase while calling in to a local radio show? Plenty of movies have used Austin for filming, including "Dazed and Confused," "Kill Bill: Volume 1" and "Miss Congeniality," but did you also know that Austin has the largest urban bat colony in North America. From early March through October around 1.5 million Mexican free-tail bats emerge each evening just before sunset from under the Congress Avenue Bridge. Boat rides, kayak tours and watching from the bridge are all fun ways to participate in this family friendly activity. Here are a few more interesting facts you should know if you're moving to Austin.
Austin is known by many names. Residents of Austin, known as Austinites, can enjoy a city with many slogans and nicknames. The city's official slogan promotes Austin as "The Live Music Capital of the World" while the unofficial "Keep Austin Weird" slogan aims at promoting and protecting small and unique local businesses. Nicknames include "Bat City," "Hippie Haven," as well as the more well-known "City of the Violet Crown" in reference to the colorful glow of purplish light that glides across hills just after sunset.
Austin has agreeable weather year-round. With an average of 228 days of sunshine annually, Austin is known for being one of the sunniest cities in America. How exactly do the seasons break down? The goal in summer is to beat the heat as the season is hot and humid with highs above 100 degrees and daily temperatures averaging in the upper 90s. Fall slowly transitions into layering weather with highs in the 70s-80s and lows dipping into the 50s by November. Winter brings jacket or sweater weather and cooler temps especially in the evening, though the area only averages one snow flurry a year. When spring arrives, warm, mild and enjoyable weather returns with an average daily temperature between 70-80 degrees.
Austin has a thriving music scene. Known as the "Live Music Capital of the World" since 1991, the city boasts more live music venues than any other city per capita in the world. It's also home to one of the most highly-regarded music festivals in the country – the week-long South by Southwest (SXSW) festival – which offers a variety of film, art and music to visitors.
Austin is home to the Texas Longhorns. With no major league professional sports teams to speak of until recently, college and minor league sports have always been the talk of the town. Home to the University of Texas Longhorns and several minor-league sports teams, including the Round Rock Express minor league baseball team who play their home games at the Dell Diamond, local sports enthusiasts have always had someone to cheer on. As of 2021, Austinites can also count the Austin FC, a Major League Soccer team, on their list of teams to support. And don't forget about the Circuit of the Americas (C.O.T.A.). Located just outside of downtown Austin, it's home to the only Formula One race in the US. Each fall, the city turns it's downtown into a festival welcoming the many world-traveling race fans planning to attend the race. NASCAR also has a sanctioned spring race on this 20 turn 3.4 mile circuit.
Austin has many outdoor activities. Because of the year-round mild temperatures and consistent sunshine, it's easy to enjoy the great outdoor recreation opportunities in Austin. The Colorado River cuts through the heart of the city and, with miles of family friendly hiking and biking trails, there's always something to do. Lady Bird Lake offers 416 acres of boating and hiking activities while Covert Park at Mount Bonnell, the highest point in Austin at 775 feet, provides spectacular views of the Colorado River. Lake Travis provides access to fishing, boating, swimming, scuba diving, camping and zip lining, and Zilker Park has access to volleyball, outdoor concerts, a disc golf course and a 3-acre pool at Barton Springs right next door.
Austin offers a variety of neighborhoods. Downtown Austin is at the center of the city and has some of the priciest real estate in the area. With an abundance of dining, shopping and live music options, it also offers incredible convenience. To the north are the Hyde Park and North Austin neighborhoods, offering tree-lined streets, a quieter and more laid-back lifestyle, and neighborhoods known for their ethnic diversity and historic homes. South of downtown is South Austin. You'll never run out of fun things to do in this family friendly area where Austinites love to take out-of-towners. East Austin is home to music venues, unique coffee shops and diverse neighborhoods with a mix of new apartments complexes and historic bungalows. It's quickly become the city's trendiest neighborhood. Lastly, West Austin includes rolling hills, breathtaking views, great schools and plenty of residential developments. It's a great place for families to escape the busyness of the big city.
Austin has an average cost of living. When compared to other cities in Texas, Austin may seem on the expensive side. However, the cost of living in Austin is 3% lower than the national average, which means it's a bargain when compared to bigger cities like NYC, San Francisco and Chicago. The city's housing market is currently hot, which means real estate prices are on the rise and rent for a one-bedroom apartment averages around $1400. One major benefit? Austinites don't pay state income tax, so take-home pay will be a bit higher.
Austin is known for good food and drink. The food scene in Austin has been described as incredible and excels at many things including Tex Mex and BBQ. And with numerous stretches of food truck parks throughout the city, you'll always have somewhere new to try. Austin is also a top beer destination and is surrounded by Texas Hill Country, a wine region with more than 50 wineries drawing 5 million visitors each year. Music, drinks and good eats harmoniously collide in this southern foodie destination.
Austin cares about the environment. Considered one of the greenest cities in Texas, Austin has set the ambitious goal for net-zero emissions by the year 2050. The city is also home to wind farms that contribute to over 23% of its energy and solar farms that contribute to 35% of its energy. In addition, all of Austin's public buildings have been powered by renewable energy since 2011 and the city has since emerged as a leader in building energy efficient LEED-qualified homes and commercial buildings.
Texas requires a parking pass for moving day. In the state of Texas, residents are required to apply for a temporary parking permit before parking moving vehicles on residential streets. If you'll be unloading from your new private driveway, this shouldn't be a problem. However, if you'll be finding on-street parking, be sure to obtain one of these first.
Moving to Austin? We Offer Complete Service
Whether you're moving to a new condo downtown, a house in historic Hyde Park, or a suburb in any one of the five metropolitan Austin counties, the Penske Metropolitan Austin Team is ready to help.
Frequently Asked Questions

Living in Austin: What's it like?
Austin is sunny and warm. Even in the winter months, temperatures rarely fall below the 40s. On average, the city sees only one snow flurry a year and contends with an average amount of rain. From food trucks to live music shows and famous festivals, living in Austin provides a wonderfully cultural experience.
Is Austin a good place to live?
Austin offers sunny days, warm temperatures, access to a wealth of outdoor activities and a variety of neighborhoods, both historic and newly developed. With proximity to other big cities, an expansive live music scene and incredible food, Austin is definitely a great place to live.
Is Austin family friendly?
Yes. Family friendly neighborhoods within the Austin area include Brentwood, East Oak Hill, Rosedale, Hyde Park, Windsor Park, Pflugerville, Cherrywood, Old Enfield, Olympic Heights, and more. With beautiful weather year-round and plenty of outdoor activities to choose from, Austin is an oasis for both kids and adults.
Is Austin an expensive place to live?
The cost of living in Austin is 3% lower than the national average and, compared to bigger cities, Austin is much more affordable. The thriving tech industry of the city helps cut taxes for locals while the state also offers the benefit of no state income tax.
Why should I move to Austin?
The Austin area has become one of the most popular moving destinations in the country. Beautiful weather, a thriving job market and easy access to outdoor activities are just a few of the reasons why so many people move to Austin each year.
Any tips for moving to Austin?
Whether looking for a job or a place to live is first on your list, you'll find plenty of options for both in Austin. When planning your move, take weather into consideration and avoid a move in the middle of summer. If it can't be avoided, be sure to pick early mornings or evenings when temperatures are coolest. And be sure to pick up a temporary parking pass, which is required when parking on streets to unload your belongings from a car or moving truck.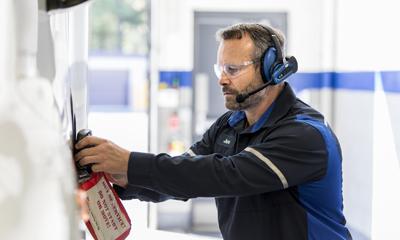 Don't just move. Move your career forward. Search and apply for open positions today.