Welcome to Your New Home in Colorado
Denver is a transportation hub and a center of telecommunications, banking and manufacturing. Home of the 3-time Super Bowl Champion Broncos and the NBA Nuggets, The Mile-High City has something for everyone. LoDo (lower-downtown), the trendy downtown bar and club scene, is a favorite among singles. The city is known as the Napa Valley of beer, thanks to the ~150 breweries in Denver and the surrounding metro area. The Children's Museum, Denver Zoo, and Water World make the area family friendly, too. Of course, everyone loves the outdoor attractions of the Rocky Mountains, and if you're a dog-lover you'll also have fun visiting the 12 designated off-leash dog parks within the city limits. The decision of moving to Denver is a great choice for people of all ages and stages of life thanks to the city's diverse offerings.
We Can Help You Get Settled in Denver
Moving to Denver can be a daunting task, even if it's just around the corner. We're here to help. Penske has many convenient truck rental locations in metropolitan Denver, including the location in Aurora which provides easy access to the airport. To get you started, the Penske Metropolitan Denver Team offers these simple moving and driving tips for the do-it-yourself mover:
Tips for Moving to Denver
Before moving to Denver, check the forecast to be prepared for the area's weather extremes and sudden storms.
Prevent high altitude sickness — drink lots of water, eat regularly and rest often as you approach elevations above 8,000 feet.
Pack and carry essential items including drinks, snacks, and a cell phone, in case of unexpected delays. To be prepared for winter weather, keep an extra jacket and a few blankets handy as well.
Tips for Driving in Denver
Allow extra driving time if you're approaching from the west, where steep grades require slower speeds.
Expect delays starting in spring when mountain road repaving projects begin.
Wait out bad weather — don't try to drive in snow or ice storms.
10 Things to Know When You Move to Denver
Did you know Elvis Presley and a handful of his friends once flew in his private jet from Memphis to Denver for a sandwich? He ordered 22 Fool's Gold Loafs, a sandwich containing a jar of peanut butter, a jar of grape jelly and one pound of bacon inside a hollowed-out loaf of bread, from the Colorado Gold Mine Company Steakhouse. They ate the sandwiches with champagne and flew home. Here are a few more interesting facts you should know if you're moving to Denver.
Denver is exactly one mile high. There is a step on the State Capitol Building that is exactly 5,280 feet above sea level. At that height, golf balls fly 10 percent farther, the sun feels warmer, but your coffee is cooler because water boils at 202 degrees F, not 212.
Denver has 300 days of sunshine a year. Denver has a mild, dry and sunny climate. With an average of 300 days of sunshine per year, there's never a bad time to move to Colorado.
Downtown Denver is one of the most walkable cities in the US. Within a mile radius, downtown Denver has three major sports stadiums, a performing arts center, three colleges, art and history museums, a river with whitewater rafting, hotels, a theme and water park, an aquarium and hundreds of restaurants.
Denver has six professional sports teams. From basketball to football to soccer to baseball, Denver has it all, including horse racing and a professional rodeo. Denver also has 90 golf courses, miles of bike paths and a unique city park system.
Denver has an amazing city park system. Denver offers more than 200 parks within the city and 20,000 acres of parks in the nearby mountains, including Red Rocks Park & Amphitheatre. At Buffalo Herd Overlook, the city even houses its own bison herd.
Denver is made up of several distinct neighborhoods. These include The Highlands, known for innovative restaurant concepts, hip rooftops, patios and boutique shops, RiNo (River North Arts District), which offers trendy warehouse conversions, street art, and a variety of bars and restaurants, and Capitol Hill, home to the Capital building and Colfax Avenue, the longest street in America.
Denver has a thriving cultural scene. The city offers a variety of cultural activities including the Denver Performing Arts Complex with nine theaters seating 10,000 people, an arts district, multiple museums and galleries and a live music scene that ranges from intimate venues like the Paramount Theatre to legendary open-air spots like Red Rocks Park & Amphitheatre.
Denver is near the mountains, but not in them. However, mountains still dominate the city. Denver is located just east of the Denver Foothills, a series of smaller mountains that gradually climb to 11,000 feet. Beyond those you'll find the Front Range, a mountain range in the Southern Rocky Mountains, which boasts snowcapped peaks that rise to 14,000 feet. Other prominent mountains close to Denver include Pikes Peak, Mount Evans and Longs Peak. In all, the impressive mountain panorama viewable from Denver is 140 miles long.
Denver is sustainable. Denver is emerging as a model for sustainable cities. For instance, Denver International Airport is dedicated to sustainable practices including energy and environmental management, green buildings and noise abatement. From utilities and transportation to parks and LEED-certified city buildings, Greenprint Denver, an initiative created by former mayor John Hickenlooper, offers a comprehensive and measurable plan of action that is unique to Denver.
Denver is a fit city. According to the ACSM American Fitness Index, Denver is the fourth-fittest city in the United States, meaning over 82% of residents in the Mile High City exercised within the last 30 days. Over half the population meets aerobic activity guidelines, with nearly 70% of people sleeping more than seven hours a day.
Moving to Denver? We Offer Complete Service
Whether you're moving to a house in the Golden Triangle, a condo in Capitol Hill, or a suburb in any one of the nine metropolitan Denver counties, the Penske Metropolitan Denver Team is ready to help.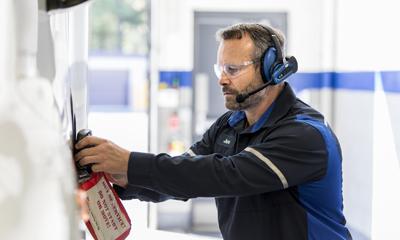 Don't just move. Move your career forward. Search and apply for open positions today.