One Month Before
Plan what is getting packed
Two Weeks Before
The Four P's: Papers, Post Office, Providers and People
Make copies of medical records, birth certificates, etc.
Change address with the post office, banks, credit cards and magazines.
Call service providers and utilities to schedule turn on date.
Secure moving-day help. Ask friends and family to save the date; reserve sitters; contact simplemovinglabor.com.
The Day Before
Last-minute tasks
Finish packing, taping and labeling boxes.
Prepare major appliances and electronics for the move.
Secure dresser drawers and appliance doors with rope and tape.
Assemble a moving-day kit, including directions, map, checkbook, credit cards, IDs, eyeglasses, sunglasses, prescription drugs, flashlight, water, snacks, games for kids, and old and new house keys.
Pick up your rental truck the day/evening before to save time on moving day.
Clean your house or apartment.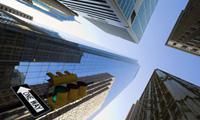 Metropolitan Areas
Get the local scoop on metropolitan areas.

Verizon
Moving? Get a 100% fiber-optic network for super-fast Internet.
Rocket Mortgage
Take advantage of a special mortgage offer from Rocket Mortgage.