Rent a High-Roof Cargo Van From Penske
Penske's high-roof cargo van moves large bulk items to one room — the right size for moving large appliances and furniture, or a studio apartment. Spacious and easy to drive, our high-roof cargo van is fuel efficient and a good choice for city traffic. With some of the newest vehicles in the industry, Penske trucks receive regularly scheduled preventive maintenance and are cleaned and inspected thoroughly prior to pickup. Our reliable fleet is built to help you get to your destination safely and with confidence.
Capabilities and Dimensions
These capacities, dimensions and mileage are approximations and may vary by manufacturer. MPG can vary based on load, terrain and driving factors.

Interior dimensions of up to 11 ft. 11 in. long x up to 4 ft. 6 in. wide x up to 6 ft. 9 in. high
Up to 53 sq. ft. of floor space
Up to 404 cu. ft. of loading space
Up to 3,500 lb. load capacity
Up to 25-gallon gasoline fuel tank (up to 12 mpg)
Features
Power steering and anti-lock brakes
Back-up cameras*
Cargo partition with access door and tie rails
Rear and side cargo doors
Two-person bucket seating
Air conditioning
Non-slip rubber floors
*Available on select models
Looking To Rent an Electric Vehicle?
Try our electric high-roof cargo van. Now available in select markets.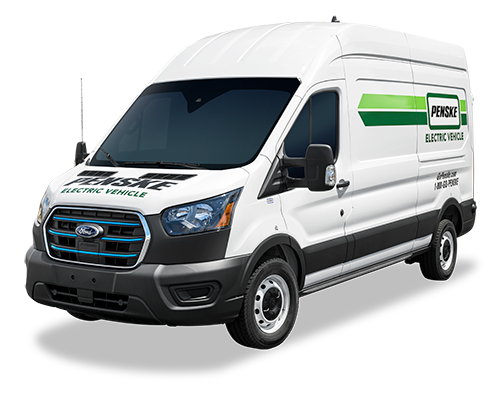 Requirements
Must be 18 years of age or older with a valid driver's license and two valid forms of ID.
Personal Discounts
Discounts are available for AAA members, military personnel and college students. Certain restrictions may apply.
For every day you rent, we're giving you a day on us. So if you reserve for two days, you will be charged for one. We know moving can be stressful. So relax and enjoy the day on us during these uncertain times. Read more
---
Penske's Rent for a Day, Get a Second Day Free Special promotional discount applies only to the daily vehicle rental charges. All taxes, fees (including but not limited to vehicle use taxes), and surcharges (including but not limited to the Mileage Fee, Environmental Fee, Vehicle License Fee) are extra. Optional products such as supplemental insurance, Limited Damage Waiver (LDW), hand trucks, furniture pads, and dolly's are extra. Fuel charges are extra. Promotional discount is valid only in the Contiguous United States. Customer must select the number of days for the rental and then the promotional discount is automatically applied at checkout. The promotional discount is available on household / personal local rentals only. The promotional discount is valid from 12:01AM ET, 10/1/2022 until 11:59PM ET, 11/11/2022; provided that the Customer must pick up the vehicle on a Sunday, Monday, Tuesday, or Wednesday during the promotional period. Limit of one use per Customer. Maximum of five (5) free day's rental charges per Customer. This offer is subject to vehicle availability at the time of reservation. Promotional discount may be combined with other coupons, offers, or discounts. This promotional discount is not redeemable for cash or cash equivalent. The promotional discount is not transferable and Penske reserves the right to change terms at any time in our sole discretion.
---