Back to News & Stories
Penske Associates Celebrate Completion of Pennsylvania Habitat Project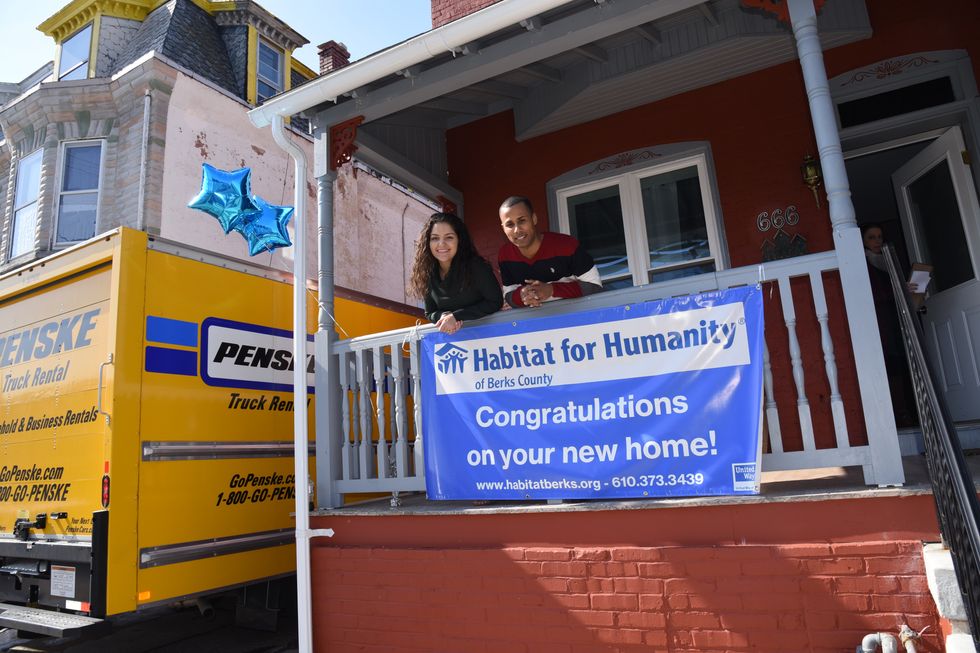 A shock of cold air greeted Jeffry Santos as he stepped onto his porch, a reminder of winter's tenuous grip, soon to be replaced by the warmth of well-wishers.
---
It was dedication day for the Reading, Pennsylvania, home Santos purchased from Habitat for Humanity of Berks County, a non-profit organization which spearheaded the renovation of the once-vacant structure.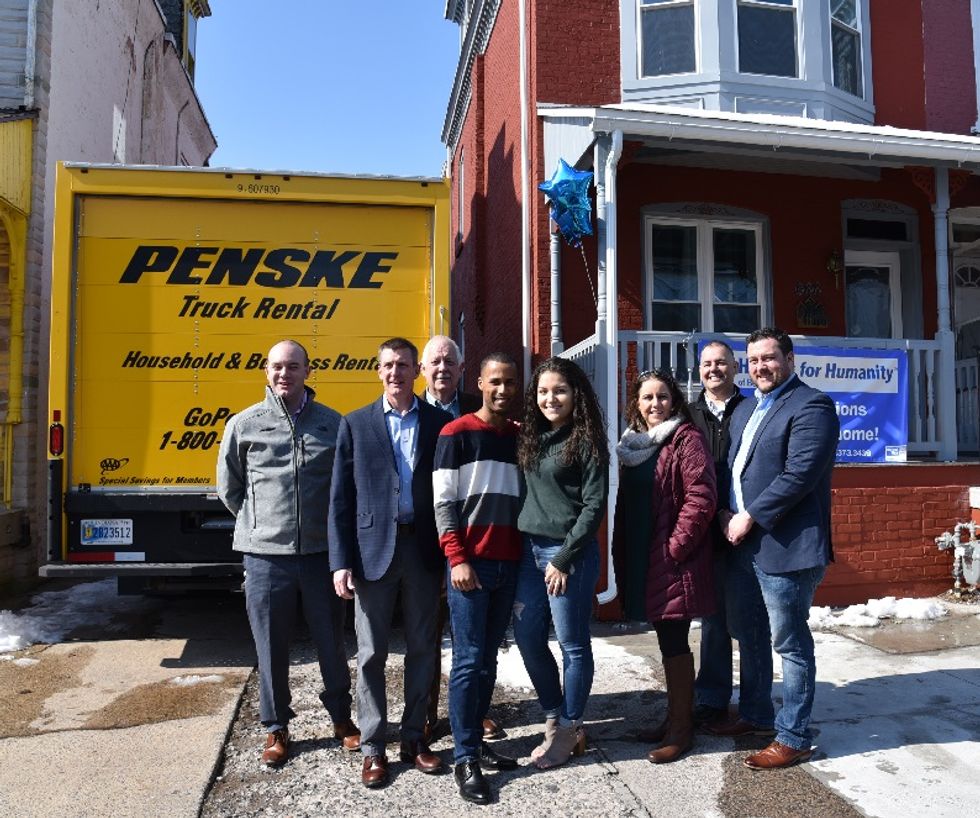 Sprinkled among the crowd of celebrants were Penske's Remarketing Department associates, who contributed more than 500 hours of sweat equity to the project.
"Penske cares very deeply about the Reading community," said Bob Glenn, director of Remarketing, "and it is obvious that Habitat for Humanity of Berks County does as well."
The partnership is the first for Penske, with corporate offices in suburban Reading, and Habitat, a non-profit and a United Way of Berks County agency partner. The project was the first where a local business assumed the role of title sponsor.
"Penske made a financial contribution, and they spent the majority of volunteer hours to make this project come to completion," said Tim Daley, executive director of Habitat. "I appreciate their trust and faith in us, and I hope other businesses in the community will follow their lead."
A Helping Hand to Homeownership
Habitat for Humanity of Berks County formed in 1988 to address the need for affordable housing by serving as a conduit for neighborhood revitalization and providing opportunities for homeownership for area families.
Habitat's philosophy is to provide a helping hand to home ownership. Families vying for a Habitat home must perform 300 hours of "sweat equity" as part of the qualification requirements to be able to purchase a Habitat home.
For Santos, the dream of owning his own home came early in life. He viewed homeownership as the cornerstone on which to build a life and family with his fiancé Virjani Heredia. The couple, who will marry this summer, also plans to open a Christian bookstore and café in Reading.
"She actually helped a lot in pushing me to get here," said Santos, a culinary arts student at Reading Area Community College. "Now I can establish my family and move forward with my next goal – owning my own business."
It was that steely determination that made Daly believe Santos and Habitat would be a great fit.
"He did something that not many of us do. He opened the window to his soul, and he let me take a hard look in and see that he was committed to this," Daly said. "He was going to work hard, and we, in turn, we're going to work hard as well."
Driving Renovation
Santos' home stood in stark contrast to the structure which greeted Penske's Glenn and Justin Sobotka, a telephone sales representative in the Remarketing Department, on the first day of work. Sobotka first approached Glenn and Penske leadership about collaborating with Habitat.
"We walked in that front door, and the flooring, half the ceiling and some of the walls were laying in huge piles," Glenn said. "We had a lot of work ahead of us. We knew that."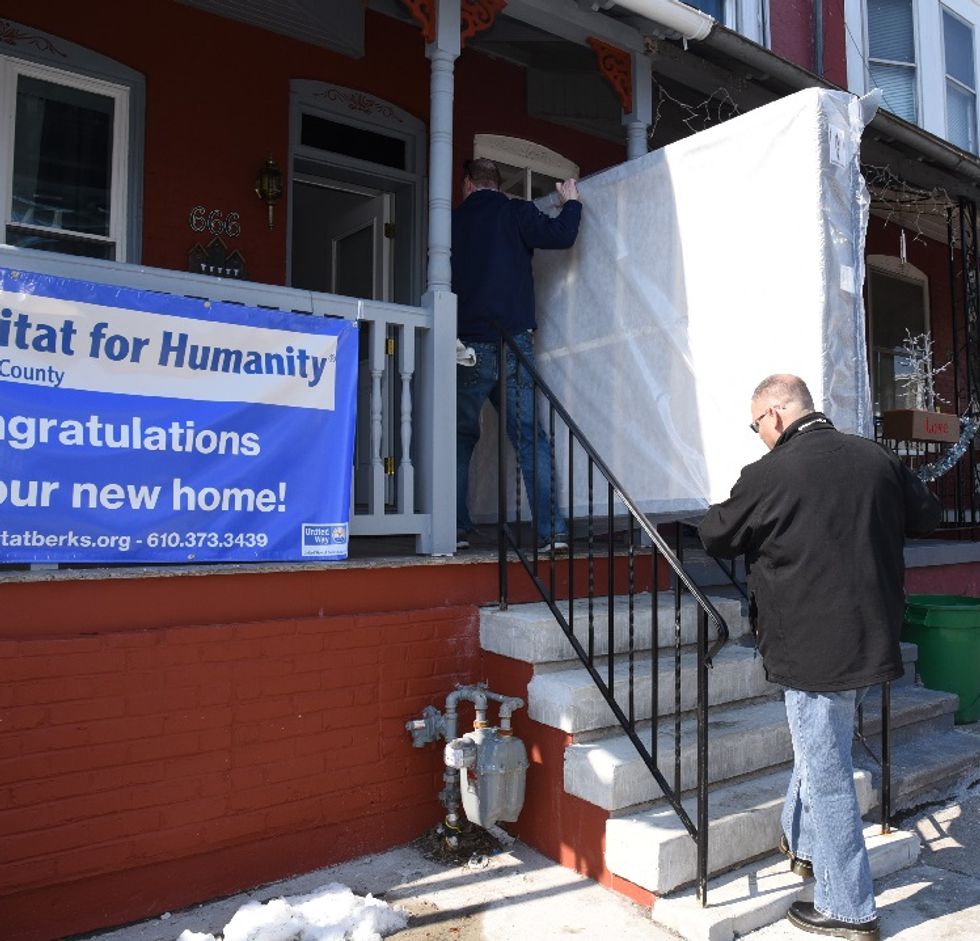 Some 35 Penske associates participated during the 18-month long project, volunteering to come in on Saturdays to work on the home. Collectively, the Penske group donated more than 500 hours to the project.
"To look now and see the finished product is truly amazing," Glenn said. "On behalf of Penske, I would like to first and foremost congratulate Jeffry on taking ownership of this beautiful home. We have a few gifts we would like to share with you."
Glenn walked with Santos to a Penske rental truck parked next to the home and raised the rear door to unveil a housewarming gift from the Remarketing Department: a new mattress and box spring. "We signed a card, and there is another gift inside as well," Glenn said.
Santos and his fiancé were touched by the gift as well as the generosity of Penske and its associates, who helped make his dream of homeownership come true.
"I don't have words. Thank you so much," Santos said.
By Bernie Mixon
Back to News & Stories