Back to News & Stories
Penske Associates Join Fight Against Hunger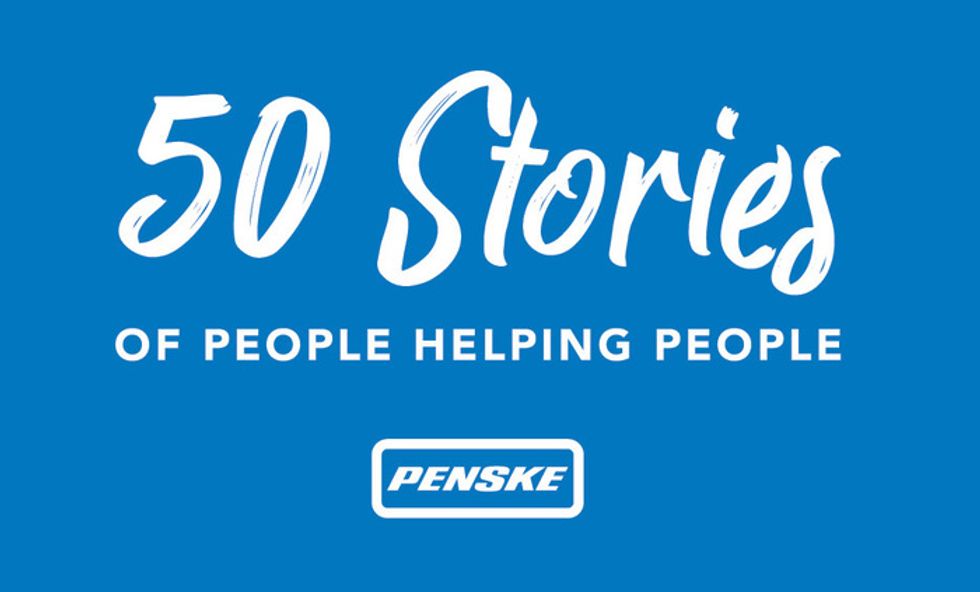 Editor's note: This story is part of our "50 Stories of People Helping People" series. As we celebrate Penske's 50th anniversary in 2019, we are spotlighting associates every Friday who are making a difference in their communities.
---
Like many fresh-faced 18-year-olds, Mike Thompson was ready for the spoils of adulthood: a new job in a new city and a place to call his own.
Just starting out in his career, his modest wages were no match for his cost of living. Food expenses were the first budgetary casualty, thrusting him into a kinship with millions of Americans living with food insecurity.
Years later, Thompson, a materials handler for Penske Logistics in El Paso, Texas, recalled those hard times as he recently joined more than 200 associates in a food donation drive to benefit the El Pasoans Fighting Hunger Food Bank.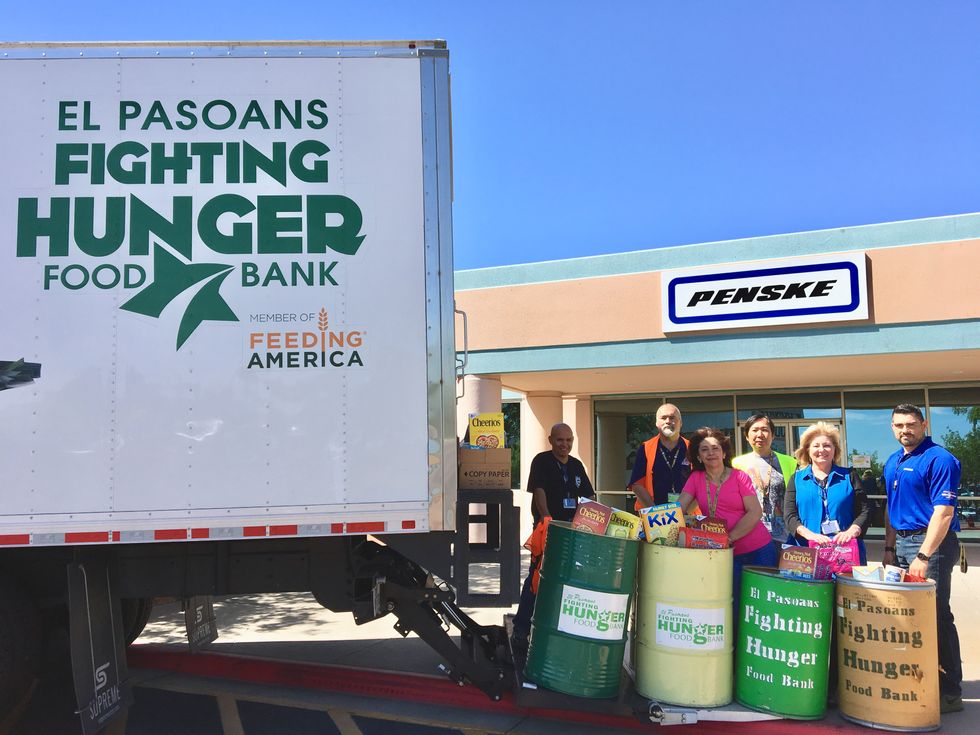 "Now that I was able to help, I wanted to give back," said Thompson.
Across the country, in communities large and small, Penske associates have answered the call to address hunger by hosting food drives, volunteering at food banks and raising funds to provide meals for their neighbors.
The Face of Hunger
Feeding America, the nation's largest hunger-relief organization with a network of 200 food banks, estimates about 40 million Americans – including 12 million children – face food insecurity and hunger.
"Through our Map the Meal Gap research, we know that hunger and food insecurity exists in every county in the United States," said Zuani Villarreal, director of communications for Feeding America. "There are more than 3,000 counties, and no one is free from hunger."
Children remain the most at risk of food insecurity followed by seniors. When it comes to geography, those living in rural areas experience food insecurity at higher rates than urban counties.
While the reasons for hunger can vary, in many cases, it boils down to simple economics.
"We also know that food is the thing in a budget that is the most flexible. If a family is struggling to make ends meet, they want to have a roof over their head, to have electricity to keep the refrigerator on, and the lights on the kids can do their homework," she said. "Food is the thing that is the tradeoff."
Feeding America relies on its network of food banks, as well as 60,000 non-profit groups, meal programs, church pantries and community centers to help feed those in need.
Volunteers play an important role in helping these groups address hunger.
"Volunteers are incredibly important to Feeding America and the food banks. So many organizations operate just on volunteers alone. A lot of pantries and shelters rely on volunteers. We could not do that without the help of volunteers." Villarreal said.
"Each month about 2 million volunteers provide more than 8 million hours of assistance to Feeding America food banks and agencies," she said. "That is more than 100 million hours of donated labor across the network over the course of a year."
Organizations like Penske, whose associates generously give of their time, make up a significant portion of those volunteer hours.
"Corporate partners and businesses that volunteer are part of those 2 million volunteers every month," Villarreal said. "We appreciate and encourage businesses that adopt giving back as part of their values. In addition, volunteering is a great team building activity. It is wonderful, fun and so rewarding."
Setting the Table for Volunteering
In recent years, Penske associates have joined together to volunteer in a number of ways, from delivering food boxes to senior citizens, filling backpacks with food for children to eat over the weekend, delivering fresh produce and fruit to rural areas, sorting donations at food banks and assembling meals.
In Oklahoma City, Oklahoma, associates recently assembled more than 13,000 meals for the Regional Food Bank of Oklahoma. Each quarter, the associates spend the day volunteering on behalf of the food bank.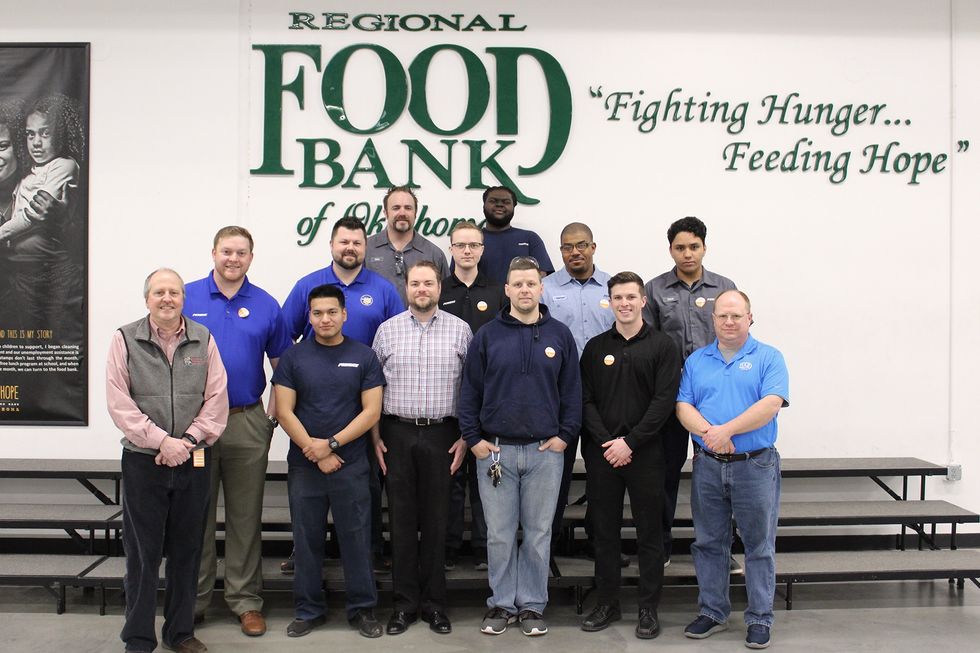 Associates at Penske Logistics Macedonia, Ohio, location, recently held a fundraiser for the Akron-Canton Food Bank's Harvest for Hunger Campaign. The team held bake sales, a silent auction and a 50/50 raffle. In all, the group raised more than $3,351 for the food bank.
In Richmond, Virginia, a team of 11 associates volunteered at Feed More, which collects, prepares and distributes food to people in need across 34 counties in central Virginia. The associates created meals and separated and sorted items for deliveries to hungry families.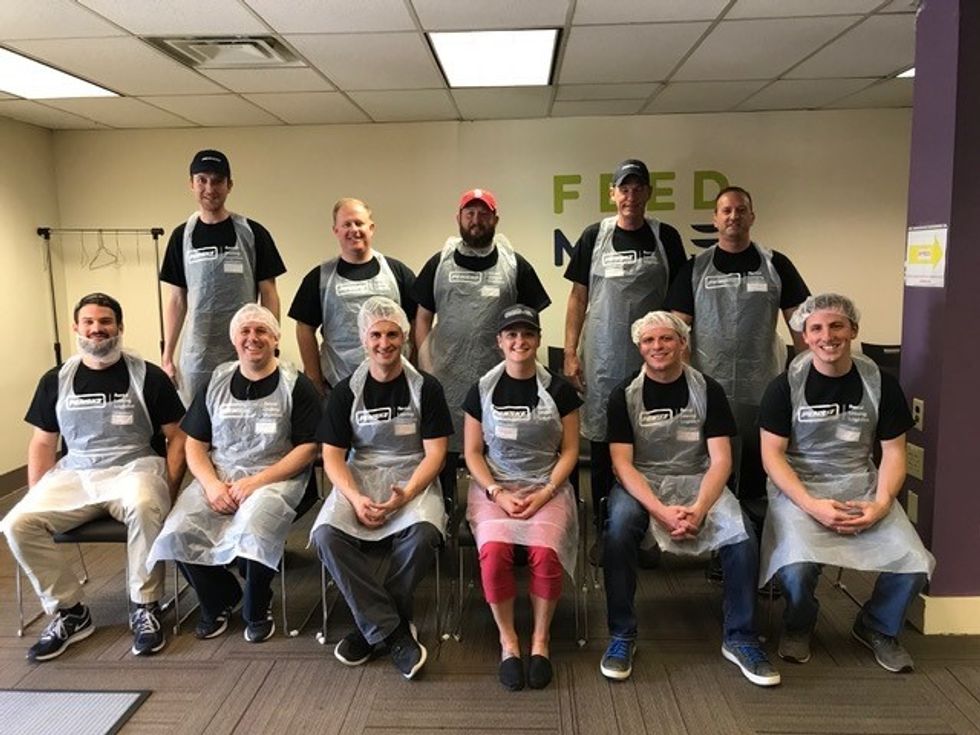 Team Building While Breaking Down Hunger
Meanwhile in El Paso, Texas, associates there were able to collect enough donations to fill five 55-gallon drums with canned goods and non-perishable items. In addition, the food drive also included three pallets of food donated by a vendor. From February to April, the associates collected 1,206 items to benefit the El Pasoans Fighting Hunger Food Bank.
The food bank distributes food through 130 food pantries, shelters and soup kitchens in El Paso, Hudspeth and Culberson Counties to feed 200,000 food insecure individuals, said Terri Wyatt, chief development officer.
"We depend on food from food drives that are organized on our behalf," Wyatt said. "Food drives help to offset the amount of food that is given out to the community, as well as call attention to the fact that there are hungry people who otherwise do not have enough to eat."
Yet, the drive was more than just community outreach. It was also a way for the group to bond, said Rolando Tepezano, a clerk and safety trainer at the El Paso location, who organized of the food drive.
"We are always looking to build a stronger team in our facility," he said. "It was a joint effort of administrative associates, warehouse and truck drivers. We wanted it to bring us together as a team and help the community."
The event was promoted in team meetings, through flyers and emails and word of mouth among associates. Soon, the donations started pouring in at a rate that surprised Tepezano.
"We were very surprised that our associates went above and beyond what we planned," Tepezano said. "Everybody participated; some brought one can and others brought 100 cans."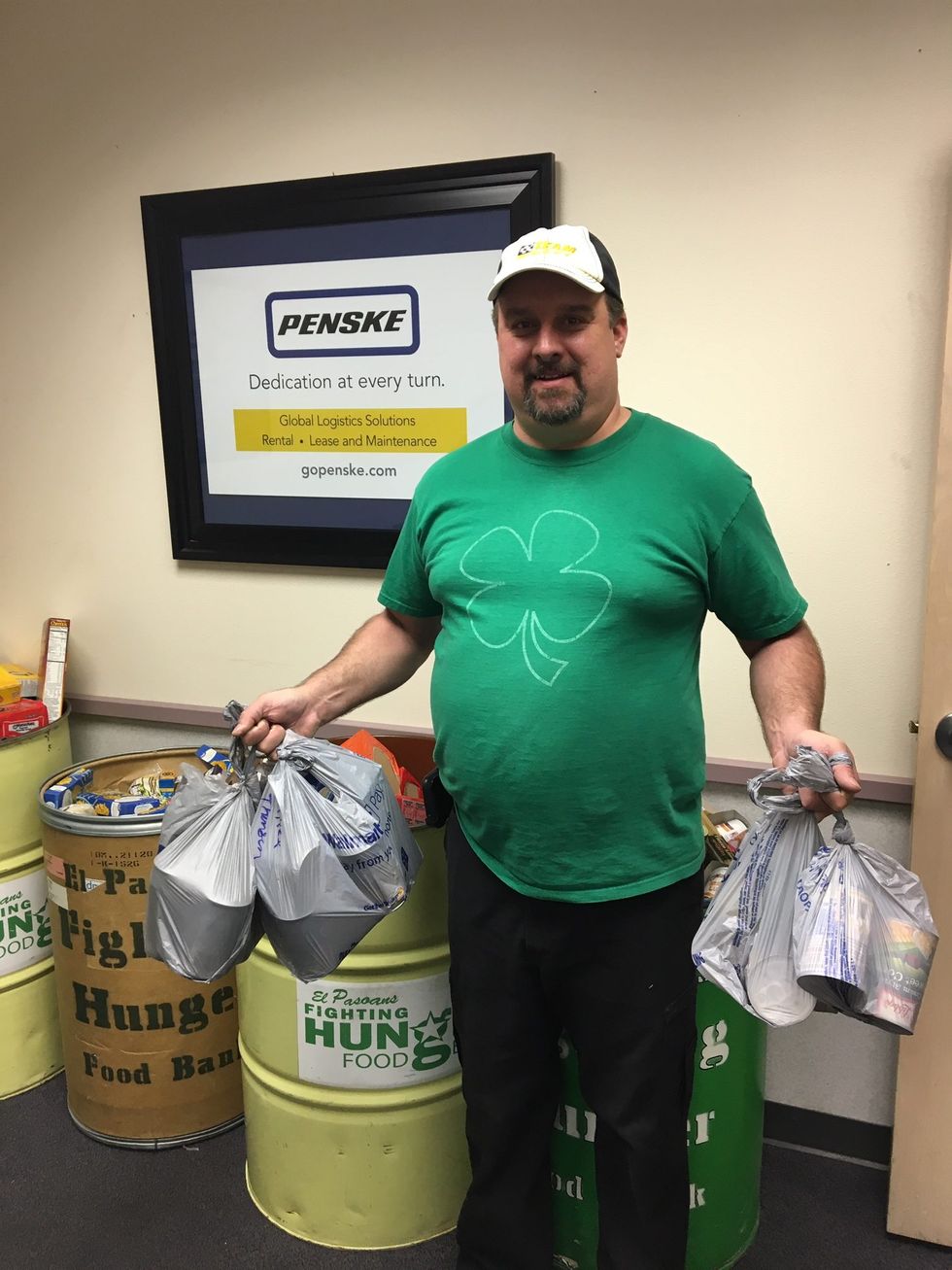 Thompson
Thompson, who was the top contributor with more than 300 donations, said he would add a few extra items when doing his own grocery shopping. "I figured $10 or so a week wouldn't break my bank so I kept doing it."
Often, Thompson would remember the days when baloney and cheese and noodle soup were staples on his dinner table, so he felt motivated to do all he could.
While the El Paso associates' generosity may come as a surprise to some, it does not shock Kathleen Trujillo, operations manager.
"At the end of the day, we have a lot of good people who care and are looking for opportunities to give back to the community," Trujillo said.
By Bernie Mixon
Back to News & Stories