Back to News & Stories
Penske Logistics Thanks its Drivers During Canada's National Trucking Week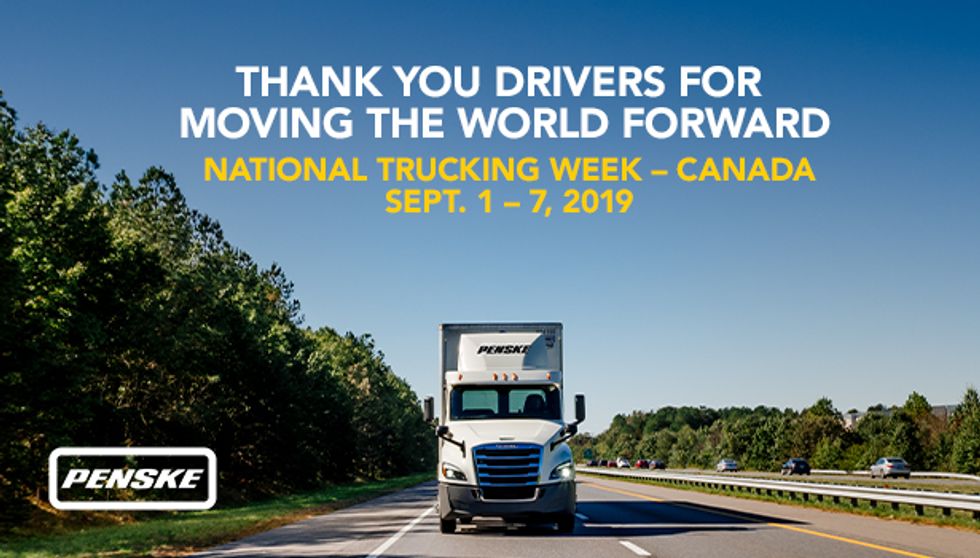 Professional truck drivers are the face of our brand; they make impressions throughout their day that signify what Penske represents. Drivers are the faces behind what we do — helping move lives and businesses forward.
---
This week is National Trucking Week in Canada, and the nation is paying tribute to the countless contributions made by the thousands of people who keep the trucking industry strong – including professional truck drivers.
Sponsored by the Canadian Trucking Alliance (CTA), National Trucking Week began Sunday, Sept. 1, and continues through Saturday, Sept. 7.
The CTA joined with provincial truck associations across Canada to create National Trucking Week to highlight the contributions made by 400,000 Canadians – among them thousands of truck drivers – whose work in the trucking industry helps keep the Canadian economy moving.
Penske Logistics appreciates the extraordinary contribution of its more than 5,500 professional truck drivers across Canada and the U.S. who help keep the world moving forward.
"I want to sincerely thank all of our professional truck drivers as we pause to recognize National Trucking Week," said Marc Althen, President of Penske Logistics. "Your hard work and dedication to excellence does not go unnoticed."
A similar recognition – National Truck Driver Appreciation Week – will be held from Sunday, Sept. 8, through Saturday, Sept. 14, in the U.S. The American Trucking Associations will sponsor.
By "Move Ahead" Staff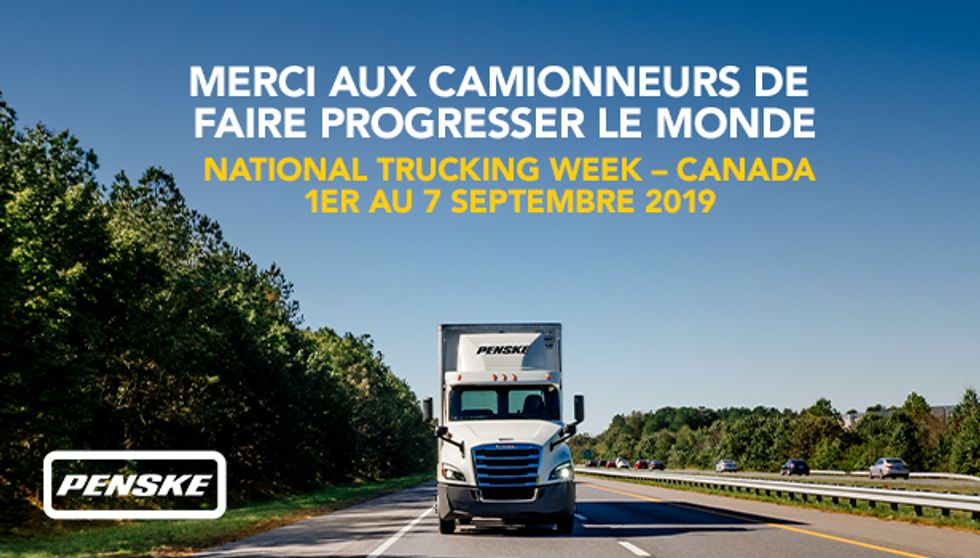 Penske Logistics remercie ses camionneurs dans le cadre de la National Trucking Week au Canada
Les camionneurs professionnels représentent notre marque; ils laissent des impressions tout au long de leur journée de travail qui sont à l'image de Penske. Les camionneurs sont les personnes derrière chacune de nos actions. Ils font avancer des vies et permettent aux entreprises de croître.
Cette semaine est la National Trucking Week au Canada (la Semaine nationale du camionnage) et le pays rend hommage aux innombrables contributions réalisées par des milliers de personnes qui permettent à l'industrie du camionnage de rester solide, ce qui comprend les camionneurs professionnels.
Commanditée par l'Alliance Canadienne du Camionnage (ACC), la National Trucking Week commence le dimanche 1er septembre et se poursuit jusqu'au samedi 7 septembre.
L'ACC s'est associée à plusieurs organismes provinciaux de l'industrie du camionnage au Canada pour créer la National Trucking Week. Celle-ci met en évidence les contributions de 400 000 Canadiens, ce qui comprend des milliers de camionneurs, dont le travail dans l'industrie du camionnage contribue à la prospérité de l'économie canadienne.
Penske Logistics est très reconnaissante de l'incroyable contribution de ses quelque 5 500 camionneurs professionnels au Canada et aux États-Unis qui aident à faire progresser le monde.
« Dans le cadre de la National Trucking Week, j'aimerais remercier sincèrement tous nos camionneurs professionnels », a déclaré Marc Althen, le président de Penske Logistics. « Votre travail acharné et votre engagement envers l'excellence ne passent pas inaperçus. »
Une reconnaissance semblable, la National Truck Driver Appreciation Week (la Semaine nationale de l'appréciation des camionneurs), aura lieu du dimanche 8 septembre au samedi 14 septembre aux États-Unis. Elle sera commanditée par The American Trucking Associations.
Du personnel de « Move Ahead »
Back to News & Stories