Back to News & Stories
Penske Thanks Technicians During National Technician Appreciation Week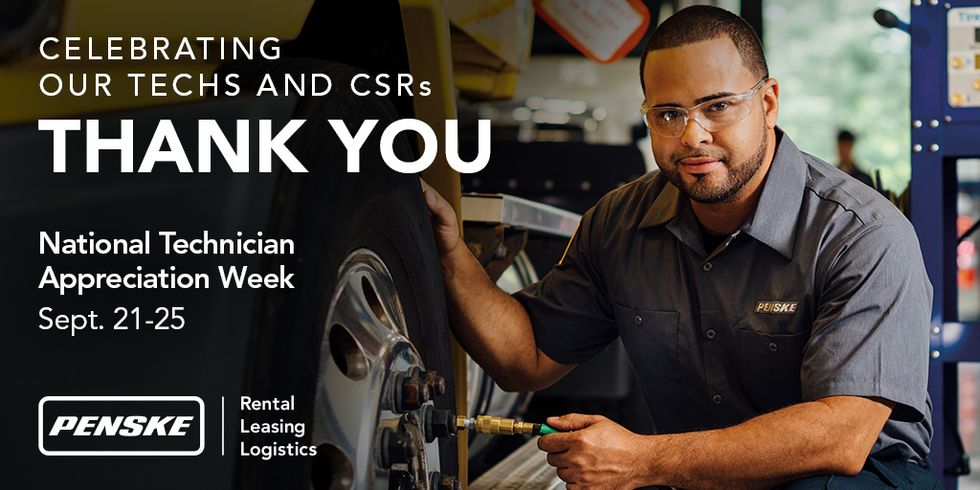 From the early days of the pandemic, technicians have been on the frontlines ensuring the nation's trucks remain road-ready to help keep the supply chain and the economy moving forward.
---
The trucking industry will pause this week to celebrate the significant contribution of technicians with the first-ever National Technician Appreciation Week created by the Technology & Maintenance Council of the American Trucking Associations.
Penske will join the effort by recognizing its technicians and customer service representatives, who team up to ensure the company's more than 300,000 units are in top condition.
"At Penske, our technicians play a vital role in helping our customers and business succeed," said Art Vallely, President, Penske Truck Leasing. "We are truly grateful for the outstanding efforts, determination, and the resiliency our technicians have shown during these unprecedented times.
"We are proud to join with the American Trucking Associations in celebrating and recognizing the extraordinary contributions of our technicians and their importance to our industry and the economy," Vallely said.
Driven by Technology
Far from its wrench-turning "mechanic" days, the role of today's technician is driven by technology due in large part to the significant evolution of commercial vehicles.
"When I started in this business 42 years ago, there was nothing electronic on a diesel engine. Fast forward to today, and there is nothing but electronics on a vehicle," said Mike Hasinec, vice president of Maintenance.
Today's technician needs to be well-versed in mechanics and electronics.
"The amount of technology on vehicles today is overwhelming, and it can be overwhelming if you don't have the right technician working on the vehicle," Hasinec said. "When you look at vehicles today, they have the ability to tell us when they are getting ready to break down. And, we rely on our technicians and their skillset to diagnose and repair those vehicles in an efficient and timely manner."
In many respects, technicians are true craftsmen and craftswomen.
"It requires the technician to understand the true diagnostic process. That is really challenging because they have to find and access information that constantly moves, constantly gets updated," said Holly Gerke, director of technical training. "It is almost every day they go to work and what they knew yesterday may be different today. I think the most challenging part of their job is the constant change from day to day, even where to find the information to do their job."
Technician training remains a high priority for Penske despite challenges to instructor-led training opportunities brought on by the pandemic.
"We are working on some technologies that may help us deliver some trainings virtually. It is a process we are taking seriously because we do not want to dilute the experience for our technicians," Gerke said.
"What we know is instructor-led training – having that one-on-one experience for technicians – is very important because we use their tactile senses to enhance learning," she said. "What we are trying to figure out is how we accomplish a similar requirement but in a virtual environment."
Recognizing the multi-faceted nature of the technician role makes having a week dedicated to technicians' impact even more important.
"It's a nice way for our technicians to realize they have so much support from not only the organization but also the entire industry," Gerke said. "For technicians, it brings a sense of community and strength that they may have not experienced before."
Essential Role
At no time has that sense of community come into play than during the pandemic – not just for technicians but also customer service representatives – which is why Penske is taking this week to recognize both roles.
"Our technicians and our customer service representatives are not only essential to our business, we wouldn't be in business if we didn't have them on our team," said Gregg Mangione, senior vice president of Maintenance. "They are doing a great job working with each other and working with our customers."
Technicians are accomplishing this great work, despite the challenges presented by the pandemic, which shifted technicians into essential workers from the early days of the pandemic.
"Our people were there, and I think very proudly. They came to work and knew their part in keeping this country running by keeping trucks on the road," Mangione said. "I think we tried as quickly as possible and from day one to make their safety essential and the number one thing we prioritized. After that, we made sure we provided clean and sanitized trucks to our customers. We were not only there to help drivers feel safe, but to ensure our customers felt no interruption in our level of service."
The pandemic's impact was felt by technicians in many ways.
"We asked people to take extra sanitization steps for safety protocols. We had to ask people to start wearing masks and practice social distancing. We had supply shortages with different parts. They had all these challenges," Mangione said. "We asked them to do more things. It made it harder to do the job, and yet they never faltered in taking care of our customers."
Follow Penske on Facebook, Instagram and Twitter this week as we introduce you to our dedicated technicians and customer service representatives who keep our company moving forward.
By Bernie Mixon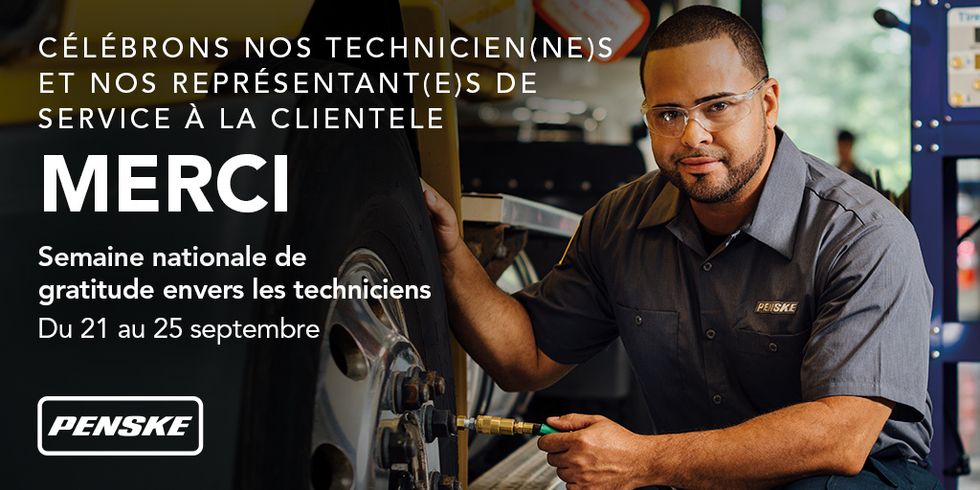 Penske remercie les techniciens pendant la Semaine nationale de reconnaissance des techniciens
Dès les premiers jours de la pandémie, les techniciens ont été en première ligne pour s'assurer que les camions de la nation demeurent prêts pour la route afin d'aider la chaîne d'approvisionnement et l'économie à aller de l'avant.
L'industrie du camionnage fera une pause cette semaine pour célébrer la contribution importante des techniciens lors de la toute première Semaine nationale de reconnaissance des techniciens créée par le Technology & Maintenance Council of the American Trucking Associations (« Conseil technologique et de maintenance des Associations américaines de camionnage »).
Penske s'associera à cette démarche en reconnaissant ses techniciens et ses représentants du service à la clientèle, qui font équipe pour s'assurer que les plus de 300 000 unités de l'entreprise sont en parfait état pour les clients.
« Chez Penske, nos techniciens jouent un rôle essentiel pour aider nos clients et notre entreprise à réussir », a déclaré Art Vallely, président de Penske Truck Leasing. « Nous sommes vraiment reconnaissants des efforts, de la détermination et de la résilience exceptionnels dont ont fait preuve nos techniciens en cette période sans précédent.
« Nous sommes fiers de nous joindre aux associations américaines de camionnage pour célébrer et reconnaître les contributions extraordinaires de nos techniciens et leur importance au sein de notre industrie et de l'économie », a déclaré Vallely.
Motivé par la technologie
Loin de ses journées laborieuses de « mécanique », le rôle des techniciens d'aujourd'hui est dû en grande partie à la technologie en raison de l'évolution importante des véhicules commerciaux.
« Lorsque j'ai commencé dans cette entreprise il y a 42 ans, il n'y avait rien d'électronique sur un moteur diesel, et voyons ce qui se passe aujourd'hui, il n'y a à présent rien d'autre que de l'électronique sur un véhicule », a déclaré Mike Hasinec, vice-président de la maintenance.
Les techniciens d'aujourd'hui doivent bien connaître la mécanique et l'électronique.
« La quantité de technologie présente sur les véhicules aujourd'hui est accablante, et cela peut être accablant si vous n'avez pas le bon technicien qui travaille dans le véhicule », a déclaré M. Hasinec.
« Lorsque vous regardez les véhicules aujourd'hui, ils ont la possibilité de nous dire lorsqu'ils se préparent à tomber en panne. Et nous comptons sur nos techniciens et leurs compétences pour diagnostiquer et réparer ces véhicules de manière efficace et en temps opportun. »
À bien des égards, les techniciens sont de véritables artisans et artisanes.
« Il faut que le technicien comprenne le véritable processus de diagnostic, et je pense que c'est vraiment difficile parce qu'il doit trouver et accéder à de l'information qui bouge constamment, qui est constamment mise à jour », a déclaré Holly Gerke, directrice de la formation technique. « C'est presque comme si chaque jour, ils allaient au travail et que ce qu'ils savaient hier serait différent aujourd'hui. Je pense que la partie la plus difficile de leur travail est le changement constant d'un jour à l'autre, même l'endroit où trouver l'information pour faire leur travail. »
La formation des techniciens demeure une priorité pour Penske malgré les défis découlant de la pandémie, de mettre en place des formations dirigées par un instructeur.
« Nous travaillons sur certaines technologies qui peuvent nous aider à offrir certaines formations virtuellement. Il s'agit d'un processus que nous prenons au sérieux, car nous ne voulons pas affaiblir l'expérience pour nos techniciens », a déclaré Gerke.
« Ce que nous savons et ce que nous croyons des formations dirigées par un instructeur – ayant cette expérience individuelle à la disposition des techniciens – demeure très important pour développer leurs sens tactiles et leur apprentissage », a-t-elle déclaré. « Ce que nous essayons de faire, c'est de déterminer comment nous pouvons atteindre cette exigence. »
Reconnaître la nature multidimensionnelle du rôle des techniciens rend encore plus important le fait d'avoir une semaine consacrée à leur importance.
« C'est un bon moyen pour nos techniciens de réaliser qu'ils ont tant de soutien non seulement de la part de l'organisation, mais aussi de toute l'industrie », a déclaré Gerke. « Pour les techniciens, cela apporte un sentiment de communauté et de force qu'ils n'ont peut-être jamais vécu auparavant. »
Rôle essentiel
À aucun moment, ce sentiment de communauté n'avait été mis en œuvre auparavant que pendant la pandémie, non seulement pour les techniciens, mais aussi pour les représentants du service à la clientèle, c'est la raison pour laquelle Penske consacre cette semaine à la reconnaissance des deux rôles.
« Nos techniciens et nos représentants du service à la clientèle sont non seulement essentiels à notre entreprise, mais de plus, nous ne serions pas en affaires si nous ne les avions pas au sein de notre équipe », a déclaré Gregg Mangione, vice-président principal de l'entretien. « Ils font un excellent travail en travaillant ensemble et avec nos clients. »
Les techniciens accomplissent cet excellent travail, malgré les défis posés par la pandémie, qui les a transformés en travailleurs essentiels dès les premiers jours de la pandémie.
« Nos gens étaient là, et très fièrement, je le pense. Ils venaient travailler et connaissaient leur rôle à jouer dans le maintien du fonctionnement de ce pays en gardant les camions sur la route », a déclaré Mangione. « Je pense que nous avons essayé aussi rapidement que possible et dès le premier jour, de faire en sorte que leur sécurité soit une priorité. Après cela, nous nous sommes assurés de fournir des camions propres et désinfectés à nos clients. Nous étions non seulement là pour nos clients, mais aussi nos clients n'ont pas ressenti d'interruption dans le niveau de service. »
L'impact de la pandémie a été ressenti de nombreuses façons par les techniciens.
« Nous avons demandé aux gens de prendre des mesures supplémentaires pour les protocoles de sécurité. Nous devions demander aux gens de commencer à porter des masques et différents protocoles de sécurité. Nous avions des pénuries de pièces différentes. Ils avaient tous ces défis », a déclaré Mangione. « Nous leur avons demandé de faire plus de choses. Cela a rendu leur travail plus difficile, et pourtant, ils n'ont jamais hésité à prendre soin de nos clients. Ils l'ont fait d'une manière qui a également permis à nos clients de continuer à se sentir en sécurité. »
Suivez Penske sur Facebook, Instagram et Twitter cette semaine, tandis que nous vous présentons nos techniciens et nos représentants du service à la clientèle dévoués qui font avancer notre entreprise.
De Bernie Mixon
Back to News & Stories