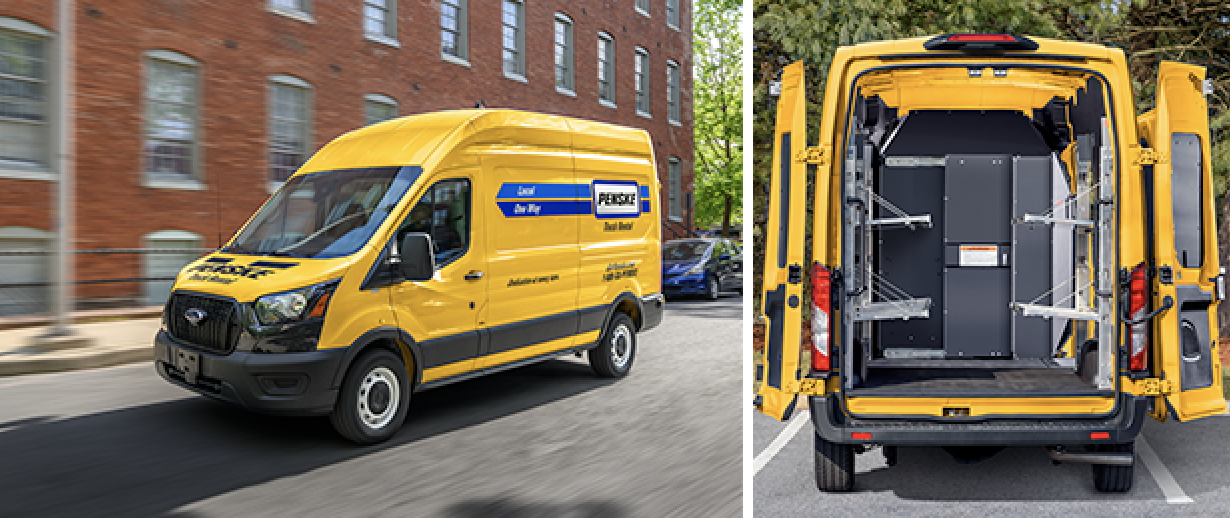 Our latest high roof cargo van features built-in shelving, making it a great multi-use vehicle for package delivery and organization of your cargo. If you're looking for something a little different than our traditional cargo van, our delivery van with built-in shelving features superior convenience and over 400 cubic feet of loading area, making it ideally suited for last-mile needs, seasonal demand, and short and long-distance deliveries.
Our multi-use vehicles are equipped to satisfy your light-duty demands, whether you are transporting items within the healthcare industry, office supplies, the food and beverage industry, or any other industry. Each high roof cargo van outfitted with shelves has dual-faced mirrors for enhanced visibility, power steering, an automatic transmission, air conditioning, an AM/FM radio, and an AUX or USB interface. Our rental delivery van is roomy, dependable, and simple to operate. It is also fuel efficient and is a suitable option for city driving. Get in touch with Penske to find out more about how our fleet of cargo vans can help your company keep moving forward.
Need more room for your cargo? Take a look at our rental delivery truck, which features up to 800 cu. ft. of loading space, 24" deep shelves and a side door for added accessibility.
Delivery Vans Include:
22" deep shelves with widths ranging from just over 4' to 5', which can be raised or lowered to meet your needs
11 ft. 11 in. extended length vans
Up to 9,000 lb. GVW
Up to 3,200 lb. payload
Up to 404 cu. ft. of loading space
25-gallon fuel tank capacity
Collision mitigation system*
Backup camera*
Power steering and anti-lock brakes
Cargo partition with access door
Rear and side cargo doors
Two-person bucket seating
Common Questions
What are delivery vans called?

Delivery vans can also be called panel vans or cargo vans/high-roof cargo vans, depending on size.

How can I start a delivery business with a van?

The first step when starting any business is to devise a business plan. Once that's complete, securing a vehicle is next in line. In addition to our delivery van with shelves, we also offer a high-roof cargo van without shelves , both of which offer over 400 cu. ft. of loading space. Renting a delivery vehicle to start is a great way to get a feel for what type of van will work best for your new business needs.

Is it worth starting a delivery business?

Yes! There has never been a better time to become a delivery driver. The rise of e-commerce has led to an increased demand for deliveries.
The specifications listed are based upon Penske's most commonly rented fleet. They are not the exact measurements of all fleet rented by Penske. Specifications will vary by make, model and year. MPG can vary based on load, terrain and driving factors.

*Available on select models