Single-Axle Day Cab (Conventional)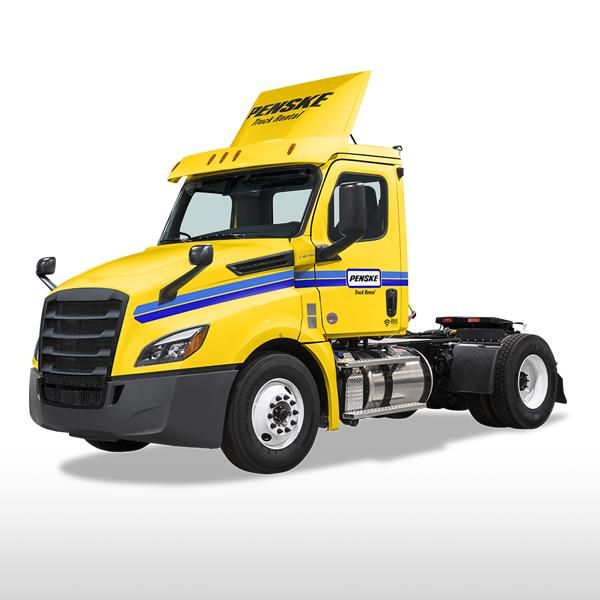 Designed for local, regional and city deliveries, our single-axle day cab tractors can handle a 65,000 lb. gross combined weight. They feature up to 160-gallon fuel capacity and electronic engines that run up to 410 HP. Ride in comfort with a driver air-ride seat. All our single-axle day cab tractors are CARB certified. With some of the newest and most well-maintained tractors in the industry, our reliable fleet means improved mileage, better overall performance, reliability and greater eco-friendliness for your fleet and your business.
All Penske rental tractors come equipped with air-ride rear suspension, manual/automatic transmission, air conditioning, AM/FM stereo, AUX or USB input, Bluetooth, air disc brakes, power steering and sliding fifth wheel. All of our tractors are CB radio-ready. An engine brake is available in select markets.
Practical and reliable, our single-axle day cab tractors are powerful enough to get the job done. Contact Penske to learn more about how our fleet of commercial tractors and trailers can move your business forward.
Features:
65,000 lb. gross combined weight
Up to 160-gallon fuel capacity
Up to 410 HP electronic engine
Air disc brakes
Diesel Exhaust Fluid (DEF)
Driver air-ride seat
CARB certified
Collision mitigation systems on select models
The specifications listed above are based upon Penske's most commonly rented fleet. They are not the exact measurements of all fleet rented by Penske. Specifications will vary by make, model and year.