Electric Cargo Van
Light-Duty Electric Vehicle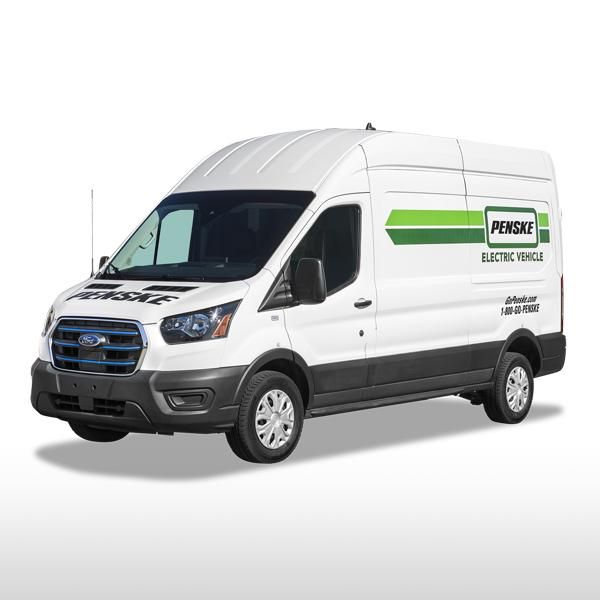 The electric high-roof cargo van is a hardworking, efficient vehicle that is flexible enough to handle a multitude of jobs while also meeting sustainability goals as you travel to and from the job site.
Whether your job takes you right across town or across the region, our electric high-roof cargo van is constructed to take you farther with an estimated range of 108 miles. Every vehicle comes equipped with power steering and anti-lock brakes, rear and side cargo doors, two-person bucket seating, blind spot assist and backup camera.
Practical and versatile, our electric high-roof cargo vans are quiet and nimble in traffic. Built to maximize space and with connectivity on the go, you can enjoy a better driving experience while also maximizing environmental benefits. Contact Penske to learn more about how our electric fleet of vehicles can improve your workday and reduce your environmental impact.
Features:
11 ft. 11 in. extended length vans
Up to 9,500 lb. GVW
Up to 3,300 lb. payload
Up to 450 cu. ft. of loading space
Power steering and anti-lock brakes
Rear and side cargo doors
Two-person bucket seating
Blind spot assist and backup camera
Battery and Charging:
Range: 108 miles (estimated)
Useable Battery: 67 kW
400V lithium-ion battery
Connection port: CCS1 and J1772
Peak AC charge rate: 11.3 kW
Peak charge rate DCFC: 115 kW
Level 2 charger supplied 2.0 kWh and 7.6 kW
Common Questions
The specifications listed above are based upon Penske's most commonly rented fleet. They are not the exact measurements of all fleet rented by Penske. Specifications will vary by make, model and year. MPG can vary based on load, terrain and driving factors.