Advanced Safety Technology
Collision Mitigation Systems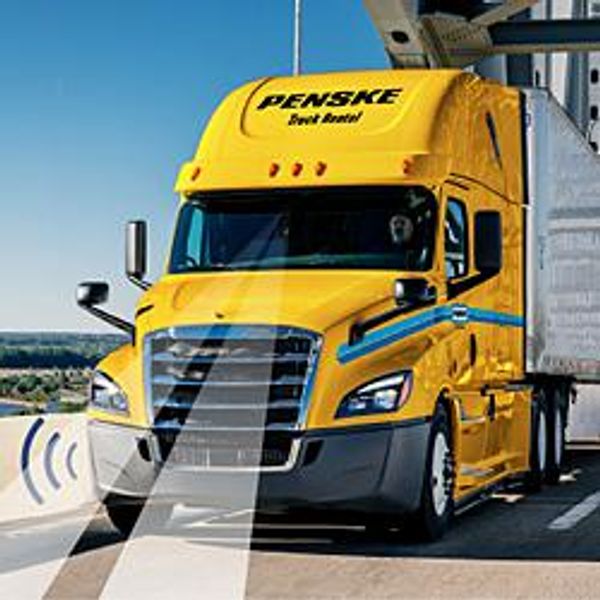 Technologies like collision mitigation systems and air disc brakes may help reduce the risk of an accident, keep drivers safe and move your business forward.
Penske Truck Rental's commitment to safety is why many of our tractors are equipped with collision mitigation systems that may include:
Adaptive Cruise Control — Assists with acceleration and/or braking to maintain a prescribed distance between your vehicle and a vehicle in front. Some systems can come to a stop and then resume speed.
Active Driving Assistance — Assists with vehicle acceleration, braking and steering. Some systems are limited to specific driving conditions. Driver is responsible for primary task of driving.
Lane Keeping Assistance — Assists with steering to maintain vehicle within driving lane.
Blind Spot Warning — Detects vehicles to rear in adjacent lanes while driving and alerts the driver to their presence.
Forward Collision Warning — Detects impending collision while traveling forward and alerts driver. Some systems include pedestrian or other object detection.
Lane Departure Warning — Monitors vehicle's position within driving lane and alerts driver as the vehicle approaches or crosses lane markers.
Automatic Emergency Braking — Detects potential collision while traveling forward, provides forward collision warning and automatically applies the brakes to avoid or lessen the severity of impact. Some systems include pedestrian or other object detection.
Safety technology descriptions sourced from: AAA, Consumer Reports, J.D. Power, National Safety Council, 2019.