Four Ways Commercial Truck Rental Helps Independent Contractors Get Ahead
While every link in the supply chain matters, the competition to optimize the final mile (or last mile) of delivery has never been more intense. As the volume of e-Commerce shopping rises every year, a large percentage of today's consumers expect two-day, one-day and even same-day shipping. That leaves shippers with increasing concerns about expenses, since costs associated with the final mile run at about 50 percent of overall logistics costs across various industries.
Independent contractors who work for some of the nation's largest shipping companies feel the squeeze to meet final-mile expectations and deliver shipments as soon as possible. And with consumers now buying large and oddly shaped items like mattresses and couches online, contractors often must deliver both parcels and larger-than-parcel shipments and do so on time and on budget. These ever-increasing demands mean many independent contractors who work with prominent shippers need additional trucks and more options than in the past.
Penske works with independent contractors to provide commercial truck rental solutions to meet your needs. Rely on their expertise to improve these four areas of your business:
1. Scalability – Truck Rental Helps You React Quickly
As demand peaks, customer expectations grow. Shippers offer late-night pickups and extend hours during periods of high volume, and independent contractors must follow suit. A commercial rental contract with Penske Truck Rental allows you to scale up or down to meet fluctuating demand during peak times.
Our fleet includes more than 50,000 vehicles, giving you access to the trucks you need when you need them. And with pickup and drop-off at more than 2,500 rental facilities across North America, it's a good bet that our trucks will be nearby.
2. Flexibility – Truck Rental Helps You Stay Nimble
Parcel sizes vary along with demand. Using the wrong type—or wrong size—truck can create multiple headaches. A contractor with a fleet consisting solely of large trucks may find itself running multiple less-than-truckload shipments. A contractor with only smaller trucks may find itself making multiple trips. In both scenarios, costs may skyrocket.
Penske helps shippers control costs and optimize load planning by providing different sizes and types of trucks and trailers, including:
Light-duty trucks such as cargo vans, box trucks and cabovers
Medium-duty trucks, including larger box trucks, refrigerated trucks and flatbeds
Heavy-duty tractors, including single-axle, tandem-axle and sleepers
Semi-trailers measuring 48 ft. and 53 ft.
3. Dependability – Rental Trucks Get You There in a Pinch
A major breakdown can remove a truck from your fleet for days, weeks and even months. And breakdowns that happen during the final mile create headaches for customers, drivers and shippers alike.
Penske's commercial fleet is one of the youngest and best maintained in the industry, minimizing the risk of breakdowns. We provide 24/7 roadside assistance to keep your drivers and deliveries moving. With more than 8,500 trained technicians and more than 2,500 Penske facilities across North America, your vehicles will get the attention they deserve.
4. Accountability – Rental Trucks Help You Stay in Control
Contracting with a commercial truck rental company doesn't mean losing oversight of your drivers or your vehicles. Penske permits drivers and fleets to use their own portable electronic logging device (ELD) systems in its rental vehicles.
As another option, Penske offers the free Penske Driver™ app. It provides drivers with the tools to complete their daily tasks, and keep them compliant with the electronic logging device (ELD) mandate when in Penske rental trucks. The Penske Driver app allows drivers to:
Log Hours of Service (HOS) in Penske rental vehicles and fully comply with the ELD mandate
Submit 24/7 roadside assistance requests and view real-time updates
Submit fuel receipts digitally, eliminating the need to submit paper receipts
Find rental, leasing, service, parking, fueling locations and more
Access vehicle information, service history and 24/7 history
Don't let the final mile of delivery cause you sleepless nights. Gain peace of mind with a commercial truck rental from Penske.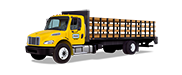 Hardworking flatbed trucks get the job done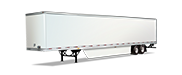 Dry van and refrigerated trailers available for rent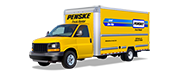 Light and medium-duty trucks offered for one-way rental
Penske Commercial Truck Rental
High-quality commercial truck rentals and expert support